Choosing an Office 365 Backup
When it comes to Office 365 backup, there's a lot of confusion about what's appropriate for each small and medium-sized business.  Some people think that nothing else is needed, but Microsoft's cloud backup comes with an unwanted element of risk.
Office 365 doesn't offer daily backup and recovery services that make it easy to restore data removed from the recycle bin, nor is it prepared for unexpected malicious activity and data corruption caused by a 3rd party. That's why additional cloud backup software services are so vital. But they're not all created equal.
Many cloud backup companies offer a single data center and expect that to be enough, but it's not. Cloud location matters. That's why CloudAlly offers regional AWS (Amazon Web Services) data centers in the US, EU, and Australia.
Using regional data centers expands the reach of CloudAlly's backup and recovery solutions to provide data backup while complying with the relevant laws across countries. Organizations have a legal and ethical obligation to protect and store their data according to the specifications of their region, and it's only through regional cloud-based data storage that this is possible.
Why Regional Data Centers Matter
For European customers, CloudAlly's EU data center makes it possible for businesses to comply with the General Data Protection Regulation (GDPR) that was recently adopted by the EU. In addition to satisfying the required data sovereignty concerns, the regional data center in Europe also decreases the latency times and increases efficiency for backing up, restoring, and exporting data for EU customers.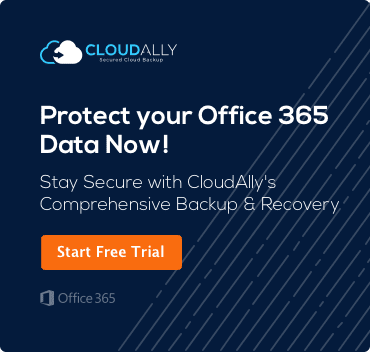 As for U.S. customers with operations abroad, regional data backup and recovery centers in the EU and Australian provide the ability to comply with data requirements in other gee-regions. And for our Australian clients, our regional AWS data center complies with the Australian Privacy Policies (APPs) enforced by the Privacy Act.
So, why does location matter when it comes to Office 365 backup? Regional backups offer a few distinct competitive advantages.
1. Protection
Cloud backup failure and outages are rare, but they can and do happen. That's why regional backup centers are so necessary. It's also important and considered best practice to isolate you backups from the original source data. CloudAlly's use of AWS data centers ensures that your backup data is still available even if there is a temporary service disruption in Microsoft Azure.
So, how is this different than other backup services? Let's say you're using a backup provider that stores data on Microsoft Azure. If Azure is unavailable for any reason, your company will lose access to both your backups and Office 365. With CloudAlly, even in the event of an Azure service disruption, you can still export your previous day's backup in Outlook compatible .pst format and continue working locally until the Azure service is restored.
2. Latency
Response times for the end user are very important for Office 365 backup as well as cloud application use. In fact, response times have the most significant impact on user satisfaction. That's why having regional data centers close to your users is important. The longer the distance your data has to travel, the greater potential for latency.
According to Verizon Enterprise, in North America the average network latency is about 40ms. However, trans-Atlantic latency between the U.S. and Europe is about 80ms almost double. That means if you're a European company or an American business with most of its customers in Europe, they'll experience twice the delay compared to their American counterparts.
CloudAlly is one of the few services to provide data center options in all major geo-regions including North America, Europe, and Asia-Pacific, making the service available to partners and clients around the world. Having these regional data centers also improves latency in another way, through a balanced workload.
The balanced workload model means that no one server is over-provisioned and that each regional data center is capable of handling the workload of another data center in the event an emergency should occur. This balance ensures that no one system is ever over-taxed or at risk of failure, which means you won't need to worry about lag times or down times like you would with a cloud backup service with only a single data center.
3. Privacy
Regional data centers are becoming more and more important for global cloud growth, especially as surveillance controversies have increased the focus on data sovereignty and customer privacy. As more countries seek to keep their citizens' data within their borders, cloud backup providers are discovering that single-location data centers do not suffice.
Different types of data have different locality requirements. At CloudAlly, we understand that multi-nationals sometimes have multiple Office 365 tenants for operations and/or subsidiaries in other geo-regions. Data privacy regulations require that data remain in its original geo-region, so with our data centers located in the US, EU, and Australia we help you ensure that you're covered no matter where you're located.
In addition, local data centers keep your data better protected from hijackers and keep it out from under the jurisdiction of countries that have nothing to do with your business or your customers. "Information flow through the Internet often involves transmission through many countries, traveling the path of least congestion," describers Data Center Knowledge. "Any of these countries through which your data passes can claim jurisdiction—including countries where your traffic path may have been hijacked through hackers."
There are also binding agreements between countries, which allows one country's agents to require the assistance of another country to obtain information through mutual legal assistance treaties (MLAT). By keeping your data within your region, you minimize the risk of having to reveal private and secure data.
And CloudAlly adheres to the highest standards when it comes to privacy and data security. Our Office 365 Backup services comply with stringent EU privacy directives, plus we routinely conduct security audits and assessments to confirm that we continually meet those directives. In addition, all of our regional data centers have all necessary certifications (ISO 27001 and HIPAA) and undergo regular compliance audits for your protection.
Choosing CloudAlly Office 365 Backup
And when you choose CloudAlly's Office 365 backup, you're choosing a service that is compatible with more than one application. CloudAlly works with Gmail backup, SharePoint backup, OneDrive backup, and more. And all it takes are a few simple clicks to activate your backups for your entire company or a few selected users.
You can learn more about CloudAlly's backup services by setting up a free trial or contact us today ++1 (424) 304-1959.