Cloud Backup for Microsoft with CloudAlly: A beginner's guide
Microsoft Office 365 Exchange has undoubtedly proven itself to be an amazing tool for small businesses and large enterprises alike. And yet, the computing behemoth still has limitations when it comes to data backup (Microsoft cloud backup). Like most systems, Microsoft Office 365 Exchange backup only backs up information to a certain point and after that point, it becomes unrecoverable.
---
What this article is about:
---
Where Microsoft data recovery ends, cloud-to-cloud backup solutions take over, offering virtually limitless cloud backup storage so that data that can be recovered from any point in time.
Why you might need Microsoft cloud backup solutions
Although cloud-based, Microsoft Office 365 Exchange does not give you limitless backup storage. Once a file has been moved into and then out of the recycling bin — whether automatically or manually — recovery becomes much more difficult; bordering on impossible. Office 365 lacks the daily backup and archiving functionality required to fully access lost data once it has been removed from your recycling bin.
While you may be extremely careful about the data you decide to delete, there are other ways you can permanently lose it, like:
malicious activity by hackers

disgruntled employees

corruption through third party app synchronization gone awry

employee error
Unfortunately, because Microsoft Office 365 Exchange is not set up for daily cloud backups, that means these unexpected data losses may be irreversible.
Office 365 Exchange emails are especially susceptible to being lost. You can set a time limit for your Recoverable Items folder in Outlook to a maximum of 30 days, but after that, there is little hope of data recovery.
According to Microsoft's customer facing technical help documents on its website: "Point in time restoration of mailbox items is out of the scope of the Exchange service."
If you need to locate a deleted email from three months ago, you will be out of luck with the default Office 365 Exchange backup and recovery capabilities. It pays to add a specialized third-party Microsoft cloud backup service to keep your data safe.
How CloudAlly Microsoft cloud backup and data recovery works
Once you set up your backups (more on that below), CloudAlly takes all that information, timestamps it and puts it in a secure Amazon S3 bucket for quick and easy retrieval. You can now easily restore data from the backups by specific date, keywords or search on contents.
CloudAlly provides Microsoft cloud backup and data recovery for:
Mail

Calendar

Contacts

Tasks
You can backup data for everyone in your business or for selected users. If you recruit new employees, CloudAlly is able to detect new users and automatically add them. You can also choose to add people and if you prefer, to adjust their backup requirements manually.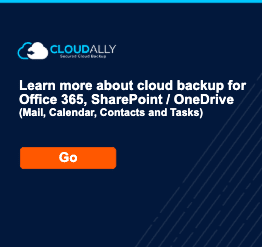 As a comprehensive backup and data recovery solution, CloudAlly provides unlimited storage for your information and unlimited retention of your company's archives. This means that no piece of data will ever be lost forever. You never know when you need a piece of information, no matter how trivial it seems.
Your CloudAlly account can be easily configured to send you a daily report of what has been backed up. In addition, you can request to automatically receive a more extensive overview of what the CloudAlly service has backed up for you over time.
Being non-destructive, when you have to restore something from your backed up data, those restored files will not overwrite anything. This means that you don't have to sacrifice current data to get back old data.
If you require a specific file, you can easily search for it via date or keyword and then restore that single file. If necessary, you can also restore entire calendars, mailboxes, folders and other items.
For in-house archiving, you can export your archived material in any of these formats:
Microsoft cloud backup service process
Here is the entire process for enabling the CloudAlly Microsoft Office 365 Exchange backup.
Login to your CloudAlly account and choose "Activate New Backup."

Choose "Office 365 Exchange."
At this point, there are two ways you can authenticate:
OAuth

Global Admin Account
Prior to authenticating, you need to make sure Application Impersonation is set up correctly. To do that, choose either "Discovery Management" or "Organization Management" to see the steps for setting up Application Impersonation.
Once you have set up your Application Impersonation, you are ready to begin. The following directions are for a Global Admin Account.
Enter your Microsoft Office global admin email address and password

Click Start
Once your email address and password have been confirmed, you will see a confirmation message pop up in the lower right-hand corner of your screen.
You can now scroll down to see all the users in your Office 365 account. You are able to backup users and any public or shared folders pertaining to that user. CloudAlly allows you to backup each user one at a time by clicking the green arrow beside each user, or you can back them all up at the same time by clicking "Activate All."
Whether you choose to activate the backups individually or in a group, the status of the users being backed up will change from "Not Active" to "Scheduled."
Now you can scroll down to the box titled "Select your backup preferences."
If you want CloudAlly to automatically detect new users and add them to your list of users to backup, click the "Automatically detect and activate new account" box.
You can enter a Friendly Name for your scheduled backup. (This allows a customized name for the backup)

The Archive Location is defined when your CloudAlly account is setup and can only be changed by opening a support ticket. Supported backup locations are:

United States

Canada

European Union

Australia

Set the Backup Hour. Note that it is in UTC format

Set your Backup Frequency, choosing from:

Daily

Every three days

Weekly

Scroll down to the bottom of the page and click "Save Changes."
This is the complete process for activating the CloudAlly Microsoft Office 365 Exchange cloud backup process. Once this is complete, the Office 365 mailboxes will be backed up based on the frequency you've chosen.
In addition to Office 365, CloudAlly can backup and archive your other SaaS tools, including:
SharePoint/OneDrive

G Suite

Salesforce

com

Dropbox
Security when using CloudAlly as a Microsoft cloud backup service
Obviously, security is of the utmost importance for any business. When you use CloudAlly as a Microsoft cloud backup service, you get a company that:
is ISO 27001 certified and HIPAA compliant

can provide a BAA Agreement on request

participates in the Cloud Security Alliance STAR (Security, Trust and Assurance Registry) program using CSA's Cloud Controls Matrix (CCM)

uses Amazon S3 storage and encrypts the data at-rest using AES 256-bit encryption algorithms. Data is transmitted using the encrypted and secure SSL (HTTPS) protocol

provides a unique, securely stored encryption key and a unique S3 folder for each customer

uses industry standard OAuth for permission-based access when possible

allows for two-factor authentication to your CloudAlly account

deletes all your data if you decide to unsubscribe your account
Make backups a priority
We live in a data-driven world and protecting online data is more important than ever with the myriad threats facing companies from both inside and outside. One careless employee inadvertently clicking on a link in an email or entering their password in a trick website, could threaten your whole operation. You cannot afford to lose all your hard earned data.
By being proactive about data security and backing up your Office 365 Exchange accounts with a trusted Microsoft cloud backup service, you are ensuring the survival of your business in the case of disasters, hacking, corporate sabotage and any other unfortunate event that could befall your company and threaten your data.
Your employees, your customers, your shareholders and other stakeholders in your business rely on you to keep your operation running. Don't let your business get disrupted by a loss of data. Start a 14-day free trial… Start to backup your Office 365 with a Free 14 day trial.
---
Now that you know about the basics of Microsoft backup with CloudAlly, you might want to have a look at what we created for you…