Introducing Our Office 365 Exchange Backup Demo Video
Take control of your Office 365 Exchange data with CloudAlly. Our automated daily backup services ensure that you always have access to your data and that you can restore and recover your data at any point and from any point in time.
Our backup services are compatible with all Office 365 plans and features including Mail, Calendar, Contacts, and Tasks. It's simple and easy to backup your Office 365 data with CloudAlly, and our newest demo video we'll show you exactly how uncomplicated the process is.

About Our Office 365 Backup Video Demo Video
Everyone always claims that their software is "easy" and "simple" and "requires little to now time to set up." The problem is that many of these claims are false, but you don't realize you've been duped until you've made the commitment.
That's why we've decided to prove how convenient it is to use CloudAlly as your Office 365 backup and restore solution. We're removing the guesswork and offering complete transparency with our latest demo video.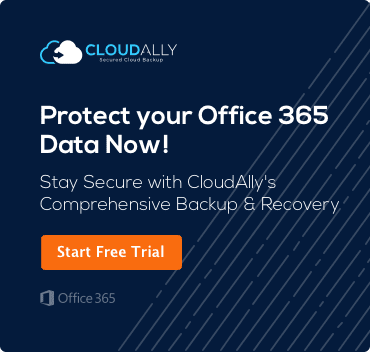 Not only will we walk you through the easy steps to activate your backup, but we'll show you how it works in real-time, on a real account. This isn't a demo with a "sample" system. This is CloudAlly at work, in real life.
Activating your Office 365 Exchange backup on your CloudAlly account can be completed in just a few steps. All you need is access to a computer and your CloudAlly login information. From there, you just follow the step-by-step activation process that we've laid out for you.
In this two-and-a-half-minute video, you'll learn how to set up our Office 365 Exchange backup and restore solution like an expert. We cover everything from:
Correctly setting up your application impersonation using OAuth or Global Admin.
Choosing which accounts you'd like to backup (you can choose to backup each account and/or user individually or select all for a quick backup of every Office 365 user including all shared and public folders).
Checking the appropriate backup preferences including "automatically detect and activate new accounts," scheduling, etc.
Picking a friendly name for each backup
And indexing your archived data.
And if you're still concerned about using CloudAlly's Office 365 Exchange backup solution, don't forget, we have a risk free 15-day trial available! We want to show you how easy it is to protect your data from all threats.
Don't choose software to protect your data that you haven't seen in action. Choose CloudAlly as your Office 365 backup and restore solution, and rest easy knowing that you've already seen how it works and don't have to worry about hidden processes or errors.
When you're ready to know more, contact CloudAlly by calling +1 (424) 304-1959 or filling out our Contact Form. We can't wait to work with you to keep your Office 365 Exchange data safe and sound.