Microsoft 365 Teams Backup
The usage of Microsoft Teams has soared in recent years, propelled by the shift to the remote workforce. As Microsoft says, it is the ""new way to work and learn for a new digital age". This makes it all the more business-critical to backup and recover Microsoft Teams messages, files, and sites. Native Microsoft "backup" options such as Teams retention and Teams archive are time-bound, tedious, and do not offer unlimited point-in-time recovery.
Our Microsoft 365 backup solution comprehensively protects Microsoft Teams too, in addition to Exchange backup (Mail, Calendar, Contacts and Tasks), Groups, OneDrive backup, and SharePoint backup.
Quickly recover MS Teams data (Conversations, sites, channels, metadata, or calendar) from any point-in-time, granular/hierarchical level, and to any user.

Export Microsoft Teams data to your local storage.

Secure Microsoft Teams comprehensively with

enterprise-grade

automated backup and easy recovery.

Eliminate data loss with recovery from any point-in-time with unlimited backup storage on AWS servers and unlimited data retention.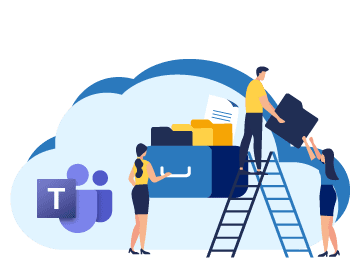 CloudAlly Microsoft Teams Backup
Secure all your Microsoft 365 Data with SaaS Backup
CloudAlly Microsoft 365 backup comprehensively protects all M365 data. Eliminate data loss, reduce RPO and RTO, save on backup storage, and adhere to regulatory compliance with our managed service. Unlimited AWS backup storage and exceptional tier-1 Support included.
Backup, Restore, and Export all MS Teams Assets 
Improve Business Continuity With Assured  Recoverability
Easily recover MS Teams data from any point-in-time with historical snapshots. Use keyword search or smart filters to restore data from any granular/hierarchical level. All with a few clicks, in minutes.
Microsoft Teams Backup: In Action
Don't Risk Microsoft Teams Data Loss
Don't run the risk of losing increasingly valuable Microsoft Teams chats, workflows, and files. Reliably recover data from any point-in-time with CloudAlly's proven (we pioneered SaaS backup a decade ago), top-rated, and secure cloud-to-cloud backup. Maximize your Microsoft Teams adoption now – Book a demo!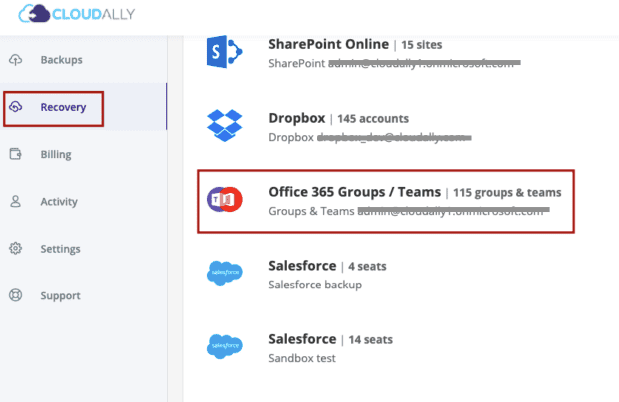 Deep-dive into our Microsoft 365 Backup Solutions
CloudAlly's proven M365 Groups backup and recovery solutions are not only proven and reliable, but easy to setup and a breeze to use. Watch these product videos to see how we offer backup and recovery that's truly seamless and fast.
M365 Groups & Teams Backup

Watch how easy it is to backup your valuable M365 Teams and Groups Data with CloudAlly
M365 Groups & Teams Recovery

No more data loss! Easily restore your Teams messages, sites, channels, and metadata from any point-in-time or at any granular level. Watch now!
Microsoft 365 Teams Backup & Restore Features
Apart from automated backup, our supports on-demand backup as per your organization's requirements.
Granular Restore at Any Hierarchical Level
Easily drill-down using advanced search and filters to restore artifacts at any level of hierarchy
Simplify employee on-boarding/off-boarding with cross-user restore
View how to recovery by item search
Exporting the data in its original format
Learn how to export the data in its original format
Start Protecting Your Microsoft 365 Data Today!
Secure Cloud Backup & Recovery for MS Groups and MS Teams

Protect your data with our automated daily backup for MS Groups and MS Teams, fast accurate restores, enterprise-grade. Secure your data/metadata with automated, daily backup.
Got 100+ Accounts to backup on Microsoft 365 Exchange? We have a special offer for Enterprise Level Pricing.
Get in touch with us for a Custom Quote, or Questions?
The following are frequently asked questions about Microsoft 365 Groups & Teams:
Teams Backup – We provide a backup for files, conversations, chat, calendar of teams under Groups, and since Groups are part of MS Teams.