CloudAlly New Services and Features Announcement – Q4 Dec. 2018

New Backup Services
Microsoft Groups Backup and Recovery
You can now activate backups for MS Groups including the shared mailbox (inbox and calendar), SharePoint document library and team sites, and shared OneNote. We auto-discover all Groups and allow you to activate all or selectively activate
backups as needed.
Google Team Drive Backup and Recovery
In addition to our full G Suite backup service, we've now added a Google Team Drive backup service to backup, recover or export Team data from any point ­in­-time. All Team Drives are auto – discovered allowing you to either activate all backups, or selectively activate the individual drives that you want to backup. 

New Features
Salesforce Granular Restore
Our Salesforce backup service now supports in­-place granular restore of Salesforce objects from any point in time. Restores can be done directly to the production or sandbox instance.
Export Data to Your Own Storage Service
In addition to downloading backup data for on-site use in Outlook
compatible .pst or other industry standard formats, you can now
export backup data directly to your own storage services including
AWS S3, Microsoft Azure, Box and Dropbox.
Office 365 eDiscovery Integration
CloudAlly backs up the Exchange Online Archive mailbox when
present, the User Archive folder, and the second stage recycle
bin. In addition to recovering this data, you can also export all
legal holds and / or all deleted items for the life of the account to a
separate folder for on-site use.
Coming up: Microsoft SharePoint Permissions
In addition to restoring all data and files within SharePoint sites, we  will shortly restore the permissions associated with those documents.

Compliance
AWS Canadian Datacenter
We've added the option to select the AWS Canadian (central)
data center for our Canadian customers to ensure your backup
data remains within Canadian borders.
GDPR
In addition to our ISO 27001 certification and HIPAA compliance, CloudAlly is now GDPR ready for our clients with European customers.
This includes the ability to delete data as required by the Right to Erasure clause. GDPR Article 32 requires that companies be able to recover personal data on request, which means that backup and recovery is now a critical part of your GDPR compliance.
Dropbox Backup and Recovery
Our Dropbox backup and recovery service is now available. You can activate backups for all or selected Dropbox users and team folders, to provide complete protection for you Dropbox data.
Have a question? We're here to help.
of feedback on our latest set of features and services.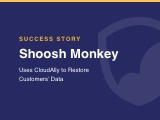 Success Story – Shoosh Monkey
Read up on our latest Customer Story ­ Shoosh
Monkey, an IT & software development agency
uses CloudAlly's G Suite Backup App, to restore
customers' Data.
---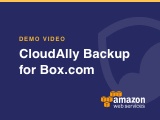 View our latest Box.com demo video, see how
easy it is to backup your box.com