SaaS Backup for
Telecommunications
CloudAlly Data Backup and Recovery
Tailored for the Telecommunications Industry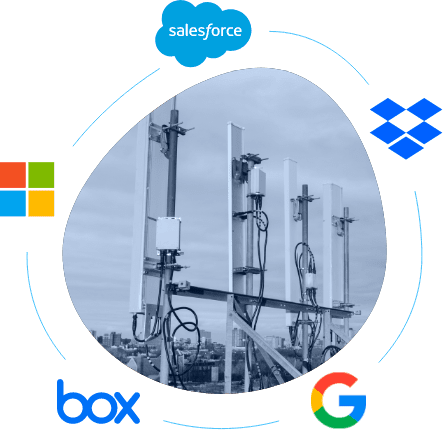 SaaS Backup and Recovery,
Secured for Telecommunications
Data is the oil that drives the telecommunication industry. However the tremendous amounts of sensitive data that telecommunication companies process, makes you vulnerable to security breaches. Particularly to the increasingly prevalent social engineering attacks. Telecom corporate accounts are at the highest risk and the most vulnerable for cyber attacks using credential theft. Reports estimate that exposed credentials from the telecommunications industry tower at 20 times more than those from retail, banking, healthcare and other industries. With the cost of a data breach pegged at a crippling $3.86 million, how can you mitigate the risk of data loss? Saas backup and recovery, tailored for telecommunication companies.
SaaS backup and recovery are recommended across the board by Microsoft, Google, and Salesforce, as the only way to ensure point-in-time data recovery. Top analysts Gartner and Forrester caution that "not backing up SaaS data is dangerous". Read our free ebook: Why SaaS Data Needs Backup?
CloudAlly pioneered SaaS backup a decade ago. Our robust and proven backup for Microsoft 365 (Office 365), Google Workspace(G Suite), Salesforce, Dropbox, and Box are stringently secure, comprehensive, and cost-effective. We understand the challenges that face telecommunication service companies and work to minimize potential risks. Our solutions are ISO 27001 certified, compliant with HIPAA and GDPR, and include unlimited storage on the #1 data center AWS,
Eliminate the risk of data loss with fuss-free automated backup and seamless data recovery with a few clicks.
Disaster Recovery and Business Continuity
For All Telecommunications SaaS Data & Applications
When telecommunication services lose access to important systems and data due to a breach or outage, quick disaster recovery can make all the difference. Blunt the impact of a breach with easy data recovery – a must for easy disaster recovery. SaaS backup drastically improve the Recovery point objective (RPO) and Recovery time objective (RTO). RPO and RTO are critical parameters of a robust Business Continuity and Disaster Recovery Plan (BC/DR) plan. 
CloudAlly's SaaS backup eliminates SaaS data loss and facilitates disaster recovery with:
Comprehensive and i

mmutable backups for flawless recovery from 

ransomware and malware.

Quick disaster recovery with seamless data recovery

Unlimited storage and data retention.

Auto-backup of litigation hold items
Flexible, two-click recovery with point-in-time, cross-user, cross-tenant, and granular data restore options.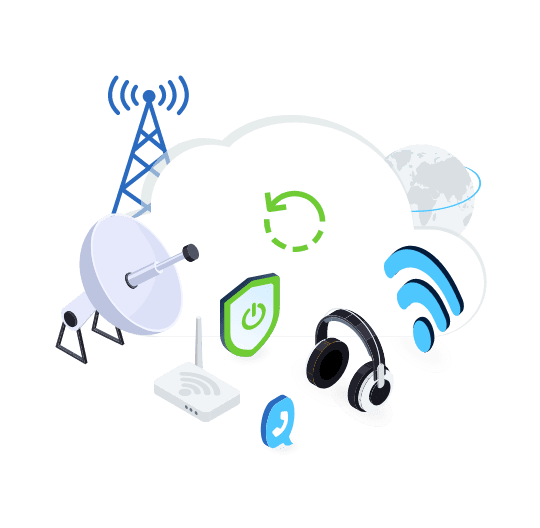 With Saas Backup, the Customer Has Full Control Of Telecommunications Data

We understand the sensitive nature of telecommunication data and ensure that with our SaaS backup you retain full control of your data:
Admin-controlled backups: Backup data is not accessible outside of the CloudAlly platform. Backups can only be activated, deactivated or restored by your Administrator.
No data retention after deletion.
Immutable Backup – No Deletion
Data stored on Virtual Private Cloud on AWS with compartmentalized access.
PCI compliant payment processing.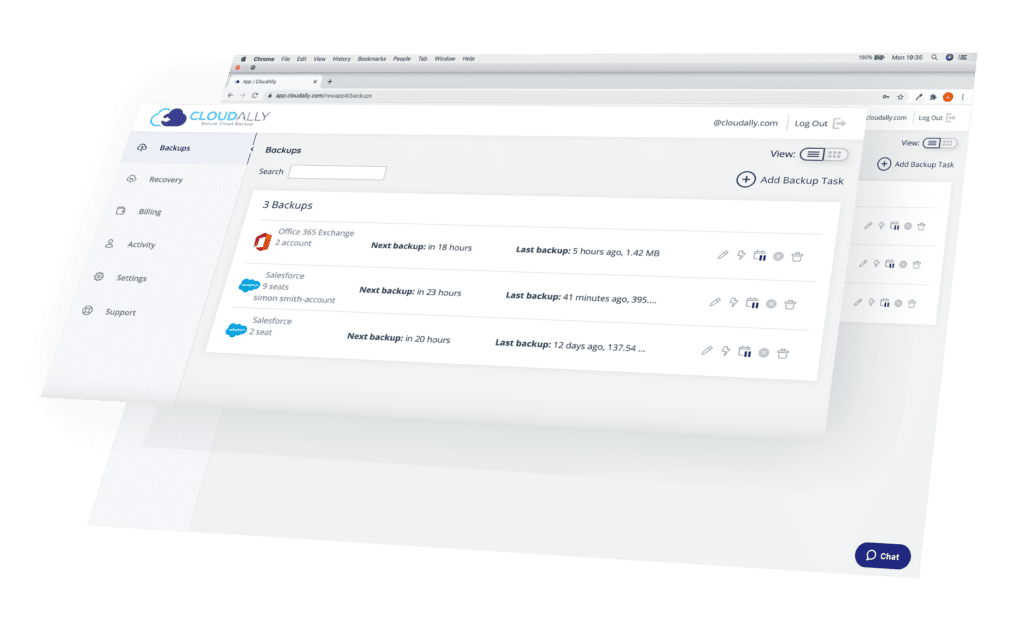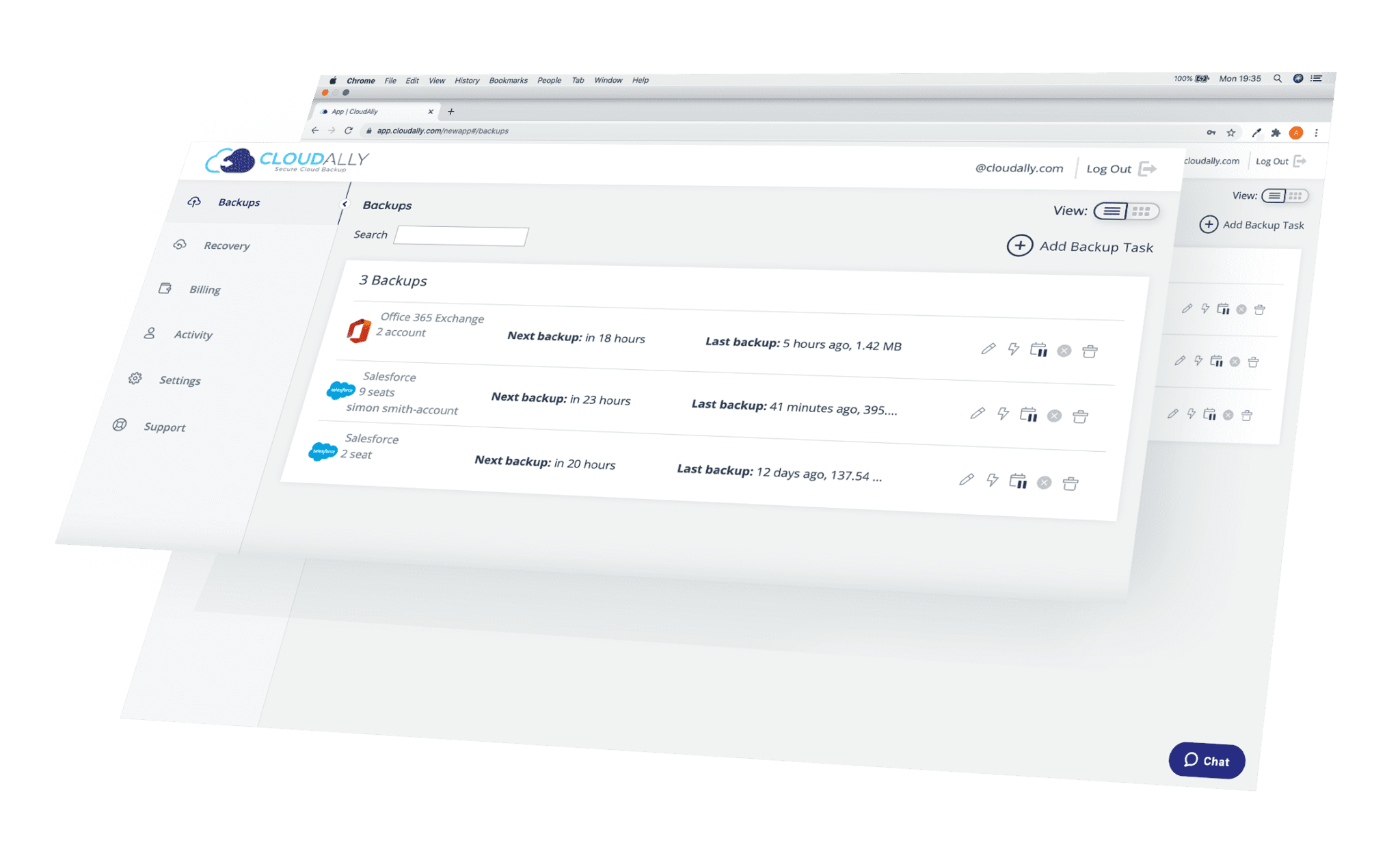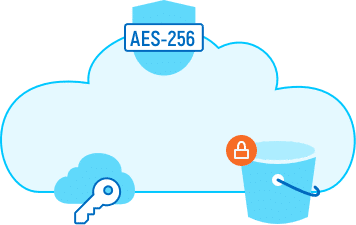 Saas Backup With Audit-Ready Security Controls:
A Must For Telecommunication Companies:
From its inception, CloudAlly has taken privacy and security very seriously. Our platform was built from the ground up with security in mind, utilizing leading information-security best practices. CloudAlly's security features include:
Saas Backup With Effortless Adoption
and Exceptional Support
CloudAlly's backup solutions work right out-of-the-box, unobtrusively and effectively. Our Customer Support is exceptionally responsive – always there for you ready to resolve your data protection issues.
Intuitive, non-technical interface.

Automated backup and three-click recovery.
Support for auto-activation of backups, and smart bulk addition of users.
Tier 1, multi-channel, customer support from real people via chat, phone, email and a dedicated Customer Hub.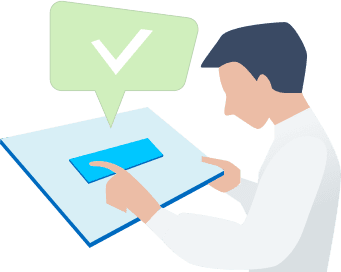 Your Fellow Telecommunication Companies
Over 5,000 customers backup their productivity solutions with CloudAlly.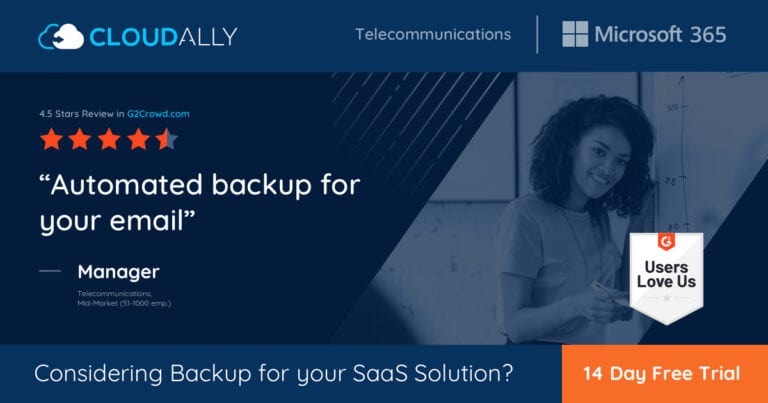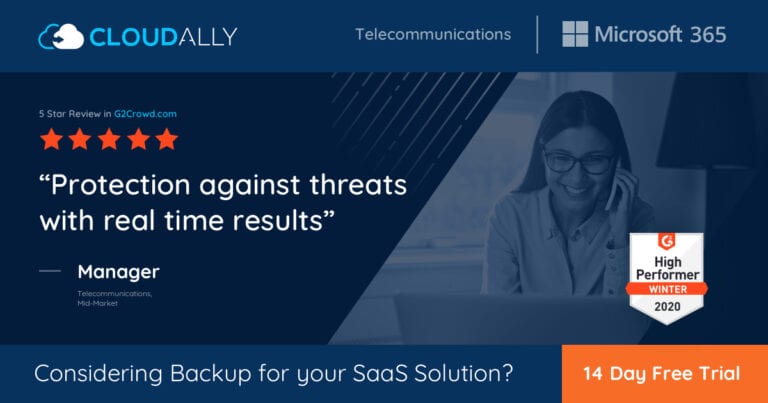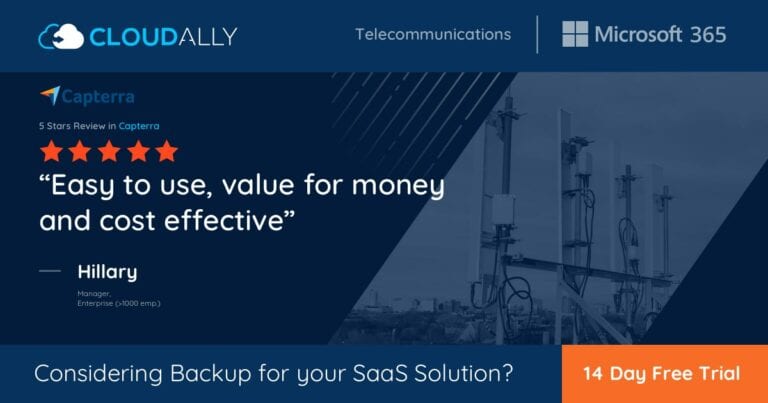 Hear It From Your Colleagues
Start Protecting Your Data Today!
Questions about Data Backup and Recovery Compliance for Telecommunication Companies?
Consult with our Director of Compliance, Monty Sagal.
Compliant, Secure and Audit-Ready
Your valuable SaaS data is only as secure as its backup. Which is why it is critical to ensure that your backup solution is dependably secure.
Security has been in our DNA right from when we pioneered SaaS backup a decade ago. We're fanatical about security for all our backup solutions for Microsoft 365 (Office 365), G Suite, Salesforce, Dropbox, and Box. We have internationally recognized accreditation, stringent application security, and rigorous data protection. We continue to strive beyond the required compliance standards to achieve best-in-class security.
Consult with our Security Expert
Got 100+ Accounts to backup?
We have a special offer for Enterprise Level Pricing.
Get in touch with us for a Custom Quote, or Questions