Are you grappling with starting your Salesforce career, post-pandemic? Heather Black, our Thought Leader for the month has the perfect real-world point pointers to get you blazing. She is a 6x certified Golden Hoodie Trailblazer and founder of Supermums, a global Salesforce training, and recruitment brand, which helps women to accelerate their Salesforce careers. Supermums has supported 450+ trainees and engages 170 plus volunteers across nine different countries. Heather shares some insightful and practical pointers on Salesforce soft skills for women reentering the workforce, choosing a viable (and enjoyable) Salesforce career path, and Salesforce women in tech. Watch the video below or read the interview.
Discover Native and Third-party Solutions for Salesforce Backup and Recovery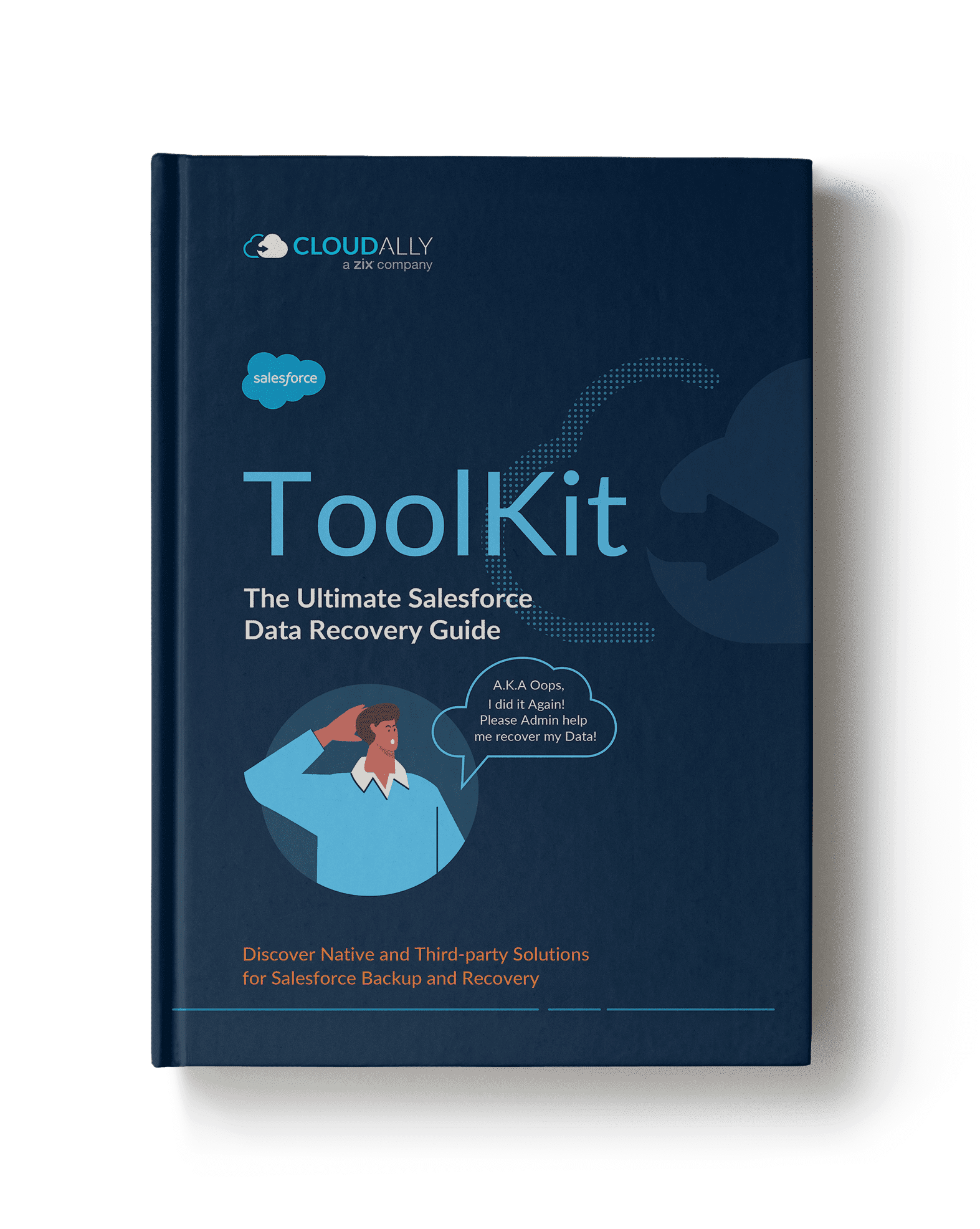 Heather Black on Salesforce Career Paths for Women Reentering the Workforce
Salesforce Soft Skills: Reentering the Workforce
Teresa: Welcome, Heather, lovely to have you. Let's start with a subject close to your heart – empowering women in the workplace and the tech industry. What are the essential soft skills that you would say women reentering the workplace should hone?
Heather: Absolutely, it's a great question. I teach our mums or our trainees, and I notice that we have some that aren't either on our program's coaching skills or business analysis skills programs. Quite often, these are skills trainees and mums already have in their toolkit; they've used it informally in different roles before. If we were to really simplify what coaching and business analysis are, it's very much about asking the right questions to people. Helping understand what their business problems are and then helping to solve their business problems. That's it in a nutshell. A lot of those skills they might have done in previous jobs, without knowing that it was really coaching or business analysis in more formal terms. My background was that of a business coach. So for me, I was like, "Oh, I didn't realize actually these business coaching skills are exactly the same thing!". However, while working on Salesforce implementations, what I found really useful was doing a more formalized course in business analysis and coaching to really fine-tune and understand the nuances and the formalities of doing it for Salesforce projects. That's now what I teach trainees when they come for the Supermums program is honing in on those formal skills. They're great skills that anybody can get under their toolbelt. There is a very low barrier to entry with those, and it just really is about learning and polishing them.
Teresa: Right. But they are also crucial to the project.
Heather: I think so, absolutely, because technology projects aren't just about the technology. I would say technology is maybe like only 30% of it. The rest are people engagement skills; making sure that you understand the business priorities and the challenges, and that you're implementing a solution that will meet those needs. So, it's incredibly important that you have coaching business analysis skills to bring the project to life.
Salesforce Career Paths: How to Choose?
Teresa: A Salesforce career path can have varied trajectories. When at the crossroads of choosing certifications and paths, what pointers would you give to pick the Salesforce career path that fits best? 
Yeah. So that's an interesting one. Well, you could go down either way when choosing a Salesforce career path. I've done five or six different jobs within the Salesforce ecosystem since I started. That's the joy of the marketplace – you don't need to stay with one Salesforce career path and then that's the route you go down. You can choose different roles at different points in your life that suit you best. So for example, I started out building systems for a lot of my clients and working virtually because I was breastfeeding my daughter and wanted to work at home and not travel into London much. And so while being more of the admin and building the system, I could do the business analysis virtually, and that worked really well for me. I really enjoyed just tinkering with the system and building it and spending hours doing it. And then when my daughter was two, I was ready to go out, meet people, and do workshops. And I moved to the role of a consultant BA, did more of the business analysis, and decided to step back from building the system. I worked collectively with other team members who would focus on building the system. And I would facilitate the workshops, gather requirements, think about what the system could be, but then not have to build it. I can test it and understand it, which is really good knowledge to have. I now really enjoy doing this Salesforce career path.
So you can go down either of those two career paths. The people side where you're going out, meeting people, and discussing with stakeholders all the time. But you're not actually building the system. Choose that if you have strong people skills in business analysis, project management, and gathering requirements. Or you could go down the route of an admin, advanced admin, developer, or architect route where you're very much building the system.  Or you understand the build as an architect and you're managing people who are building the system. I don't think it's one or the other. You can obviously go down either of those Salesforce career paths and stick with them, but equally, you know, you could decide at any point to go back.
Salesforce Women in Tech: Carving Out your Career
Teresa: Heather, you became an "accidental" Salesforce admin back in 2011 while managing your non-profit. What advice would you give women with a non-technical background seeking to take the Salesforce plunge? How viable is it as a career choice especially for women reentering the workforce? What is the state of Salesforce women in tech?
So when we recruit people into the Supermums program, we do a five-day challenge encompassing various aspects. You can sign up to learn about the ecosystem, understand Salesforce's capabilities, and do a test Trailhead. It gives you exposure to get your hands dirty and build the system. It's a great foundation course for whichever Salesforce career path you go into because from it you get hands-on Salesforce insight. For instance, if you really enjoyed building the system, you can pick the admin or developer path. Or you might find that you actually love exploring Salesforce's capabilities and go down the path of being a BA, a project manager, or a consultant where you have to do requirement gathering, analysis, and design.
Regarding the non-technical background, the reality is that Salesforce is open to anybody from any background. We've seen that you know. We've actually had about 450 trainees go through our program globally, and they have such a wide range of backgrounds. For Salesforce women in tech, I'd advise first get into Salesforce and then figure out which job path best suits you.
Teresa: True, Salesforce is very flexible, which is helpful for women, in particular, to reenter the workforce, get back into tech, and carve out their Salesforce career paths. Talking about our times, the pandemic has made working from home the new normal, and it has thrust the challenges of the same on an unprepared workforce. You're a seasoned work-from-home pro and have balanced work and motherhood. What advice would you give to women in tech struggling with context switching and load balancing?
People wrongly assume that "Oh great! I can just put the washing on in my lunchtime". And it is hard now especially since the kids are at home too. Reflecting on the new norm and balancing it all, one thing that's important is to have a routine. Every quarter I will sit down and rejig my diary and create new habits. If something is not working for me, I schedule it out. That might mean working in the evening; where I can take half a day off to do something for myself. So I will go and do a horse riding lesson in the am on Tuesday, and to balance it I'll work Tuesday night.
It's really important that women make time for themselves because we have to look after ourselves first to be able to look after everybody else; our own health and well-being are important. I think equally you need to create new routines and habits for doing that with your kids. If you're picking up the kids early, I think it's incredibly hard to be on your computer when the kids are running around because you tend to try and juggle it all, get cross with them, make mistakes, and it doesn't work. Actually, I'm thankful I had kids because it made me stop working when they were around, or I get nanny cover if I need to. I think it's about creating habits, planning out a diary, managing your time, but making time for you as well within all that.
Teresa: Despite the buzz, gender parity in tech is far from a reality. A recent study by Accenture and Girls who Code, showed that 50% of women abandon technology careers by the age of 35 with 79% of women believing that the technology industry was not a place where they could thrive. Do you feel Salesforce Ohana runs contrary to the tide to offer a welcoming and nurturing launchpad with career paths for women in tech? 
Heather: Yeah, it's a really great question. The tech industry more broadly obviously has a challenge retaining women. But I do feel that Salesforce Ohana is supporting women in tech more readily. There were statistics shared at Dreamforce the year that 50% of Salesforce admins are women. This indicates that there is a pretty good entry rate for women in Salesforce. However, the main hurdle is maintaining those women up through the ranks in Salesforce roles beyond admins.
The other challenge is not tech industry-specific, it's more to do with company policies, hiring practices, and support for parents – for dads and mums, you know, why should mums pick up most of the responsibilities? Salesforce has very strong values that are echoed within the Salesforce ecosystem around supporting inclusion, innovation, and parity. And companies are listening to what Salesforce has put out there and are thinking, well, how do we do things differently? We see that with the customers that the Supermums recruitment team works with; they want to hire women and they want to know how to support them better. There is the appetite. Also though the pandemic from a positive point of view, dare I say that, companies have had to embrace remote working and allow more flexibility. This works out very well for women in tech and those reentering the workforce.
And then there are trends like the "Great Resignation", that are causing people to rethink what balance they want in their life. Companies are now having to offer more benefits. And we're seeing that again from the recruitment side, that the candidates have a little bit more power and the companies are really having to think about the benefits, not just the salaries that they're offering. It's very much about educating companies about what the new norm should be and how they can regain that balance to attract and retain the right talent.
So I do think that though the research you quoted was probably very correct at the time, it would be really interesting to redo that research over the coming year. Especially given that companies have had to drastically change their approach to their employees.
Teresa: Yes, it is a watershed moment driven by record attrition and organizations can tide it by looking at employees holistically – as requiring a work-life balance. A great time for Salesforce women in tech to reenter the workforce. So what are the key differentiating factors that employers look for in Salesforce consultants, particularly for part-time workers? How can they uniquely pitch their skills and services without being sidelined?
Heather: There is not enough talent out there. The reality is that there are doors for newcomers to the marketplace. Consultancies want to hire people with industry experience. So you need to sell yourself well by highlighting the industries you've worked in previously. Whether it's a call center, retail, or telecommunications, whatever the industry is, you need to position yourself as a consultant within the industry that you're most familiar with. If you've worked in a certain industry, you come with that knowledge firsthand, right? That's when you're doing business analysis as it's about understanding the industry-specific business and the processes. A consultancy firm has to sell industry knowledge to their customers as well – "We have a Salesforce consultancy team that has knowledge of your industry and also Salesforce products. And we can combine those two things together". Industry knowledge is harder to acquire and takes years to get there, so that's a great opportunity to pitch yourself.
The other skill that companies want to see is an appetite for self-learning, self-study, and motivation. A lot of people like hiring our Supermums because they have invested a lot of time, hours, and money into training themselves, and they continue to train and upskill themselves. They're very accountable, with a dedication and commitment to learning about Salesforce products and third-party apps as well.
Again, we launched our free Continued Professional Development (CPD) program and we're working with companies like CloudAlly to train people in a range of third-party apps because equally, that's what consultancies also require. They want a breadth of knowledge of the Salesforce product suite, not just Salesforce native, but also ecosystem products that they can use to enhance the value of Salesforce. So don't stop learning and add as much to your CV as you can, and go in there, armed with knowledge about Salesforce products and about your industry experience.
Teresa: What resources, blogs, and communities would you recommend as a starting point for newbies on their Salesforce career path or those reentering the workforce to quickly upskill themselves?
Heather: Well, for newbies and those reentering the workforce, I have to start with the Supermums.org website. We have a very educational blog where once a week we educate our readers on a Salesforce product feature or a live demo. There's a motivational newsletter that goes out every week, so we'd encourage you to sign up. Alongside that Trailhead is obviously the other platform that is massively used and which provides a free educational resource. And then our other favorites are SalesforceBen and LadiesBeArchitects (watch our interview with LadiesBeArchitects founder, Gemma Blezard). They are all great sources of information, videos, resources to keep you abreast of what's getting in the marketplace, and also provide motivation for your Salesforce career.
Teresa: Heather, you spoke about CloudAlly and our partnership with the CBD program. Salesforce has always acknowledged the importance of protecting Salesforce data from loss, using backup and recovery. What steps do you advise by way of due diligence to ensure that your Salesforce data is protected from data loss?
Heather: Yeah, that's a good question. I think it's high time we develop a Data Governance plan for our organizations. I really like educating our customers on Data governance, because it's not just about the system going down and not having access today to it. There's a lot of ways that Salesforce data can get accidentally deleted by people. And I've had it done in our organization as well. You know, so it could be an accidental deletion, deletion on purpose, an unintended refresh, a data import that's overwritten stuff that you shouldn't have done. In all these panicky moments where you're like, "Oh my! What do I do?". So don't leave it for when it's too late. Working with CloudAlly, the blog, and the webinar with the really good Salesforce Recovery toolkit with all the steps, considerations, and ways to do Salesforce data backup. So download that toolkit to help you to think through what you need to do when faced with Salesforce data loss.
What I would recommend again is don't leave it to the bottom of your list because it might not happen or should not happen, because the reality is it could. And then that's going to be a problem for your job potentially because it's something that you haven't thought about. So definitely take the steps to address it, think about it, and put a plan in place.
Teresa: Right. That is true. You do need a safety net for your data. Lovely talking to you. And I will be adding the links below for our viewers to register for the office hour events, and looking forward to those too. Thank you!
Very helpful insights from Heather Black on finding your own Salesforce career path, reentering the workforce, and becoming your own Salesforce woman in tech! Continue the discussion with Heather Black and Supermums – CloudAlly will be hosting two Supermums office hour events with a deep dive into the options available for Salesforce data protection.
Register Now for the SuperMums Live Office Hour Events