By Murray Moceri – Director of Partner Accounts at CloudAlly

---
Marketing Ideas for MSPs
Strong marketing is at the core of any successful business, more so for Managed Service Providers (MSPs), who have a spectrum of products to market and a range of customers to reach out to. However, research shows that more than half of MSPs struggle with their marketing. Without a detailed marketing plan that maps to your business goals, you are missing out on a central driver.  Here are some proven: marketing ideas for MSPs, that can take your business to the next level:
1. Define your client personas
Most Marketing Ideas for MSPs grow ad-hoc, adding solutions to their portfolio and marketing them to prospective clients of all sizes and domains. This makes it difficult to establish a price structure, prioritize solutions and understand your customer persona – all essential aspects of successful marketing. and deciding what solutions to offer one of the most difficult parts of their business. Take a step back and understand your target audience, zone in on your ideal client type and develop your client persona. That way you have can focus and personalize your marketing, and resultantly, be more successful at connecting with your customers.
2. Decide on your sales strategy 
Next, establish a sales and marketing strategy. The two most common models are direct response marketing or brand marketing. You will find both strategies have their merits: branding builds customer retention and recognition, while direct response develops customer relationships, provides you with measurable data and has a good ROI.
Which model you adopt will depend on what you want to achieve and how quickly you want to reach your business goals. However, the arguments lean towards brand marketing.
As Kevin Clune, the Co-Founder, and Editor of MSP Growth Hacks, recommends, "If you are in the position to choose a theoretical marketing strategy for your IT company, we firmly recommend a brand strategy. While I have executed numerous direct response strategies myself as an MSP, it is my general opinion that the days are numbered for the yield that these can produce and that brand is the best play moving forward"
3. Optimize Social Media 
There are 3.2 billion users on social media. And when you consider the vast audiences that social media attracts it is not hard to see why it should be part of your marketing.  However, effective social media marketing starts with a plan. If your MSP does not have social media expertise, then consider outsourcing this part to a specialist. In the meanwhile, here are three tips to get you started.
Be Responsive 
Social media users like to connect with brands and leave them feedback. Whether your feedback is positive or negative, be responsive and learn from it.
Share Links and Build Relationships 
Use social media to build relationships with other MSPs, CSPs, and the likely end-users of your services. You can do this by sharing links to related news articles, announcing new products or sharing service news.
4. Create content that connects 
There are plenty of options for marketing. For instance, you could choose to go with regular newsletters, blog content or white papers or case studies to demonstrate your value. Or try infographics and video marketing. Remember, it does not matter what form your content takes, but the content you publish needs to showcase how your organization or services can add value to the customer.
For that, your content must resonate with your intended audience.  Analyze your preferred/target customer base – their demographics, challenges, and influencers. Focus on their pain points (your customer's main problems), and detail how your services can resolve them. Use storytelling to build a connection with your customers and engaging with them. Powerful storytelling can also create consumer trust and encourage a purchase.
5. Follow-up with leads
Follow up on leads you make at networking groups and tradeshows. 48% of sales people do not follow up on leads, while others do not follow up quickly enough. This leads to what Christopher Ryan of Fusion Marketing Partners calls 'revenue leakage". Marketing Ideas for MSPs are very important.
Use multi-channel engagement when following up with leads. Consider sending educational material like whitepapers and case studies, making a connection through a shared experience at the event, and sharing information about new services.
6. Add new services
Add new services by teaming up with a partner. When you partner with an external business, you can diversify your offerings to increase your client base and your revenues. Ensure that your suite of offerings is not piecemeal, but comprehensive and keeping up with industry trends. For example, with high-profile data breaches and evolving security threats, cybersecurity is an increasing concern for organizations worldwide. As a result, cloud clients are increasingly expecting their MSP providers to offer more complete services, such as SaaS backup and recovery, and disaster recovery. Including such backup services can dramatically increase the saleability of your suite of services.
7. Don't neglect after-sales
Churn is becoming a major cause of worry amongst MSPs. A recent SolarWind MSP survey indicated that every month on average in North America MSPs are gaining four new customers for every three lost. How can MSPs stem the loss? With exceptional customer service and after-sales support. It's vital that your Marketing Ideas for MSPs with a company that offers product marketing and sales support, along with excellent customer support, for reduced churn and increased referrals.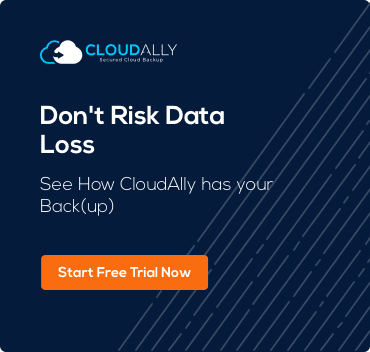 How CloudAlly Can Help?
Increase revenues and provide a more complete service by offering CloudAlly's secure, dependable and comprehensive SaaS backup and recovery solution. Three reasons MSPs prefer to partner with us:
We back up the entire range of SaaS platforms – Office 365, SharePoint/OneDrive, G Suite, Box, Dropbox, and Salesforce – so you have a one-stop backup solution for your range of clients.
Customer support that is highly responsive, dedicated and spans the full sales life-cycle is a proven MSP differentiator. We focus on customer engagement both pre-sales and post-sales with 24x7x365 customer support from a real person. We also understand the customer's need for multi-channel support options via call, email, chat, or a ticket through our dedicated customer portal
Questions?
Our accelerated Partners Program offers exclusive partner discounts, commissions and added revenue. We also extend sales and marketing support from our team of experienced marketers and our content repository of proven marketing material.
Lets Get the Conversation Going – Learn More about Partnership: Drop us a Line