SaaS (Software as a Service) adoption has been swift and unrelenting, making it almost ubiquitous. 99% of companies use at least one SaaS solution. However, the magic of SaaS – its computing speed, flawless scalability, accessibility, and most importantly its hands-off approach where the vendor takes care of everything – has led to some misconceptions. Amongst them is the misconception that securing SaaS data is the vendor's responsibility. This, in addition to increasing malware attacks and data breaches, has resulted in widespread SaaS data loss affecting more than a third of all companies. An easy and reliable solution to SaaS data loss? SaaS backup itself, which harnesses the same power of SaaS – high-speed computing, easy access, pay-as-you-go/grow, to protect your valuable SaaS data. In this blog, we examine SaaS backup in detail and expand on must-have criteria for you to select the best SaaS backup solution for your business.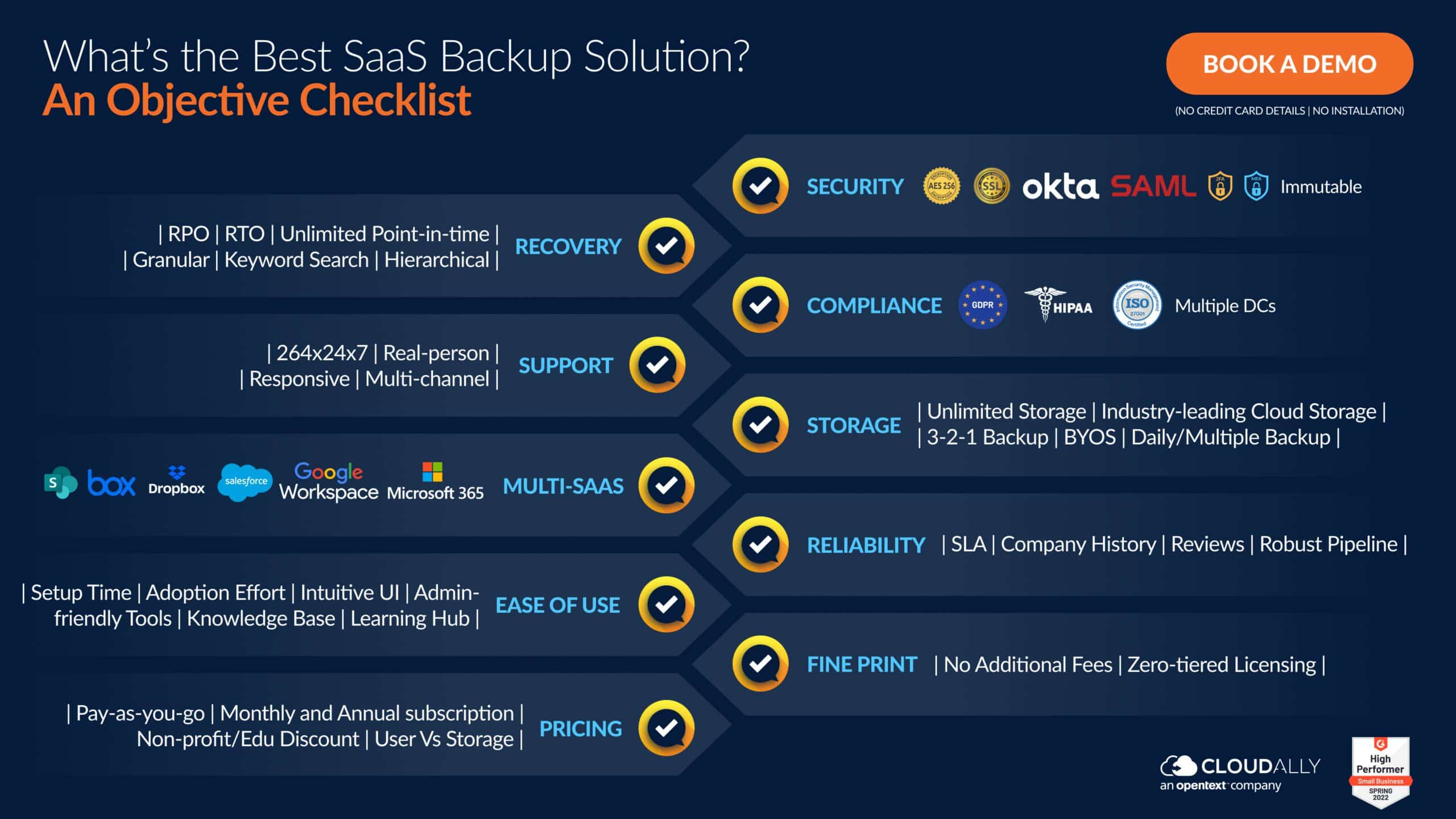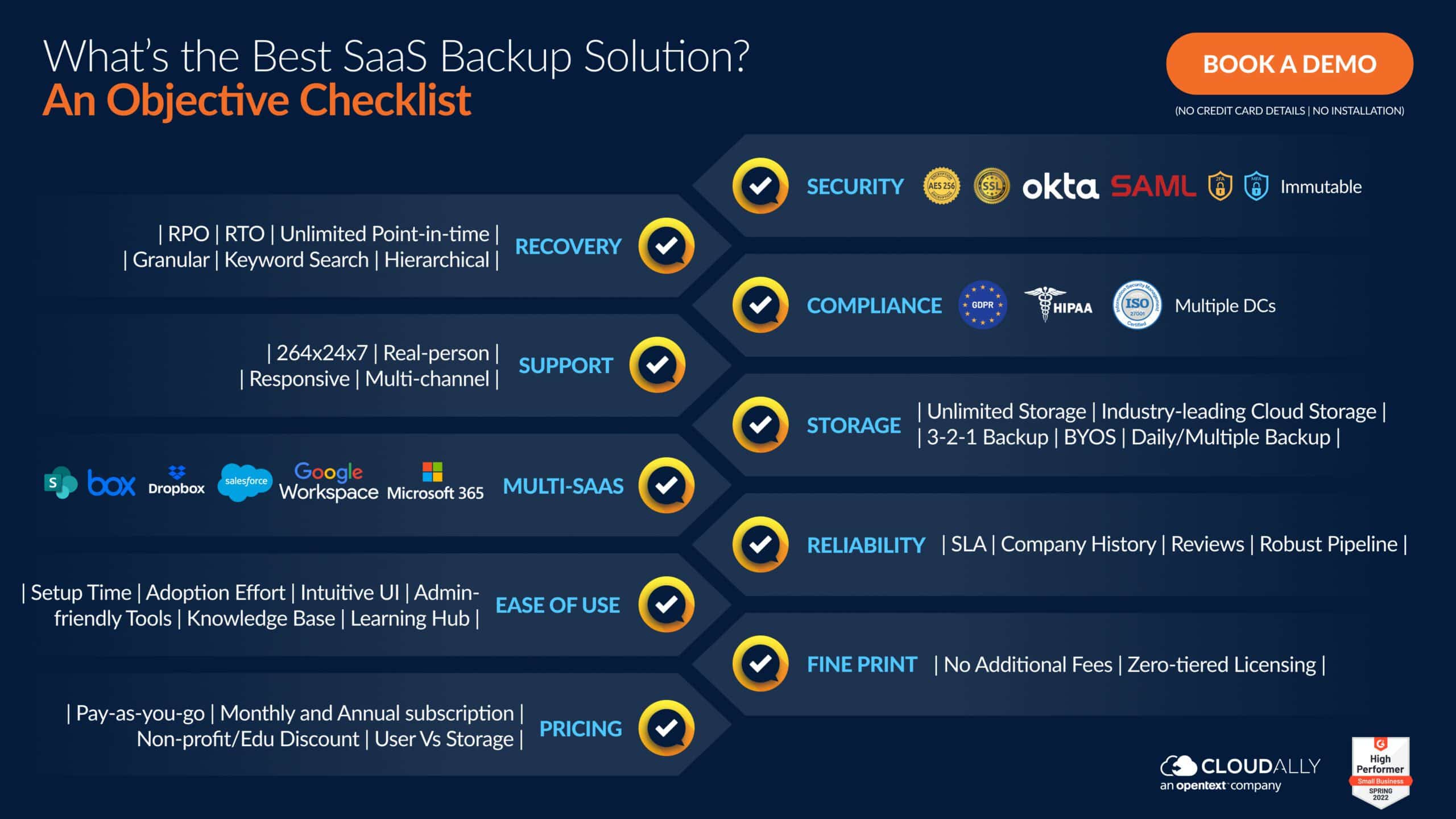 What is SaaS Backup?
SaaS backup is a third-party backup solution for backing up data from SaaS platforms such as Microsoft 365, Google Workspace, and Salesforce. SaaS backup solutions are often used by organizations to supplement the native archival capabilities of the SaaS platform or to provide an additional layer of protection. SaaS backup solutions typically offer a variety of features such as the ability to restore individual files or emails, granular control over retention policies, and integration with third-party data archival solutions. In addition, SaaS backup solutions often provide the ability to monitor and report on the health of the backup environment.
Why Do You Need SaaS Backup?
There are many reasons why you might lose data stored in a SaaS application. Ransomware and malware attacks have become increasingly common, and even accidental deletion or synchronization issues can result in data loss. Without a proper backup solution in place, recovering from these issues can be difficult or even impossible.
Native backup and recovery solutions for SaaS applications are often tedious and time-bound, with no unlimited point-in-time recovery and no ransomware or malware recovery. This can lead to lengthy downtime and recovery times, which can have a negative impact on business continuity. ESG reported that 81% of companies have lost Office 365 data and only 15% of them could recover their lost data without third-party backup.
A proper SaaS backup solution can help to mitigate these risks by providing an easy-to-use, automated platform that helps to protect your data against all types of threats. With unlimited point-in-time recovery and ransomware and malware protection, you can rest assured that your data is safe and secure, even in the event of an attack. But how do you pick the best SaaS backup solution for your organization? Here is an objective checklist with the must-have criteria for an effective SaaS backup solution.
What's the Best SaaS Backup Solution? An Objective Checklist.
#1 Security Credentials
Your data is only as safe as its backup. Look for a solution that offers robust security credentials.
Data Encryption: Make sure your data is encrypted both when it's at rest and in transit.
App Security: Check that the cloud backup provider you're using has a reliable and secure solution, protected by firewalls, and intrusion detection
App Authentication: Does it support SAML authentication, MFA, 2FA, etc?
Certifications: Is the solution ISO certified? HIPAA/GDPR compliant?
#2 Ease of Recovery
Easy and accurate data recovery is crucial to minimizing the impact and cost of a breach. Two parameters that can help you assess the efficiency of recovery are the Recovery Time Objective (RTO) (time taken to return to regular operations after a data loss incident) and the Recovery Point Objective (RPO) (the maximum amount of time that can elapse between your last data backup and an incident of data loss, before it seriously damages your organization). Reducing the RTO and optimizing the RPO reduces downtime and ensures business continuity.
Test your SaaS backup solution with simulated data loss scenarios. Check your average RPO and RTO and see how it compares with your desired values.
Look for solutions that offer unlimited point-in-time recovery, allowing you to quickly restore data to any point in the past.
Check on additional recovery options such as granular, hierarchical search with keyword support so you can easily find and recover lost data.
#3 Compliance Certifications
Data protection is a complex issue, and compliance requirements vary per industry.
Make sure you choose a SaaS backup solution that meets all relevant compliance standards for your industry and your geographical region.
Check if multiple data center locations are offered, in case you have to adhere to data sovereignty laws.
If you are in the healthcare industry, check that a BAA (Business Associate Agreement ) is available.
How transparent is the monitoring and how exhaustive are the activity logs?
CSPs in the European Union must provide users with the functionality of accessing or deleting their data
Ensure that you have full control to permanently delete your data and all other copies held of it, so the "right to be forgotten" is maintained.
#4 Customer Support
Real-person, responsive, informed, and accessible customer support can be a game changer. Particularly when you're dealing with the stressful situations of data loss.
Look for a provider that offers 24/7 technical assistance and help with setup, configuration, and monitoring.
What is the average response time?
How many channels can Support be contacted on – email, chat, phone, or ticket?
Additionally, consider whether or not the provider offers specialized services such as recovery assistance in the event of a disaster.
#5 Storage Limits
Consider the storage limits of your SaaS backup solution. Many providers offer flexible plans with unlimited data storage, allowing you to back up as much data as needed without worrying about exceeding a limit. Make sure you select a plan that meets your organization's needs and allows for future growth.
#6 Comprehensiveness
The modern workplace may require multiple SaaS platforms – Microsoft Exchange for email and Dropbox for file storage, or perhaps a mix of Salesforce and Box.
See that the SaaS backup solution you select is comprehensive and covers all relevant applications. Look for a vendor that offers support for multiple platforms and provides end-to-end data protection, from backup to long-term archival.
Do the backups comprehensively protect all the data in the SaaS platform? For example, Microsoft 365 backup should include Exchange, Calendar, Contacts, OneDrive, SharePoint, Groups, Teams, Public Folders, and Tasks.
#7 Reliability
Look for solutions that offer high levels of uptime and performance, backed by the latest technologies to ensure your data is secure and always available.
Verify the SLA – it should be 99.99% or higher.
How old is the product and the company? Check on the reviews. Ask around in your local admin meetups.
Check if the SaaS backup solution company is committed to a robust product development pipeline.
#8 Ease of Use
Look for a provider with simple setup and configuration processes and intuitive user interfaces that allow users to easily access their data and manage backups.
Does the solution work out-of-the-box? How long does the setup take?
Is there a repository of training material, tutorials, guides, etc.?
Can you self-service your own backup and recovery?
Is there support for multiple admins?
Does it have admin-friendly tools such as auto-detection, auto-archival, etc.?
#9 Fine Print
Read the fine print of your provider's backup plans to make sure you know exactly what you are signing up for. Make sure you understand all the terms and conditions, as well as any additional fees that may apply. Most importantly, check that you're not caught in licensing hell.
#10 Pricing
Finally, make sure to compare the prices of different SaaS backup solutions to ensure you are getting the best value for your money.
Consider storage limits, features, and customer service when selecting a provider.
Pay-as-you-go pricing with no commitment licensing is often the best option for small businesses.
Ask about discounts offered for educational or not-for-profits.
By taking all these factors into consideration, you can select the best SaaS backup solution for your organization and protect your data from any threats or disasters that may arise. With the right solution in place, you can rest assured that your data is safe and secure, no matter what.
Pick One that Ticks Them All: The Best SaaS Backup Solution Checklist
CloudAlly pioneered SaaS backup a decade ago – our products are tested and proven. Over 14k customers secure their SaaS data with us running over 2100k backups daily. We're not merely a single SaaS backup solution provider but a comprehensive SaaS data protection platform, securing multiple SaaS platforms including Microsoft 365, Salesforce, Dropbox, Box, and  Google Workspace . We're stringently secure with AES-256 bit encryption at rest and SSL encryption in transit, support for MFA, choice of data centers in NA, Canada, Germany, the UK, and Australia.
Your data is stored on Amazon AWS servers with unlimited storage and recovery from any point in time, any level of granularity, cross-user, and cross-org. Don't take our word for it, book a demo now and see for yourself!