Remote Data Cyber Pandemic
Organizations globally are inching back to normalcy in the collective battle against the Covid-19 pandemic. Let's discuss the: remote data cyber pandemic issue. As we navigate through uncertain times, another pandemic casts a long shadow. WHO is reporting a fivefold increase in cyber attacks since the start of the pandemic. Worrisome enough for the U.S. Secret Service to put out an alert about phishing scams. Hackers are lucratively exploiting the high-risk vulnerabilities of the remote workforce.
Verizon just released an update to its popular Data Breach report where it pieced together the impact of the COVID-19 pandemic on cybersecurity. The report finds that ransomware and phishing scams are targeting WFH employees with their cyber guard down. This has led to a stunning increase in data breaches using stolen credentials. The stage is set for a cyber pandemic in every sense of the word.
Remote work is the new normal – two-thirds of organizations expect recent WFH policies to persist. Organizations have to effectively and urgently respond to cyberattacks on the remote workforce, enabling employees to work confidently and securely. As the cyber pandemic looms, we expand on a few pointers to secure our business-critical data, gone remote.
Secure Your End-Points
A major remote workforce vulnerability is the use of unsecured devices over unsecured networks. As employees use their own devices over their home networks, strengthening endpoint controls is essential to plug that hole. It enables organizations to protect the integrity of their data and systems, no matter where or how they are being accessed. Facilitate secure remote access by securing your VPN and other employee touch-points.
Infographic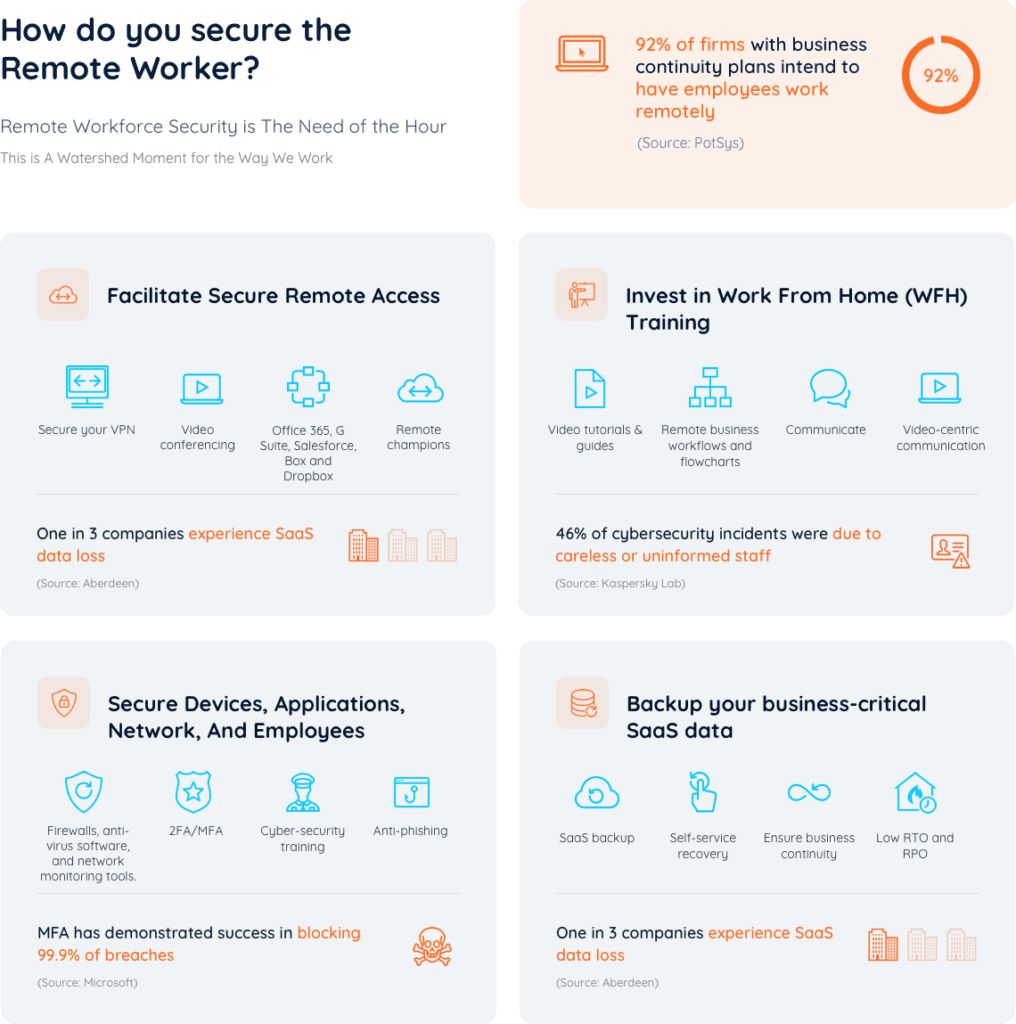 Turn Your Weakest Link To Your Strongest
60% of IT decision-makers are wary of remote workers exposing the organization to a data breach. Can't fault them. Kaspersky Lab notes that 46% of IT breaches were due to careless or uninformed staff. Social engineering is the hacker's prime vector. It uses email and social media to trap unsuspecting employees into making that fatal click to breach their organization's network and data. Invest in regular cybersecurity training which reinforces the importance of safe email and social media hygiene. Update your employees about the latest flavors of malware vectors, phishing red flags, and incident response due diligence. Champion, gamify, and incentivize good cybersecurity practices. Thus turning your employees into cybersecurity warriors.
Vaccinate Your SaaS Data Against the Cyber Pandemic
Data loss, apart from being highly stressful, is a potent business-killer. Few enterprises, and fewer SMBs, can recover from the average $3.86mn cost of a data breach. Apart from breaches, downtime or outages due to ransomware or malware attacks can also prove expensive. Not counting the damage to reputation and customer trust. Our downtime calculator will give you a fair idea. A great vaccine to protect your business-critical SaaS data against the cyber pandemic? The data safety net of reliable SaaS backup and recovery. Only SaaS backup and recovery can mitigate the risk of data loss with quick data and disaster recovery.
Eliminate Data Loss Due to Ransomware or Malware With CloudAlly Backup
Blunt the impact of the cyber pandemic with robust backup that gets your organization (and data) back on its feet ASAP. CloudAlly's enterprise-grade Microsoft Office 365 backup provides end-to-end automated backup and seamless restore of Mail, Calendar, Contacts, Tasks, OneDrive/SharePoint, and Groups/Teams (the cornerstone of the remote workforce). We similarly protect GSuite (now Google Workspace), Salesforce, Box, and Dropbox. For one competitive price, you get
Comprehensive SaaS data protection of the platform of your choice
Unlimited Backup storage on secure AWS servers
Easy recovery from ransomware/malware recovery with immutable data backups and unlimited retention. Restore data from any point-in-time and/or granular level, or export to your own storage.
Secure, encrypted, and compliant backup and recovery
MSP/CSP? We've got competitive partner pricing just for you.
Don't leave your SaaS data unguarded and vulnerable to data loss without it. Vaccinate your data now!