SaaS adoption is ubiquitous – 99% of companies use at least one SaaS solution. SaaS applications hold all our business-critical processes and data. That unfortunately, hasn't missed the eye of hackers and malactors. More than 40% of companies have experienced SaaS data loss and 2 out of 3 have been attacked by ransomware. We, at CloudAlly, are deeply invested in the SaaS data protection space, having pioneered SaaS backup and recovery more than a decade ago. Which is why every year the CloudAlly team including our founder and GM Avinoam Katz, VP Product Michal Zmiri-Yaniv, VP R&D Slava Gorelik, Director of Compliance Monty Sagal, Partner Director Murray  Moceri, Director of Marketing Michael Schneider, and Head of Content and Product Marketing Teresa Gracias, analyze and detail our predictions for the year regarding SaaS data security (read our SaaS Data Protection Trends for 2022 and 2021). So, what's brewing in SaaS data security this year? As software stacks expand to include more SaaS applications, securing the multi-app, multi-vendor SaaS-verse has become complex, cumbersome, and error-prone. How do we secure our diverse and complex web of SaaS apps & data? Read on for our insights on SaaS data security trends for 2023.
#1 Global Focus on Overcoming Vendor Supply-chain Vulnerabilities
The cloud is getting stronger. As more organizations move to cloud apps for various business functions and workflows, the software stack becomes a complex SaaS-verse with multiple cloud-based apps and vendors. This, combined with the swell in SaaS supply chain attacks, will make organizations more cautious about securing their supply chain. Signal, considered to be the most secure messaging app in the world, suffered a breach-by-relation thanks to a phishing attack on Twillo, its phone verification SaaS provider. 2022 has been riddled with such supply chain breaches.
Vendors will be vetted even more stringently than before with substantial SLA contracts and assessment of their supply chain activities. Organizations will lean on standardized information gathering (SIG) questionnaires modeled on government/industry-approved secure development and supply chain practices such as the US Executive Order on Cybersecurity. Such documentation will be a part of regular audits with third-party vendors. Companies will also prefer vendors that can provide a suite of IT, security and compliance solutions to simplify their stack and reduce the risks of dealing with multiple third-party apps.
#2 SSPM and Zero Trust Will Combat Misconfiguration and Authentication Issues
Configuration of multiple app security settings can be confusing and replete with errors. The terminology and fine print behind the settings for each SaaS app are unique. Add to that the fact that SaaS apps regularly roll out updates that can tweak their settings. Now multiply that by the number of SaaS apps in your org, and the possibility of misconfiguration will not be just be probable, but highly likely.
Apart from the security of the SaaS supply chain and misconfigurations, one must also consider the security of authenticating SaaS apps. Particularly the apps that ask to authenticate via central SaaS apps such as Microsoft 365 or Google Workspace. The popups we often come across that ask for permission for one SaaS app to connect or authenticate via other SaaS apps. The risks of giving access to an unsecure app grows as the software stack and/or employee downloads of SaaS apps expand.
To deal with misconfigurations and authentication issues, security teams will need to monitor and limit apps that can connect to vital SaaS apps. Permissions and access rights to connect various SaaS apps will need to be detailed. MFA (Multi-factor Authentication) will be the de-facto norm. Companies will adopt the zero-trust model, especially when dealing with unsecured devices and networks. Security toolsets such as SSPM or SaaS Security Posture Management will become accepted best practices. SSPM essentially refers to a suite of automated security tools, enabling Security and IT teams to gain valuable insight into their SaaS environments while also managing the system's overall security posture. SSPM prevents misconfiguration by continuously monitoring the configuration changes and undocumented feature releases. It also checks compliance settings and evaluates access and authentication as per the security guidelines. The combination of zero trust and SSP can help mitigate misconfiguration, authentication, and non-compliance issues.
#3 AI Will Power Both Cybersecurity and Sophisticated Ransomware Attacks
Ransomware has moved beyond its old-school skull and crossbones to avant-garde sophistication. We now have Ransomware as a Service (RaaS), where malicious actors use a platform to initiate and sustain a ransomware attack and double extortion, where valuable data is leaked out for a double ransom or a sale on the dark web. Cybercriminals will level up their game by harnessing Artificial Intelligence (AI) to innovate tactics and techniques to evade detection and compromise systems. In particular, AI-fuelled ransomware will challenge MFA and Endpoint Detection and Response (EDR) technologies – the adversaries of ransomware. Thus, organizations will need to focus their ransomware incident response plan not only on detection and protection but also on recovery and remediation. This can significantly reduce the damage of the ransomware attack by lowering downtime and improving business continuity. In fact, research by Sophos indicated that ransomware recovery and remediation form the bulk of the cost of ransomware at an average of 1mn USD.
Similarly, AI will also be tapped into by cybersecurity solutions. The global artificial intelligence in the cybersecurity market is expected to grow at a compound annual growth rate of 24.3% from 2022 to 2030 to reach USD 93.75 billion by 2030. AI will leverage machine learning and deep learning to detect patterns in the network, classify them, and then identify any anomalies or security threats that deviate from standard behavior. This will allow companies to respond quickly with appropriate measures before further damage is done.
CloudAlly's Unrelenting Focus on Security
We at CloudAlly have always been fanatical about security, especially with backups being targeted by hackers and increasing supply chain attacks.We ensure the security of your SaaS data with impeccable security credentials. These include cloud-to-cloud immutable and resilient AWS storage, AES-256-bit encryption, 3-2-1 backup rule compliance, GDPR and HIPAA compliance, ISO certification and secure authentication via SAML-Okta, OAuth, and MFA support.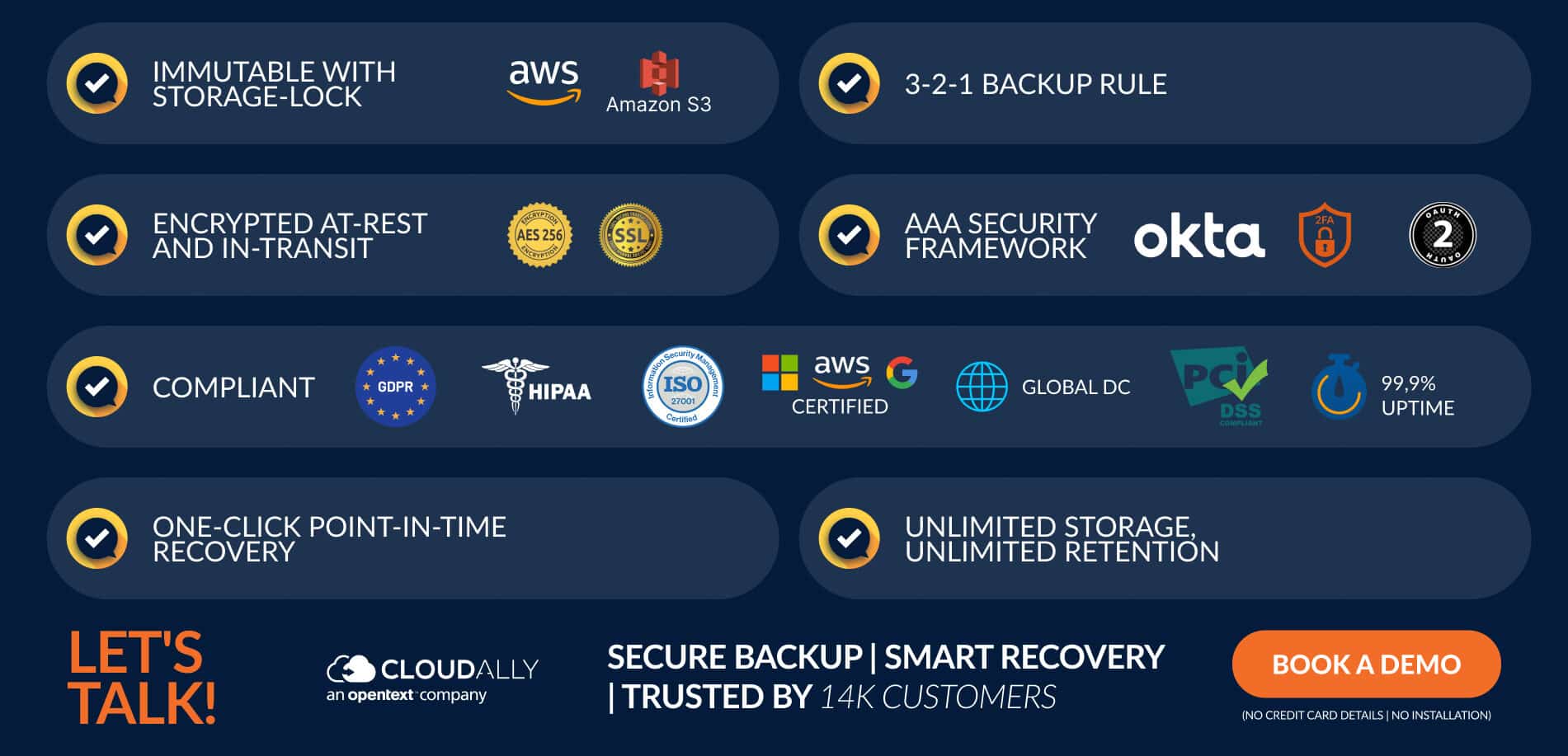 Comprehensively protect all your SaaS data –  Microsoft 365 (Mail, Teams, OneDrive, SharePoint, Calendar, Contacts, Tasks, Groups), Salesforce, Google Workspace,  Dropbox, and Box, with metadata included. Recover ASAP from ransomware with unlimited retention and 1-click recovery. All with unbeatable pay-as-you-go pricing and zero-tiered no-fine-print licensing. Book a demo now to explore how you can secure your SaaS data.