CloudAlly's New 2019 Logo was update in order to represent our product positioning, business segment, and value proposition, in-line with our product development in the past 8+ years. But first and foremost, the new logo has to reflect our innovative technological backup solution.
We begun as a small company in 2011 and back then it was essential for us to emphasis our friendliness and ease-of-use backup solution, your "cloud ally".  As we matured into 2014 … it was necessary to highlight our strong security in CloudAlly's New 2019 Logo , which presented a shield, demonstrating our strong position on security, as we hold our customers data on Amazon AWS cloud servers.
Since then we've grown to a 50+ employee size company with a global customer list of over 5,000, over 1 million users, providing a backup application which supports: Office 365, SharePoint/OneDrive, G Suite, Salesforce, Box, and Dropbox Business, with data centers in the USA, EU, Australia, and shortly expanding to other continents.
We've remained an independent company, with the same founding members, and a most excellent globally dispersed customer support team (where our customers backup their business solutions).
Our objective with the new logo was to continue to reflect our business segment, cloud-to-cloud backup, and we've insisted in demonstrating this graphically; pertaining ALLY in our brand navy blue.  Our tag line has been modified to 'spell out' our security emphasis; 'Secure Cloud Backup'.  Hence, the best of both worlds.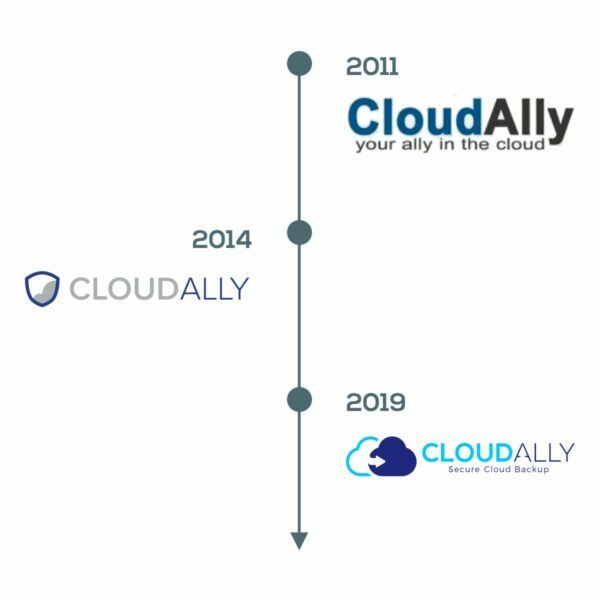 The next step is adopting the new brand visual design to all our marketing materials.
We're putting a lot of effort into this modification in order to better reflect our value proposition; best-of-breed, secure cloud backup for major business solutions.
We're working hard and glad to have your feedback about our new logo, here in the comments, on our Twitter, or Facebook company page.
For our partners in backup we've placed the new logo on our media page, and here to download.