Using G Suite for your company's email service is smart. It is simple, easy to use, and employees can log in to collect their messages from just about anywhere. You feel safe with Google and you should. Google has a reputation for having reliable security. While they do provide excellent security, they are a slew of reasons that can cause you to lose your Google Contacts. There are three ways you can backup Google Contacts and restore them.
---
What this article is about:
---
Main Causes of Your Google Contacts Data Loss
Syncing and merging problems are simple and often overlooked when contact details are lost. If you select the wrong files or too many files at once, you can lose your contacts. It may not be obvious that the loss occurred. Like merging address books, syncing your Gmail contact list with your phone contact list can also result in missing information. If the device has a misconfiguration, you can lose information from both the device itself and your Gmail account.
Hackers: Even though the Gmail account may be through G Suite, that does not make it impenetrable to hackers. Google does offer additional security features to make it more difficult for a hacker to access your account without your knowledge. Unauthorised access does still happen, and their primary goal is to send out as many spam as possible. Hackers often delete your email history, sent files, and contact list. This way your contacts cannot alert you to their presence. The best defense against hackers is a complex password, changed regularly, and 2FA (two factor authentication). You can also set Google to alert you when a new sign in has occurred. With the email alert system, you always know when someone has logged in from a new location.
Human error: The most common reason for contact deletion is simple human error. Removing data from your Google account is straightforward. While you may be prompted from time to time to confirm the deletion, that is not always the case. Sometimes, you mean to delete one thing and then accidentally select a different name. When you confirm the deletion, you believe you are correct but turn out to be mistaken. Sometimes you realise your error immediately, other times it could be days or weeks before you realise that the name you need is no longer in your address book.
Option#1: DIY User Level Backup
There are ways for you to back up contacts yourself. You can just export the data to a CSV document on your computer. If you update your contact page frequently, you might want to export your contacts about once a week. Saving a current CSV file once a month is enough to keep this information safe otherwise. If you are using the newest version of Contacts, you may be prompted to change back to the older version for export.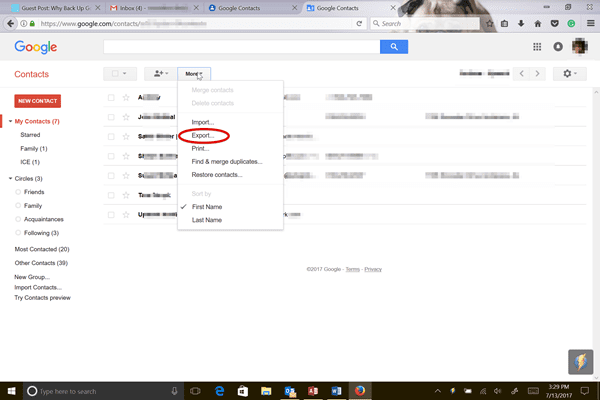 Option#2: DIY Google's Built-In User Level Time Machine
Google offers a basic backup option.You do not have to turn on any settings – this is an automatic feature. Their service retains deleted contacts. However – this retention policy is limited to 30 days only!  Restoring contact information using this approach is simple but potentially destructive. Instead of just restoring the items, it turns back the clock on your ENTIRE contact list – it is a time machine for your Google Contacts, which means that any new names added go away.
>> To restore contacts through Google, start by logging into your Gmail account.
Once logged in, click on the Google Applications icon on the top right of the screen.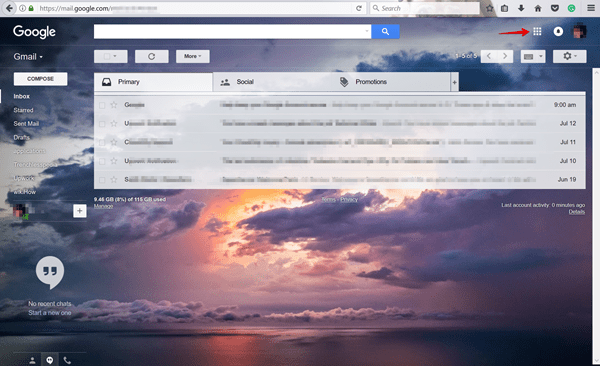 >> Open the Contacts page by selecting Contacts from the drop-down menu.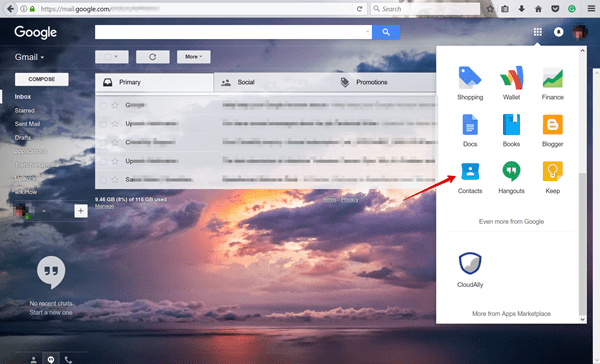 >> On the Contacts page, choose More. In the newest version of Google contacts, the More option is on the left-hand side of the screen. Older versions of contacts, the More option is located above the contact list.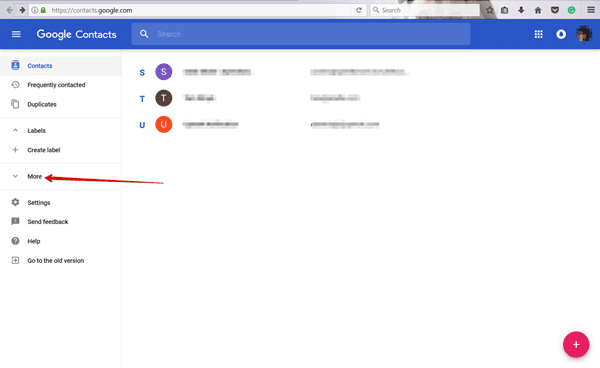 Then…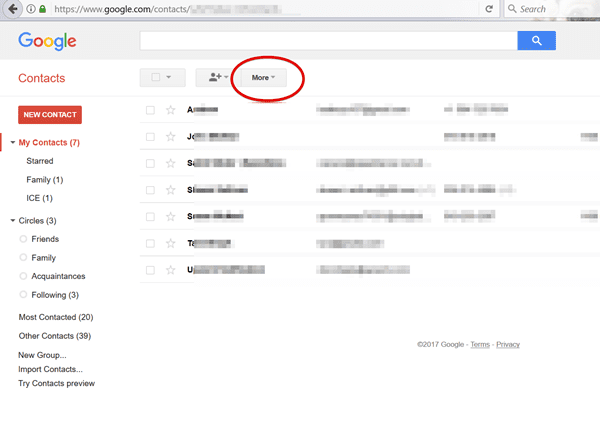 >> From here you can choose Undo Changes and select the time frame from the pop-up box.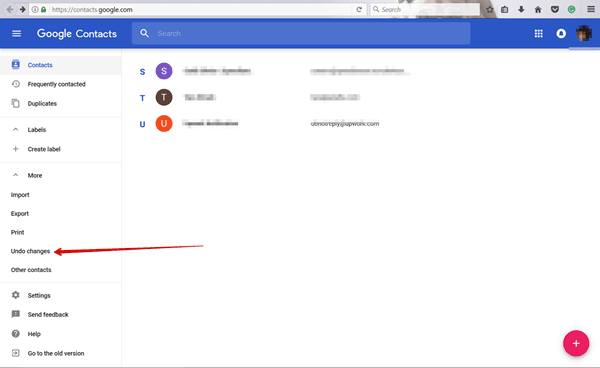 >> Completing an Undo option restores any contacts lost from within the period selected.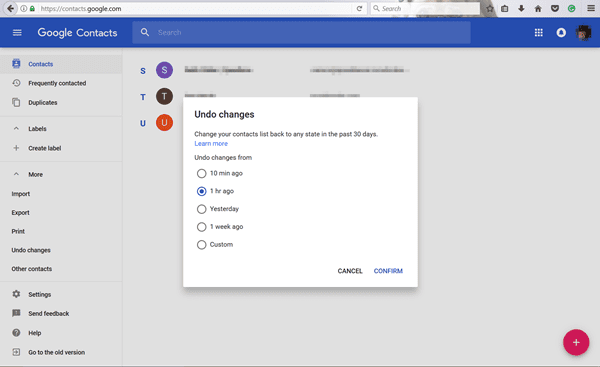 Within older versions of Google Contacts you choose restore instead of undoing. The same time frame options appear.
Option#3: Use a Third-Party Backup Solution
The best way to ensure you lose none of your Gmail contacts is to use a third-party backup like CloudAlly. CloudAlly backups all your contacts and restore them without deleting any new details. CloudAlly backs up all your contacts from any connected Google or Gmail account. To backup, log into your CloudAlly account and select the Add New Backup Task option. Then choose Google Account.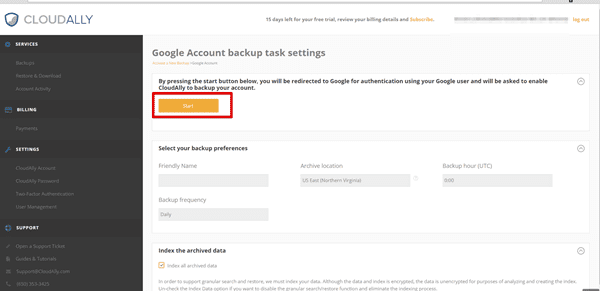 >> Select the Next button to give CloudAlly permission to access and save information from the selected account.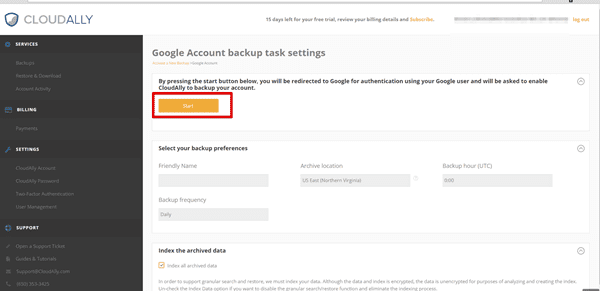 >> After giving Google permission, select the account you want to connect.

The backup begins automatically and runs at the same time each day. Updates made to your contact list are added, while any deleted names remain accessible for later restore.
When restoring contacts, you can choose to restore all names from a particular date with the Snapshot restore, or a specific contact by using the Search option. When restoring, CloudAlly reinserts the information into your address book. Unlike with Google's contact recovery feature, all existing entries remain even if they were added after losing the restored information.