[av_codeblock wrapper_element=" wrapper_element_attributes=" codeblock_type=" av_uid='av-jyh6n62v']
[/av_codeblock]
[av_textblock size=" font_color=" color=" av-medium-font-size=" av-small-font-size=" av-mini-font-size=" av_uid='av-qdmmfk' admin_preview_bg="]
Backing up in Canada with Amazon AWS Data Centers
Microsoft Office 365 is a powerful business tool used by many companies throughout Canada. It helps boost productivity with reliable access to email, calendar, file sharing, online conferencing, instant messaging, and Office applications. It gives businesses the ability to work from anywhere, as long as you have an internet connection, because it's entirely cloud-based.
Unfortunately, many Canadian businesses don't realize that Microsoft Office 365 backup is fairly limited and leaves you open to data loss due to user error, malicious deletion, and data corruption.
The Need for Office 365 Backup
The reality is that Microsoft Exchange Online Archiving for Office 365 is NOT a real backup solution.
Exchange Online mailbox is auto-set for 14-day retention of deleted items. After this point, the recycle bin is permanently emptied, and you cannot recover data that has been accidentally or maliciously deleted. If you think ahead, you can extend your administrative recovery period to 30 days in Office 365, but there is no option for recovery beyond 30 days unless you sign up for a third-party Office 365 backup service.
Another issue with the basic Exchange Online Office 365 backup is that point-in-time restoration is out of scope. Exchange Online Archiving offers an eDiscovery service for litigation purposes, but that's limited to pulling up a single message that's been purged, not replicating an entire mailbox database.
Finally, Office 365 does not protect you from hackers or viruses that take control of your data or delete information. While it offers anti-spam and anti-malware protection, you still need to run your own antivirus programs and have a third-party Office 365 backup solution in place to protect your data if the worst should happen.
That's why you need a 3rd party backup and restore solution.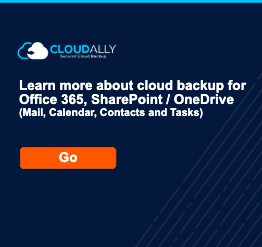 Complete Office 365 Backup
CloudAlly's Office 365 backup is a cloud-to-cloud solution that offers simple, automated, and secure backups of all your data including emails, calendars, contacts, and tasks. It's a  3rd Party secure backup that allows you to access your data when you need it, no matter what.
When you choose CloudAlly for your Office 365 backup solution, all activity including logins, backups, restores, etc. is logged and available on your CloudAlly account. And, by default, you'll receive a daily backup email summary that ensures all your data is available. In addition, you have the option of making on-demand backups of any mailbox as needed, whether you're off-boarding an employee or just worried about saving your data for migration.
Best yet, because CloudAlly uses AWS datacenters, you can choose to store your backups wherever makes the most sense for you.
CloudAlly Uses Canada Data Center AWS
For Canadian businesses, CloudAlly is the ONLY third-party Office 365 backup solution that uses a Canada Data Center AWS . There are only two available centers Hence, full compliance with Canadian regulations is achieved.
CloudAlly's access to an AWS Canadian data centers means that not only do you get the opportunity to store your data locally, but you'll also be better equipped to address Canadian data compliance requirements in the financial and public sector. This translates to huge costs savings when it comes to data management as well as regional security needs.
Storing your data locally also means quicker time-to-market, increased business agility, and greater flexibility. With a Canada Data Center AWS, you'll recognize improved data performance from having a closer public entry-point and an optimized local network.
And by using a Canadian AWS data center, CloudAlly offers the best in cloud security. Amazon S3 secure storage comes with unlimited archive retention and storage, and it meets Canadian PIPEDA regulations along with HIPAA certifications, BAA agreements, and ISO 27001 security.
If you use the cloud in the Canada region, you'll greatly benefit from data storage on local servers and network architecture. The Canada data center AWS was built to meet the requirements of Canadian customers and is recognized as one of the cloud leaders in Canada. That's why CloudAlly is proud to be the only third-party backup solution to own and run our local backup here.
[/av_textblock]