How to Ensure Business Continuity When Microsoft Backup Fails!
The importance of being earnest with the need for 3rd party backup!
One of Microsoft Windows 10's most effective built-in backup features used to be its Registry backups. Though the Microsoft backup commands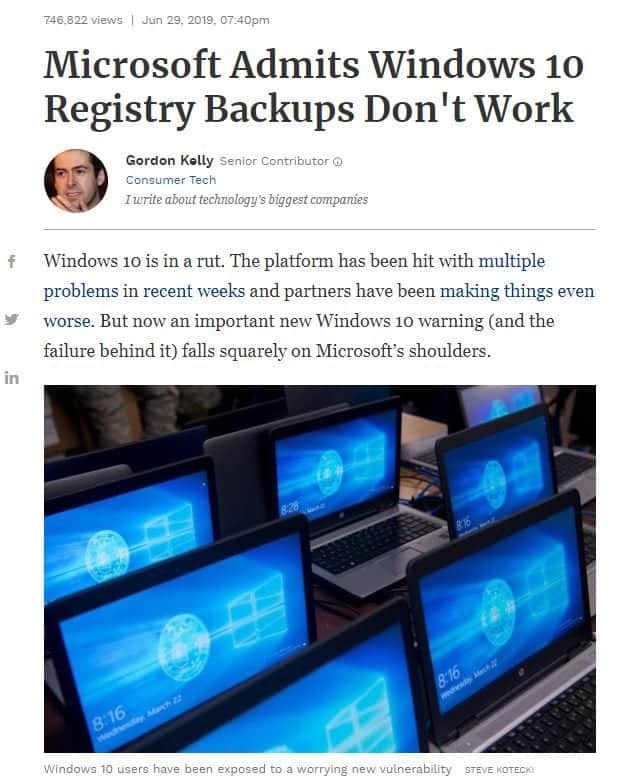 were still running and allegedly being performed successfully, the actual Registry backups had in fact no longer been created – for over a year. So, do you really need to backup office 365?
After numerous complaints, Microsoft explained what was happening, but such a long gap between Registry backups certainly caused problems for companies. This kind of issue demonstrates the importance of creating third-party backups, even if your operating system promises to provide recovery options.  Backup for online business solutions is also required because of the lack of restore possibilities beyond the built-in data retention periods, in solutions such as Office 365, G Suite, etc.

What this article is about: 
Microsoft's Registry Backups
History of Problems with Windows 10
Registry Backup Work-Around in Windows 10
Using CloudAlly's Backup for Business
In June of 2019, Ghacks picked up on the fact that Microsoft was no longer creating Registry backups. While it seemed like these backups were being created as usual, only registry hives, not files, were actually appearing in the RegBack folder.
This meant, of course, that users weren't able to restore their Registries back to an earlier state by using one of these backups.
Microsoft didn't address this issue for nearly a year, and when they did, Forbes' Consumer Tech writer Gordon Kelly calls their delayed response "worrying on multiple levels."
It turns out that Windows 10 hadn't been creating Registry backups for nearly a year. However, the tech giant didn't dub this failure to make backups a bug or a glitch but instead called it a change "by design."
An explanation (belatedly) issued by Microsoft reads:
"Starting in Windows 10, version 1803, Windows no longer automatically backs up the system registry to the RegBack folder… 
This change is by design, and is intended to help reduce the overall disk footprint size of Windows. To recover a system with a corrupt registry hive, Microso