[av_codeblock wrapper_element=" wrapper_element_attributes=" codeblock_type=" av_uid='av-jyh6lwn5′]
[/av_codeblock]
[av_textblock size=" font_color=" color=" av-medium-font-size=" av-small-font-size=" av-mini-font-size=" av_uid='av-igqpx8′ admin_preview_bg="]
Does office 365 backup your data?
It's no secret that IT managers, CIOs, and business owners are moving in droves to the cloud over the past year, and organizations such as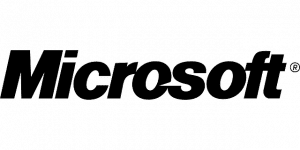 Microsoft, Google, Salesforce are seeing a significant upward trend in the volume of businesses, migrating from on-premises Exchange environments to Office 365 online, G Suite, etc. So, is your data backed up by office 365? This is what we intend to find out in this blog post.
---
What this article is about:
---
Why should IT managers move to the cloud?
IT managers who used to manage a 'server closet' have now freed that space, and instead of upgrading, maintaining, supporting technical problems with hardware, they now can focus their energy on supporting the business needs of the employee. This move from on-premise to cloud makes absolute sense. When it comes to emails, files, storage, messaging, there's hardly any difference (in terms of business value and competitiveness) if you manage them in-house yourself or consume the business solutions as a service.
This is all true except for one particular part of On-premise Vs Cloud; the difference is in: Backup & Restore, in particular Office 365 backup, G Suite Backup, and such.
So what is the classic definition of a backup: Backup: Copies all data and data files that have changed since the last full backup.
However, to achieve true DR (disaster recovery) the backup data center needs to be separate from the original data source, and the copy of the file, email, etc needs to be stored so that if the original system or service is unavailable, it can replace it.
Some IT managers still use a standard on-premises enterprise estate, with MS Exchange. Some have tape, or disk backup as a solution, keeping data anywhere from 1-6 years. There are those CIOs who choose not to delete any information, and keep it on LTO2 tape drive, and old company servers in-office. Not moving to cloud does have its disadvantages, as all this information can be placed at risk in case of fire, theft, and damage. Some countries have regulatory needs in terms of Data Backups, and it's becoming more and more difficult to secure historical servers against data breaches.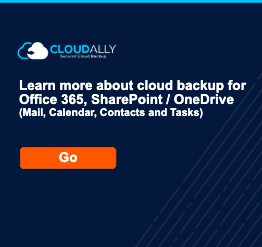 Why do IT managers need to backup their Office 365 data?
Let's be clear, backup is not free. So why allocate budget expenditure to backing up these business solutions? The simple answer to this question is that we need to be able to restore from any point in time, with an unlimited retention period. It's all about being able to restore! CIOs need to be able to restore quickly and easily a whole business solution, or individual emails. This is critical to business continuity, and growth.
Why is there a scenario in which a restore is needed?
An IT admin might be required to restore data because a user, an employee has left the company and deleted his/hers emails, Salesforce leads/contacts, data files, and other information necessary for the new employee on-boarding the company in that specific job role.
In other actual situations, an employee might have deleted this data intentionally, or even accidentally, maliciously… in which case the burden of restore falls on the IT department.
Other more problematic situations are when the IT department faces a malicious malware virus, or ransomware is used by an external hacker. This is where cloud backup comes into play, as the IT admin restores the data back to a point in time, before the hack took place. Such Ransomware attacks are likely to compromise the company SharePoint/OneDrive data, and Microsoft restore capabilities do not address this need.
It's necessary to recall that Microsoft deleted data retention periods are very short – about 90 days – and incomplete… because instances such as Azure server outages have occurred in the past, which again halt business activity. If cloud to cloud backup is in place, the IT admin is able to restore from Amazon AWS data center using applications such as CloudAlly, but only if the company CIO understood the value of backup and subscribed to it from dev-cloudally.com
What about the cost of backup?
If we examine Microsoft Office 365, E3… per user/month, it costs about $25-30? This cost contains a backup for 90 odd days, so once you've deleted your items from both your inbox and the Deleted Items folder, what happens next when you need to restore.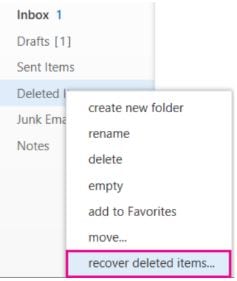 However, if we look at backing up Office 365 Exchange; with a backup scope of Mail, Calendar, Contacts and Tasks. And, this includes the following backup features: backup all or selected users, backup Office 365 Exchanges, and also automatically detect new users. What does this all cost to the organization? The backup cost is $30 per user/year.
The cost for backup is further reduced in companies with over 100 employees, or for those CIOs who use a bundle backup for multiple services. The opportunity cost of not backing up is sheer folly .. risking business assets, which can be made secure and safe.
Recovery procedure in Microsoft Office 365
Use the recoverable Items folder which holds items up to 30 days (14 days is the default state). Items which remain in the folder longer than 30 days are lost, forever … without any way to recover them. (But, it's possible to purge your own Recoverable Items folder at any time.)
There are IT managers which are adamant that Microsoft has thought about all this, and provides cloud backup, after they have migrated to cloud. This is partly true in fact, Microsoft's reply to this situation is a Litigation Hold. This feature copies all the e-mails into an immutable area (hidden from users in Recoverable Items). Also, there is also an In-Place Hold option; but gradually Microsoft is phasing it out. Some IT managers have already been informed of this.
If In-Place Hold wasn't phased out, the IT managers options weren't so limited, Litigation Hold doesn't support public folders, like In-Place Hold. So, eventually if its needed to backup public folders, there is no other way but to adopt a 3rd party solution like CloudAlly.com
*Microsoft Website Note on Litigation Hold and In-Place Hold:
06/24/2019
We've postponed the July 1, 2017 deadline for creating new In-Place Holds in Exchange Online (in Office 365 and Exchange Online standalone plans). But later this year or early next year, you won't be able to create new In-Place Holds in Exchange Online. As an alternative to using In-Place Holds, you can use eDiscovery cases or Office 365 retention policies in the Office 365 Security & Compliance Center. After we decommission new In-Place Holds, you'll still be able to modify existing In-Place Holds, and creating new In-Place Holds in an Exchange hybrid deployment will still be supported. And, you'll still be able to place mailboxes on Litigation Hold.
In any case using litigation hold as a backup creates more legal risk by exposing all company data to eDiscovery rather than only those items that really require litigation hold.
Knowledgeable IT admins, as a process of securing the data, require a separation of roles. This is done so that O365 administrators could assign themselves eDiscovery Manager rights, and gain full access to search and export from Exchange mailboxes, SharePoint folders, and OneDrive folders. And, also change the Litigation Hold policies.
This is exactly why 3rd party cloud backup solutions become useful when integrated with O365. The CloudAlly solution includes role-based access control, which assists organizations to comply with the regional data protection laws, while also allowing a different admin to control the rights to restore.
To conclude; the proficient Chief Information Officer, knows that an independent online 3rd party backup, is the correct policy in organizations using cloud solutions. Some of them started to backup their Office 365 with a Free 14 day trial.

---
Now that you know about that Office 365 doesn't fully backup your data, you might want to have a look at what we created for you…
[/av_textblock]