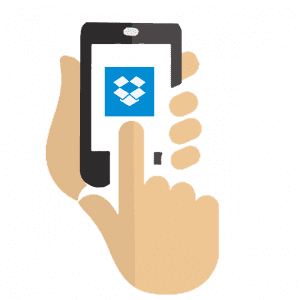 The way people work is constantly changing. More employees need access to documents and files even when they aren't at their desk. For that, they need a remote location in which to store their data that is accessible from anywhere something like the ever-present cloud. With so many cloud choices, we have decided to take a deeper look at Dropbox vs G Drive business offerings.
Plans and Pricing
Both Dropbox and Google Drive have tiered service plans that allow users to pick the best options for themselves. Both companies offer personal and business platforms to best meet client needs. However, they do differ slightly in overall features and pricing of these tiers.
Dropbox
Dropbox's service features make them a leader among cloud storage service providers. All their plans include:
Access from anywhere
Offline access
Automatic Updates
Office 365 integration
Commenting
File Requests
All options offer versioning recovery for files stored in Dropbox. However, the length of time for version roll back varies. Dropbox's professional plans allow users to store up to 120 days of version history.
Business tier plans come with a few extra features. Smart Sync and team folders are only a couple of the extras available. Professional plans also have HIPAA compliance, granular permissions, and an account transfer tool.
Dropbox's professional pricing plans are:
| | | | |
| --- | --- | --- | --- |
| Name | Size | Cost Annually | Cost for Month to Month |
| Standard—business | 2 TB | $150 per user | $15 per user |
| Advance—business | As much as needed | $240 per user | $25 per user |
| Enterprise—business | As much as needed | Call for quote | Call for quote |
Google Drive
Offices using G Suite automatically have access to a Google Drive. As with Dropbox, Google Drive has much to offer in the way of features.
Anywhere access
Large file sharing and storage
Offline access
Link sharing
Collaborate with others
Two-factor authentication
Sync between different locations, e., desktop, web, and mobile
Productivity tools
As part of G Suite for business users, Google Drive has additional features including:
Audit report
Data loss prevention (Enterprise level only)
eDiscovery
Smart search across G Suite with Cloud Search
24/7 support by phone, chat or email
Shared calendars
Unlike with Dropbox, however, Google does have some space saving solutions. For the most part, anything stored within the Drive counts against the storage space. However, there is some instance where files within the drive do not count against the storage space. These include:
Files in "Shared with Me" in which you are not the owner of the document. These only take up space in the owner's drive, not yours.
Google Photos stored using the "High Quality" setting.
Photos and Videos backed up from a Pixel phone.
Google Drive storage may also vary between the web based application, desktop, and mobile application. Shared items do take space on your hard drive on both your desktop and mobile devices while they do not take space on the internet. Additionally, Google Drive does not sync items stored in the web application's trash to your desktop or mobile application.
Google Drive is offered as part of the G Suite service package. Each license you purchase has access to individual Drive locations, not just a centralized dumping space for entire team. The different tiers depend on what your need are. While both the Business and Enterprise plans offer the same Google Drive storage, there are other features offered for G Suite users that may need.
Google Drive with G Suite
| | | |
| --- | --- | --- |
| Name | Size | Cost Monthly |
| Basic | 30 GB | $5 per user |
| Business | Unlimited (or 1TB for fewer than 5 users) | $10 per user |
| Enterprise | Unlimited (or 1TB for fewer than 5 users) | $25 per user |
Google Drive's business plans do have a size restriction. For teams and companies with over five users, the storage size is unlimited. However, for businesses with fewer than five users, the storage space is limited to 1TB per user.
Security
Security is an important consideration. You need to be certain that the documents you store are protected from malicious attacks. Both Dropbox and Google Drive offer security features to keep your data safe.
Dropbox
Dropbox is proud of their ongoing security features that help to protect your data from malicious attacks. Their security features include:
256-bit AES encryption for storage
SSL/TLS transmission protocols
File versioning (30-day for personal plans, 120-day for business plans)
Remote device wipe
HIPAA compliance (business level options only)
Two-factor authentication
Password-protected and expiring link sharing
In addition to their built-in security protocols, Dropbox routinely tests their system for vulnerabilities. They currently work with third-party companies and the security research community to find bugs and holes in the system and report it back to them.
Like many cloud services, Dropbox does allow third-party applications to connect to your account, with your permission. To help protect information, they utilize OAuth, a standard authorizing protocol which allows you to grant granular permission to apps you wish to connect.
Google Drive
Like their competitor, Google Drive has security measures in place to ensure safe storage of your data safely. Some of the safety features they have included:
SSL/TLS transmission encryption
256-bit AES security
2048 RSA encryption keys for validation and key exchange phrases
Certified by SOC1, SOC2, and SOC3 by the American Institute of Certified Public Accountant
Certified ISO/IEC 27001
Google uses Perfect Forward Secrecy to encrypt content during moves between servers. While stored on their servers, the information is walled off from others who may share the server, in much the same way that banks separate accounts. This separation protects your files from intrusion by other Google account holders.
Like Dropbox, Google uses outside contributors to keep their security protocol in check. In fact, they were one of the first companies to offer a Vulnerability Reward Program to their web account holders.
Apps (Dropbox vs G Drive)
There are several ways for you to access both your Dropbox and Google Drive. Each cloud service has a desktop and mobile apps in addition to web access.
Dropbox
If you sign up for Dropbox from your desktop or laptop computer, one thing you will notice prompts to download the desktop application. With this application, a dedicated folder appears on your computer. That folder gives you a direct link to files stored inside your Dropbox account. The desktop application also provides you access to Dropbox files when you are offline. Once you go back online, the folder automatically syncs.
Dropbox allows you to take your files on the go with their mobile apps. You can get mobile applications for Apple, Android, and Windows devices. As with the desktop application, this tool allows you to stay in sync with all files in your account and any shared with you from other accounts. You can use your document scanner to upload images such as white boards and convert them to easy to use PDFs.
Of course, you can still access your Dropbox account via the internet. Once you browse to their website, sign in. From here you can preview, download, and upload files. Any changes you make automatically sync with your desktop and mobile apps.
Google Drive
As with Dropbox, Google Drive has a desktop application. This folder syncs files that you choose to sync to your computer's hard drive, you choose which objects and folders to sync and which to leave exclusively online. Any file not synced cannot be accessed via this application.
Google Drive's mobile app works their desktop software similarly. With the mobile app, you can:
View content
Access files
See file details and activities
Access Google Photos
Use camera to scan documents into PDF
Set content permissions
Of course, you can always access your data on the web. By logging in to your Google account, you can view, edit, and set content permissions. Moving items into the trash online will remove things from your sync folders. However, the trash does not show up in the synchronized folders.
Whether you choose Dropbox or Google Drive, you need to protect your data with a backup and recovery solution. CloudAlly's G Suite backup service includes Drive with unlimited storage at a cost of $3/month or $30/year per user. CloudAlly's Dropbox backup service will be available Q4 2017 at a cost of $2/month or $20/year per 5GB of data.