Gone are the days when everyone relied on tape disks for storing data. Cloud storage has completely revolutionized the way we stored data earlier, like Dropbox VS Google Drive. When it comes to cloud storage, there are a huge number of providers these days, but four providers have made a strong impact and are considered industry leaders: Box, OneDrive, Dropbox, and Google Drive.
But users are often baffled when faced with choosing among these four. We have already compared Box vs. OneDrive, so here we've put together a comparison between Dropbox and Google Drive to ensure you get all the information you need to make the right decision.
The competition between Dropbox and Google Drive heated up when Dropbox partnered with Microsoft last November to offer their customers Office Online integrated with their Dropbox accounts. It should heat up again now, as Google announced on Google Photos last Thursday, on Google I/O.
Let's see the main differences between these two services.
Pricing and Features
Dropbox
Dropbox offers three plans for both individuals and business users. Here is a summary of the features it offers along with pricing.
Dropbox Basic
It's a free plan and some of the features it comes with are:
2GB storage space
File sharing
Reliable backup
Access from anywhere
Dropbox basic is a perfect plan for those who are just starting out with cloud storage. If you need more storage space, then                                                                   it has another plan available named Dropbox Pro.
Dropbox Pro
Here are the features it comes with: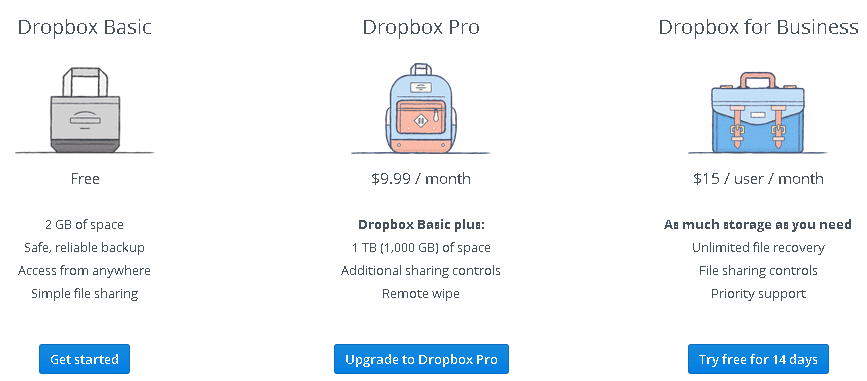 Costs $9.99 per month
1 TB storage space
30-day file versioning
256-bit AES and SSL encryption
Additonal sharing controls
Remote wipe
For business users, Dropbox specifically comes with a business plan:
Dropbox for Business
Here is a quick snapshot of its important features:
Costs $15 per user per month starting with five users
Comes with a free trial for 14 days
Unlimited storage space
SSO and Active Directory
User-activity monitoring
Unlimited file recovery and revision history
Remote wipe and account transfers
Google Drive
Like Dropbox, Google Drive also comes with plans for both individuals and business users.
It offers 15GB of storage space for free, and if you need more than that, it offers five plans starting with 100GB storage at $1.99 and going up to 30TB at $299.99.
| | |
| --- | --- |
| Total storage | Monthly rate |
| 15 GB | Free |
| 100 GB | $1.99 |
| 1 TB | $9.99 |
| 10 TB | $99.99 |
| 20 TB | $199.99 |
| 30 TB | $299.99 |
This puts Google Drive a bit ahead of Dropbox as it offers more storage for free as compared to the 2GB Dropbox offers, and it offers a wide variety of storage options, making it a highly tailored plan for those who may need more than 15GB storage space but not as much as 1TB. However, both providers offer the same pricing for 1TB storage space: $9.99 per month.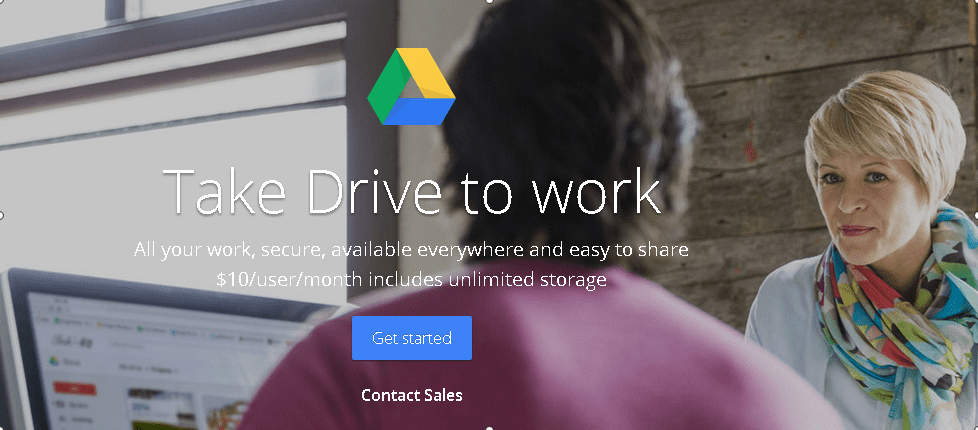 Google also offers a business plan, Google Drive for Work. Here are the features it comes with:
Google Drive for Work
Costs $10 per user per month
Unlimited storage space
30-day free trial as against the 14 days offered by Dropbox
Round-the-clock customer support
eDiscovery, and real-time collaboration
Customers get 30GB of storage space, and if they need unlimited space, they can upgrade to Google Apps Unlimited to access this feature.
Similarly, Google Apps for Work administrators need to purchase a Google Drive storage license for additional storage space.
Security
Security is a concern for all types of users, so let's find out which provider has a better security system.
Dropbox
Dropbox has a stolid security system, some of the security features it comes with are:
SSL/TLS for file transmission and 256-bit AES encryption for file storage
Supports forward secrecy and enables HSTS for better protection
30-day file versioning
Unlimited recovery ( business users only)
When it comes to streaming media files from Dropbox, those are not encrypted because not every mobile media type supports encrypted streaming.Also, those who need unlimited recovery can buy the add-on offered under Dropbox Pro and Classic plans.
In April 2015, Dropbox launched a Bug Bounty program to reward researchers who can find flaws or bugs in its applications. It shows how committed Dropbox is to ensure better security for its customers.
Google Drive
Google Drive doesn't stay behind when it comes to security. Here is a quick snapshot of some of its important features.
Encryption for both the file transmission and storage (256-bit AES).
Compliant with most region and industry-specific regulations such as HIPAA, FISMA, FERPA, and Safe Harbor Privacy Principles
Data centers are ISO 27001 certified, SOC-2 audited, and SSAE 16 / ISAE 3402 Type II
Comes with some powerful tools to manage users better, set sharing permissions, secure devices with mobile device management, and with advanced reporting
In Feb 2015, in honor of Safer Internet Day, Google announced that it would offer an additional 2GB of storage to those who go through a simple security checkup on their account to bring awareness about online safety.
And in March 2015, Google released a set of new tools for both Google Drive for Work and Drive for Education to offer greater control over data sharing both internally and externally.
Mobile Apps
Mobile apps are an inevitable need in this age of mobile digitization.
Let's see which service offers better features.
Dropbox
Dropbox offers mobile apps for every major mobile OS, including iOS, Android,     and Blackberry. A couple of interesting functionalities offered are:
Access and navigate files from Dropbox accounts directly
Photos taken using a mobile camera can easily be saved directly to Dropbox account
Bookmaking facility to store files for offline access
Business users can connect both their personal and work Dropbox accounts but with a separate access system from the same app
In Feb 2015, Dropbox released an update that will allow users to easily open any shared link within the app itself.
Google Drive
Google Drive offers mobile apps for both Android and iOS that help preview more than 40 popular file formats with Drive such as images, videos, PDFs, and MS Office documents and spreadsheets without any additional charges or software. Further, users can edit any files within the app itself.
In March 2015, Google announced an auto-backup feature for the images stored locally on iOS devices. This feature will help Google Drive users to better control their iOS-powered photo management setup.
It also launched a new feature for Android that will help share recently uploaded content directly from the notification that appears as soon as the upload is completed.
A recent update from Google, which was just announced last week on Google I/O is new service called Google Photo, which offers unlimited storage for your photos and videos. Each photo uploaded to Google Photos is immediately backed up on Google's servers and can sync with your Google Drive account. After uploading a photo, Google Photos brings your most recent upload to the top of the app, making it easy to find the last photo you captured. In an effort to get everyone to use Google Photos, Google also announced that the service and app features free "unlimited storage", allowing you to upload as many photos and videos as you'd like.
This new service is definitely a game changer in the competition vs Dropbox which dream was becoming your one-stop storage destination. 
No matter which service you choose, keep in mind that even though it is in the cloud, you still need to backup your data online, especially if you are an IT manager responsible for your company's online data. Read more on how to prevent data loss in the cloud HERE.
 [av_button_big label='Why Backup Online Data – FREE overview' description_pos='below' link='manually,https://cloudally.com/blog/why-backup-online-data/' link_target='_blank' icon_select='yes-right-icon' icon='ue82d' font='entypo-fontello' custom_font='#ffffff' color='orange' custom_bg='#444444′ color_hover='blue' custom_bg_hover='#444444′ av_uid='av-2y0k3c']
Download our FREE overview on data loss in the cloud: what causes it and what you MUST do to prevent it.
[/av_button_big]