Tidy Employee Off-Boarding with Google Apps backup, Microsoft Mail Exchange, etc.
In HR, when you follow up on someone's departure in a typical off-boarding process, you're probably just asking IT to "get everything" from that person's workstation, as you deal with other practical aspects like desk space and benefits updates.
But what if IT isn't able to come up with all of that data?
When people go, they leave their desks and computers. They leave their job position unfilled. They also leave behind troves of data that can be extremely important to the business stored in Office 365 as well as in Google Apps backup, both of which can be backed-up.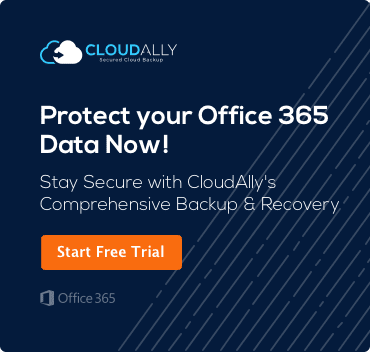 Think about it — the job doesn't stop when the person leaves. There are deals in the making, everyday communications going back and forth between vendors and suppliers and customers, and a kind of "cloud" of data (no pun intended) hanging over that person's assigned role. This includes items like engineering innovations, contractual obligations, sales information and all sorts of data on all kinds of databases.
So what happens to all that stuff when the person who had been working with it is suddenly gone?
Sour Grapes and Other Scenarios
In many cases, the whole company is relying on HR to be the gate keeper in letting someone go, and making sure the on-going business isn't affected.
First of all, as someone in HR or leadership, you have to worry about people acting out if they're not happy with the situation at hand, or if they have an ax to grind with their former employer. It's only too easy for a salesperson to delete his or her email contacts or other deal information, or for a lawyer to delete legal data, or for any disgruntled person to take a swipe at their online and electronic data on their way out. And so often, people are leaving angry. They don't like that they didn't get a promotion, or they were called out for improper behavior, or they don't like their new boss. It all leads to incentives to get back at the company by just hitting the delete button.
But even if there are no hard feelings, and the person is leaving isn't out for blood, they may just accidentally delete some of these items through simple mistakes.
Companies have to know that the crucial data that the next person will need will be there when that person enters the open job position. That extends to the massive amounts of information flying around between email inboxes. It often extends to chat messaging data, or Word documents on a workstation, or video and multimedia content.
Basically, human resources needs all of that data to be there on day one when they fill the position — not lost somewhere in the ether, where IT people have to go in and try to re-create what was happening through difficult data forensics, especially in Google Apps backup.
Sure, you can go to great pains to recover data, and you can even sue, as in this case of a pharma manager willfully deleting key files before leaving, but all of that is damage control. It's better to have things backed up in the first place.
Make Sure It's All Backed Up
If you are someone in HR who just realized you need this kind of backup service, go ahead and ask IT what they're backing up. Is it just the emails? The messaging? Are trade secrets and other pieces of data secure?
Only a relatively few companies offer these kind of comprehensive backups.  IT admins are responsible for data backup procedures for disaster recovery and business continuity requirements, but the right backup service such as CloudAlly can add unexpected benefits to HR such as:
On-boarding
– Automatically backup new employees data when their added to the system, eliminating the need for the admin to manually activate a backup and the possibility of overlooking the task.
Off-boarding
– Providing the ability to recover data that was accidentally or maliciously, deleted or corrupted as a result of an employee termination, especially an unexpected termination where the access has not been revoked following normal off-boarding processes.
– Removing the Office 365 service license to save costs when off-boarding an employee, while still retaining the backup archives for a specific length of time (3, 6, 12, etc, months) for potential litigation.
– The ability to perform a cross-user restore in order to restore an ex-employees mailbox or folders to the new person assuming the responsibility.
With excellent service, ease-of-use and reliability, Cloudally has the right stuff for retaining information from applications like Google Apps backup (G Suite), Salesforce, Office 365, Yahoo! Mail, and other platforms. Get unlimited data retention, easy exporting, and automated backups with a minimum of on-site storage and cost. Let Cloudally help make sure that when a person leaves the business, their business data stays put – because when it comes to having all of the necessary resources on hand, it's "better safe than sorry."  We offer a Free Trial Click Here to sign up for Google apps backup, and other services.