Updated on 4th Feb 2021
How to Recover Salesforce Data?
A device sync gone wrong, a mistaken deletion, or a ransomware attack. Your business-critical Salesforce data is vulnerable to loss.  Restoring the deleted Salesforce data seamlessly and quickly can mitigate the cost and damage of data loss. Here we list the ways to recover Salesforce data, both by using native solutions and with backup.
Secure Your Salesforce Data
Unlimited Backup | Snapshot Restore | Sandbox Seeding
What's in this article:
Native Options to Recover Deleted Salesforce Data
Salesforce Data Recovery Service
Salesforce used to offer a paid Data Recovery Service. The cost was upward of $10,000 and the process could take several weeks. However, as of July 2020, Salesforce announced that it would retire its Data Recovery Service.


Salesforce Data Export Wizard App
Salesforce's Data Export Wizard App is a browser-based feature that allows you to export data. You would have to schedule exports on a weekly or monthly basis and store them on your own storage. When you need to restore deleted or corrupted Salesforce data, you would then need to search and recover it from the exported data.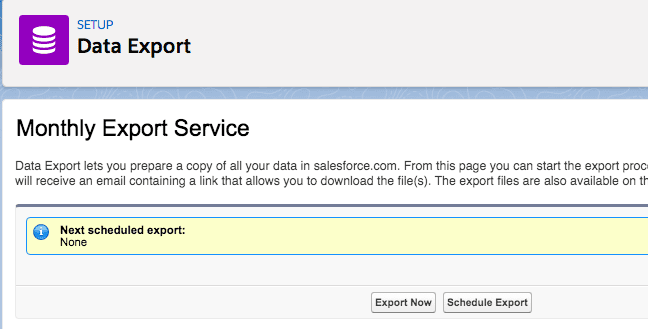 Apart from it being a manual, time-consuming process, it would hold data that could be up to a week or month-old. Salesforce data is subjected to change around 26,000 times a day. So, you can expect a lot of data to change between any two weekly data exports. This increases the possibility of data being lost between any two such export processes.
You also cannot recover metadata and you may have to manually rebuild any customizations, such as dashboards and reports, which are accidentally changed or lost. Moreover, every single Salesforce object is exported in a separate .CSV file, leaving you with hundreds of CSV files. Finding the proverbial needle in the CSV-stack!
Salesforce Data Loader App
Salesforce Data Loader App is a native Salesforce API client with a desktop version. It allows you to fetch data of only one object at a time. This option is useful to restore a few deleted records ad hoc.


Salesforce Reports
If your organization has only a few Salesforce objects in use, you can manually export Salesforce reports. Here too, data has to be saved on your local storage.

Salesforce Data Recovery With Third-Party Backup
Salesforce itself recommends third-party backup solutions as a way to recover deleted data. "There are also several third-party options that can be leveraged from our partners on the AppExchange. Some of these are more comprehensive in that they allow you to automate backups for both your data AND metadata, and provide a mechanism by which to restore that data easily."
Based on the backup provider chosen, advantages of third-party Salesforce backup could include automated backups, backup storage, and easy point-in-time recovery.
The Need for Salesforce Data Backup
But why backup Salesforce data? Precisely because of the many situations that will arise when Salesforce data is deleted, lost, or corrupted. For example, while you are making certain changes to your custom field to convert it, it may happen that you permanently delete the data. Or when you accidentally delete a custom field, you end up deleting the data permanently. Salesforce is flexible enough to make any data changes or deletions as instructed by you – whether intentionally, accidentally, or maliciously.
Any unwanted changes to a field definition could significantly impact the manner in which your business gets measured or how your company's results are reported. It could even affect the way your customers get billed. A change to a very small field definition type can have an adverse impact on your business. Additionally, data loss due to human error, phishing scams, ransomware, and malware are also prevalent. Read our ebook – 7 Reasons Why Enterprises Need Salesforce Backup
Both IT experts and the biggest cloud providers agree that a third-party backup is a must-have against SaaS data loss. GDPR, HIPAA, and most data protection laws mandate you to ensure recoverability of data. Only SaaS backup with unlimited point-in-time recovery can assure you easy and accurate recovery from Salesforce data loss. And keep you compliant with audits, too.
Recover Your Salesforce Data The Easy Way With CloudAlly
Watch how easy it is to restore Salesforce data in minutes with CloudAlly
CloudAlly pioneered Salesforce backup and recovery in 2011. With a few clicks you can set automated backup of all your Salesforce data. This includes all organizational data, including Standard Objects, Custom Objects, Attachments, Emails, Layouts, Metadata, including workflows, reports, apex triggers and apex classes, processes, object schemas, tabs, and
Chatter Feeds. All plans include unlimited AWS storage. And Salesforce-tailored options such as Sandbox seeding, Salesforce Compare, cross-org restore, in-place/non-destructive/overwrite restore. Or you can export data to your own storage.
CloudAlly has impeccable security credentials – we store your Salesforce backup on Amazon S3 storage using advanced AES-256 bit encryption, we support OAuth and MFA/2FA, and are ISO 27001, HIPAA, and GDPR compliant.
CloudAlly also offers no-minimum pricing options, Partner programs, and special pricing for nonprofits and educational institutions.
Start your full-featured Free Trial Now. No credit card required.