Over 200 million users rely on Microsoft (Office) 365 SharePoint Online for their business-critical workflows and data. And hackers have taken notice of it – Ponemon reported that one in two organizations have had a SharePoint data breach. As SharePoint is typically the intranet bedrock, employees have their "cyber guard" down when using SharePoint. They are four times more likely to click on malicious SharePoint links. This makes SharePoint an even more lucrative target for hackers – even the UN suffered a massive data breach due to a SharePoint vulnerability. 
Talk with our Backup Expert
Quick recovery from data loss with an optimal recovery time objective (RTO) and recovery point objective (RPO) is a must to mitigate the damaging repercussions and to ensure seamless business continuity. In this blog, we examine native backup options for Microsoft (Office) 365 SharePoint online – essential for your organization to restore data and bounce back. Watch video walkthroughs or follow the step-by-step instructions to implement these five native SharePoint online backup and restore options.
5 Native SharePoint Online Backup and Restore Options
#2 Using Microsoft (Office) 365 SharePoint Retention Policy and Labels
#1 SharePoint Online Backup and Restore Using the Recycle Bin
Watch the video to recover SharePoint data using the Recycle Bin
Consider that the file "Budget(next year).docx" file has been mistakenly deleted.
Locate the Recycle Bin either on the left quick panel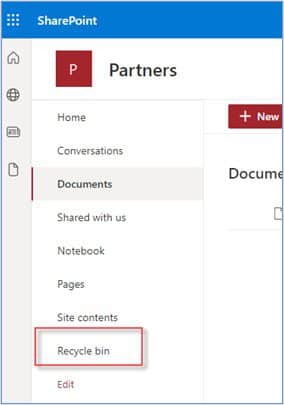 Or in Site Settings under the "Site Collection Administration" section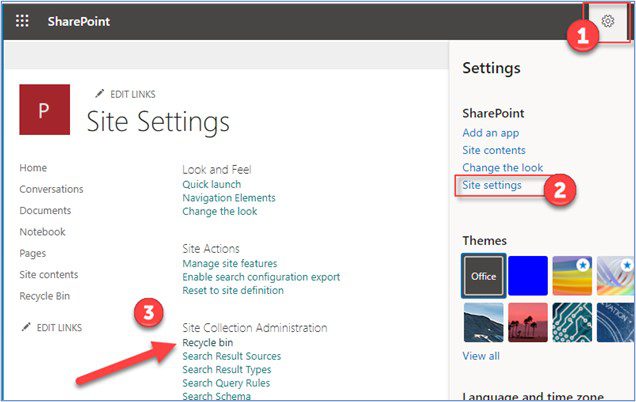 Select the file and click "Restore" to restore the file to the original location

The file will immediately be restored back to the same location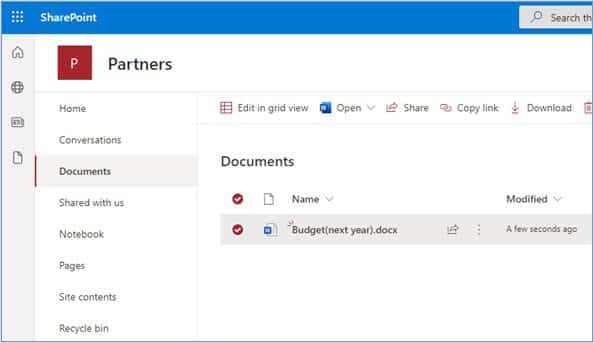 If the file is absent in the Recycle Bin, then check the Second-stage recycle bin by clicking the link at the bottom of the screen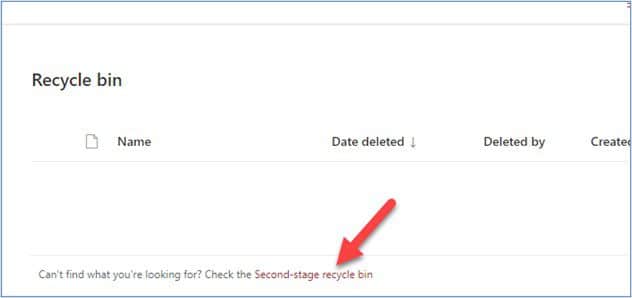 Note that files are ONLY stored for 93 days in the Recycle Bin. After that, they are automatically and permanently deleted unless you have set up a retention policy.
#2 Using Microsoft (Office) 365 SharePoint Retention Policy and Labels
Microsoft (Office) 365 SharePoint retention policies and retention labels are helpful to prevent the permanent deletion of SharePoint sites and data. Note that to manage both retention policy and labels, you must have global admin permissions and the SharePoint sites must be indexed for the retention settings to be applied. For instructions on using retention as SharePoint Online backup, refer to our blog on setting up a SharePoint Online Retention Policy or watch the video walkthroughs below.
Setup a SharePoint Retention Policy Via the Compliance Center
Watch the video to set up a SharePoint Retention Policy Via the Compliance Center
Setup a SharePoint Retention Policy Using PowerShell
#3 Archive SharePoint Data Using OneDrive
Syncing SharePoint files on OneDrive on your computer is another way to set up archiving of SharePoint data. Watch the video below:
Go to the document library and click "Sync" on the toolbar

Select "Always allow to open links…" and then click "Open Microsoft OneDrive"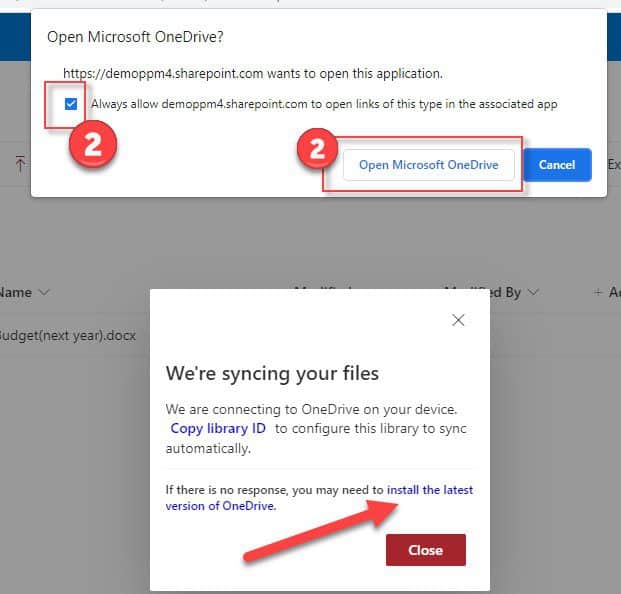 All files from the document library will be synchronized to your PC and available on the native file explorer.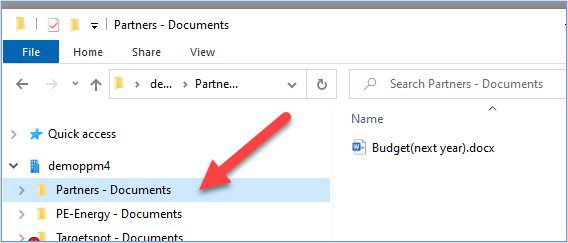 By default, only files that you open are saved on your PC. If you need to archive all files, make these changes to the OneDrive settings.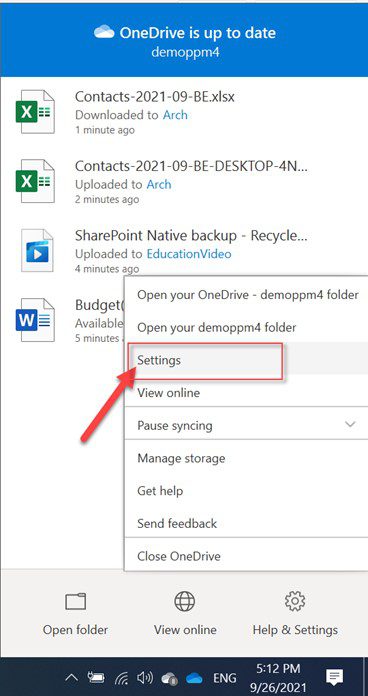 Uncheck "Save space and download files as you use them" and then confirm by clicking "OK"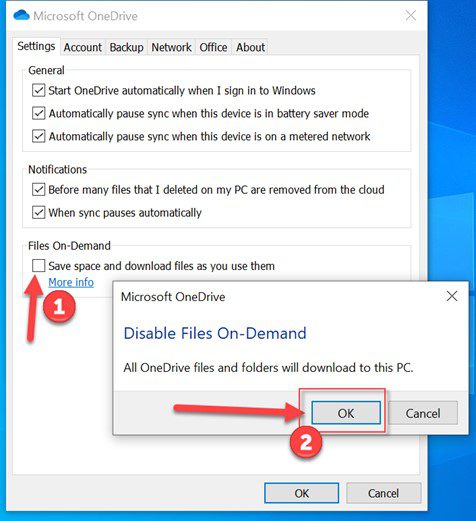 #4 SharePoint Auto-archiving With Version Control
SharePoint can store each "save" of a file as a version of the source document. You can then restore any previous version in case the document is deleted. This can work as a SharePoint online backup and restore option. For step-by-step instructions to archive SharePoint Online, watch the video below or read our blog on the Best Way to Archive SharePoint Online
#5 Archive SharePoint Using an Archive Library
Another native option to backup SharePoint is to move SharePoint data to another archive library. Create a new library or directory with the name "Archive" and a "Status" label. Add documents that you wish to archive to this library in the same site via the browser. Note: it could cause the document link to change. You can further automate it by creating a workflow in SharePoint Designer that automatically moves documents with a Status as "Archive" to the Archive library that you created.
Limitations of SharePoint Recycle Bin, Retention, and Archival as Backup and Recovery
It is to be noted however that these native SharePoint online backup and restore options were not built for backup and recovery. They have significant limitations when used as a substitute for SharePoint backup and recovery, such as:
Recycle Bin only holds data for a maximum of 93 days, after which it is permanently deleted.
A maximum of 20,000 – 30,000 files per document library can be synchronized by OneDrive. There are URL size limitations, for example, a 400 character limit to the document library name, folders, and file name.
SharePoint retention policies have quite a few limitations such as not being searchable by eDiscovery tools, having cumbersome versioning issues, and the fact that the data is permanently deleted from the Preservation Hold library after 37 days. While retention policies can make do to ensure sensitive data is not deleted, they can in no way take the place of SharePoint backup.
Infrastructure and maintenance costs for on-premise backup storage and Microsoft 365 license upgrade costs to match the increase in storage size.
Most importantly, backup is manual and does not hold a recent and accurate version of data. Critically, point-in-time recovery is not possible – a must for quick data recovery and business continuity.
Microsoft itself advises third-party backup for point-in-time recovery, as do top analysts Gartner and Forrester. CloudAlly pioneered backup a decade ago, and our solutions are proven, secure, and top-rated. Trusted by 9000 customers and running 3.5million backups/week. CloudAlly Backup for SharePoint provides enterprise-grade backup for Sharepoint Online, OneDrive, Groups, and Teams.