You've crossed the Why Backup bridge and are now protecting your business-critical SaaS data with backup and recovery. But are you getting the ROI you expected? Struggling with cumbersome recovery? Spending too much on backup storage? Does your backup give you zero storage costs, MFA support, global data centers of your choice, reduced Office 365 license costs, ransomware protection, comprehensive protection minus the fine print, effortless recovery? ROI-check your backup with the pointers below. If your current backup falls short, switch to #betterbackup. Migrate to CloudAlly, the proven pioneers of enterprise SaaS backup and we'll sweeten the move. Free backup for the transition period. We'll waive off the cost of our backup during the transition period, so you can migrate without paying for two backup solutions. Coz we're so sure you'll stick with #betterbackup with CloudAlly.
ROI-Check Your Backup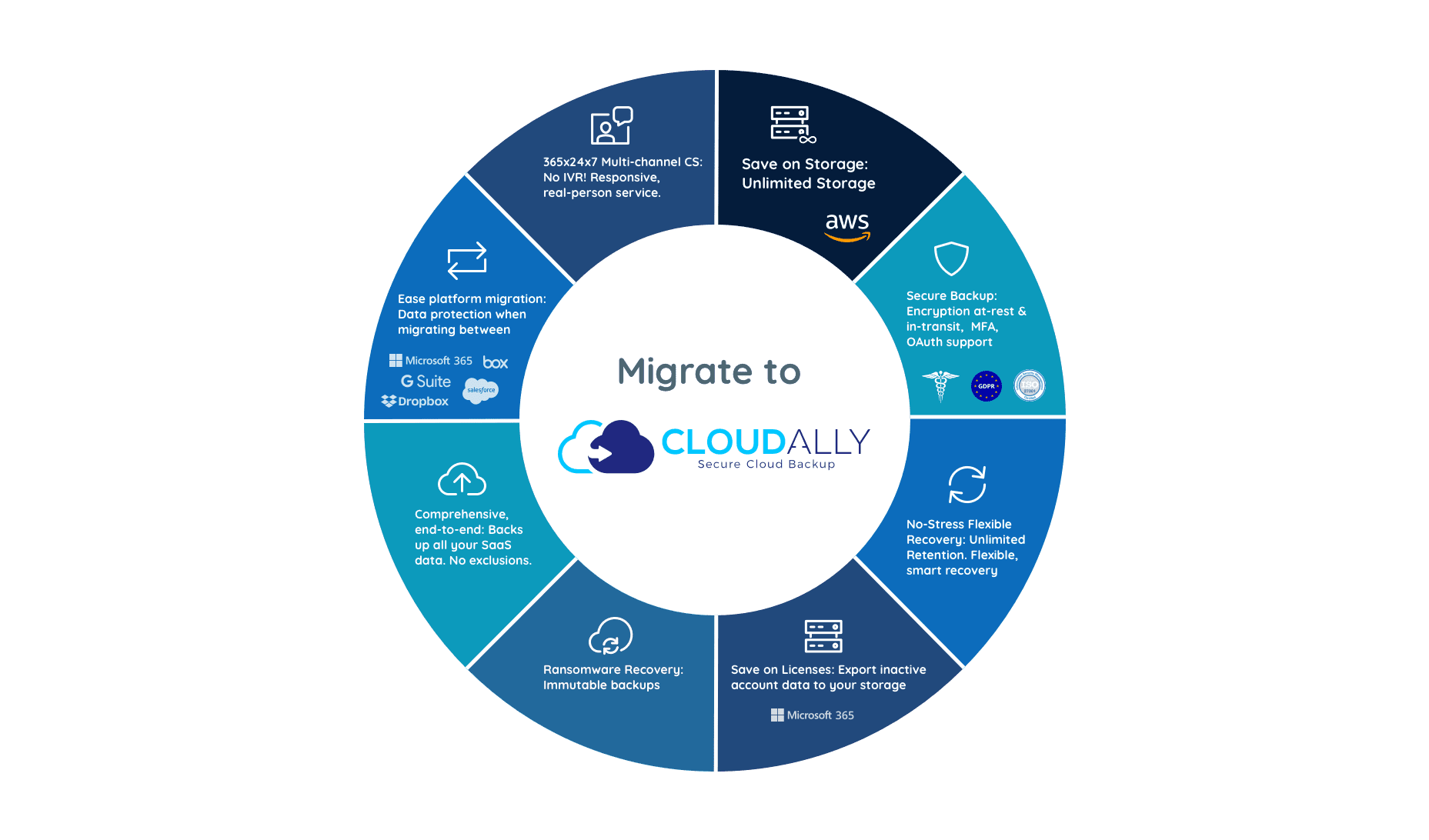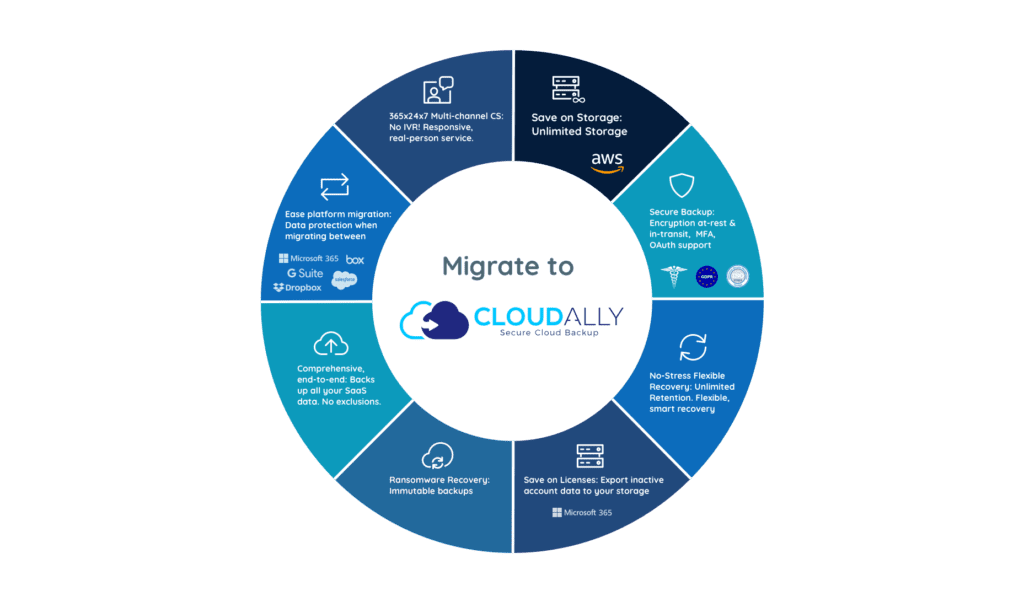 Save on Storage

: All CloudAlly plans include unlimited AWS Storage

Secure Backup: Ensure audit compliance with encryption at-rest & in-transit and your choice of location of data centers. We're GDPR, ISO27001, and HIPAA certified. And we support secure authentication with MFA and OAuth support
No-Stress Flexible Recovery: Unlimited retention means you can recover data from any point-in-time. Additionally, we offer flexible and smart recovery options such as historical snapshots for point-in-time recovery, advanced search filters for granular recovery, and cross-user/tenant recovery.
Save on Office 365 Licenses

: Are you holding on to Office 365/G Suite licenses of exiting employees to prevent data from being deleted? Save on license costs with CloudAlly. Simply export inactive account data to your own storage, release the license, and restore it when onboarding the new employee.

Ransomware Recovery: CloudAlly's backups are immutable. This means that the backup data cannot be manipulated or deleted. Recover easily from ransomware by restoring unencrypted data from before the attack.
Comprehensive, end-to-end: CloudAlly backs up all your Office365, G Suite, Salesforce, SharePoint, OneDrive, Dropbox, and Box data. No exclusions.
Ease platform migration

: Migrating from one SaaS solution to another. As CloudAlly backs up all major solutions, you can backup data before and after the migration, thus securing your migration from inadvertent data loss.

365x24x7 Multi-channel CS: We agree. We're no fans of IVR, either. Which is why you'll get a response from our experienced customer service team within a few hours. You can reach out to us over the phone, email, chat, ticket or via our dedicated Customer Support Hub.
Migrate To #BetterBackup, Migrate to CloudAlly – We Truly Have Your Back(up)!
Upgrade your backup for zero costs. Migrate to CloudAlly and we'll waive off the transition cost: We'll cancel the backup cost of the period you are locked into with your current backup provider. Because we're confident that you'll choose backup that's better!