By Michael Schneider – Marketing Director

---
Office 365 Backup and Recovery
The average cost of a data breach is $3.92 million – and that is not counting the irreparable damage to the business, reputation, and customer trust. Add to that the fact that one in three organizations have experienced SaaS data loss and the prevalence of malware attacks and you have the perfect cyber-security crisis. How do you protect your organization from Office 365 data loss or corruption? Hence: Office 365 Backup and Recovery, is essential for business.
As the IT administrator, do you have a strategy to recover from a data breach? Can you recover an important document from last year? A crucial email from 100 days ago?  Office 365 backup and recovery is essential for quick disaster recuperation and seamless business continuity. 
Five pointers for comprehensive Office 365 data protection.
#1 Understand that Office 365 data needs protection
Microsoft product; Office 365 provides a secure, and highly-available service for enterprise productivity. However, it cannot protect you from data loss in your own company, due to human error, malicious intent, sync errors, and/or malware attacks. Additionally, compliance laws like the GDPR mandate that you share the onus of protecting your customer's data. Office 365 data needs protection too, just as you would with an on-premise solution; it isn't exempt because it is on the cloud.
#2 SaaS Backup and Recovery is your data's safety net
Native Office 365 data restore capabilities are built for archival and not recovery. Moreover, they are non-existent after a few months. With Office 365 managing business-critical data, it is essential to have a long-term legal hold data recovery strategy. As the IT administrator, do you have a strategy to recover from a data breach? Can you recover an important document from last year? A crucial email from 100 days ago?
A reliable backup solution is your best defense against SaaS data loss. Moreover, if the backup is cloud-based it can harness the same advantages of cloud computing that your SaaS platform has – scalability, accessibility, and computational prowess. Automated SaaS backup stores an accurate copy of your data that can be quickly and easily restored in the event of data loss. As this accelerates disaster recovery and ensures business continuity, your organization can get back to business even after a data breach. Thus blunting its impact and mitigating the possible damage.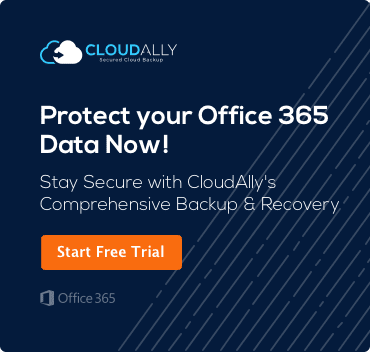 #3 Check that SaaS Backup includes Exchange Online
Office 365 offers no native restore options beyond 93 days. Exchange Online mailboxes should be protected by policy-driven backup plans to help ensure that data is protected and that it expires when retention has been met. Make sure that your backup solution includes all critical mailbox data. Mailbox backups should include all the types of data contained within the mailbox, such as messages, contacts, calendar items, chat histories, etc.
#4 Choose SharePoint backup and recovery with granular controls
Many organizations rely heavily on SharePoint for a variety of business use cases such as the company intranet, project tracking, team collaboration, and content management. This data is too valuable to skip backing up.
Check that your Office 365 SharePoint data protection includes flexibility for backup and recovery for an entire site all the way down to the object level. Furthermore, SharePoint recovery should ensure permissions are applied to objects to control end-user access. It should also have the ability to restore permissions without overwriting any of the objects.
#5 Don't exclude OneDrive for Business backup and recovery
OneDrive for Business is a file hosting and synchronization service for files, large and small.  OneDrive is often the main storage and collaboration platform for modern enterprises and hosts many business-critical documents. Don't neglect OneDrive backups! OneDrive data needs to be protected from a holistic, administrative point of view so that it's easy to provide recovery when an end-user ultimately needs data restored.
How CloudAlly can help?
CloudAlly's SaaS backup and recovery solutions enable you to recover mail, calendar, contacts, SharePoint sites, and OneDrive documents. You can empower both legal requestors and end-users with just one self-service single search across their Office 365 data, and own storage with cloud-based backups.
For organizations that need to comply with regulatory requirements like GDPR, CloudAlly provides highly secure backup on Amazon AWS in the regional storage locations of your choice.
Try our full-featured trial now and give your Office 365 data comprehensive and secure protection.  
Office 365 Backup and Recovery, is essential for your business, 
Back it up today.