[av_textblock size=" font_color=" color=" av-medium-font-size=" av-small-font-size=" av-mini-font-size=" av_uid='av-jypt1dhn' admin_preview_bg="]
How does Cloudally complete the needed slack?
In our previous post; Part I – deficiencies with existing default solutions, we explained how Microsoft's current default services lack in protecting what really matters when it comes to Office 365 file backup. The recycle bin and Exchange Online Archive do offer limited protection against data loss. However, CloudAlly is designed to make data loss a thing of the past.
While the recycle bin and in-place holds can help to keep files from being lost, they are not sufficient for disaster recovery in the event of data loss or corruption. CloudAlly provides that much-needed protection for all business users, including Office 365 SharePoint backup.
---
What this article is about:
---
EOA Vs CloudAlly's Backup Solution
Unlike Office 365 Exchange Online Archiving or the recycle bin, CloudAlly performs a routine backup procedure of files and emails daily. This automated service allows users to keep working without having to remember to move files and emails into a special area. CloudAlly offers an added layer of protection by utilizing independent Amazon S3 storage in addition to Microsoft's servers. There is no limitation to the amount of data backed up in this service, unlike with the recycle bin and EOA.
Due to CloudAlly's nature of regular backups and saving all files deleted or modified, this service acts as a disaster recovery service. Users can recover lost or corrupted data due to accident or malicious attack from any point and time. Their backup services also allow users to restore data corrupted due to external systems or 3rd party application synchronization issues or automated tasks.
CloudAlly's backup services protect users against ransomware attacks. This service allows you to regain data blocked off by ransomware viruses, such as CryptoLocker, without having to pay a fee to hackers. When comparing CloudAlly's services to Microsoft Exchange Online Archive, you can see there is a substantial difference between the services.
Office 365 File Backup
With CloudAlly, You Get The Complete Backup Solution:
Disaster Recovery/Point-in-Time Recovery of lost or corrupted files
Includes all items deleted or modified
No limit to the retention period
Unlimited storage
Simply select and restore restoration process
Item level restore available via granular search or date snapshot
Folder level restoration available via date snapshot
Mailbox level restoration available via date snapshot
Export available in .eml, .vcf, .etc or Outlook .pst format
Restore mailbox data to any specified destination
Pause backups to archive mailbox indefinitely
The auto-detect feature automatically activates backup for new mailboxes
ISO 27001 and HIPAA certified
Stored on secure AWS S3 storage with a choice of data center location: either the US, Europe, Australia
A daily summary email with a backup activity overview
Administrative audit capability
Office 365 users may think their data is already backed up on Microsoft Azure servers. While Microsoft does backup all data internally, it is only available to clients for 14 days. Microsoft's Exchange Online Archiving is a viable, albeit limited, solution for archiving data for litigation. It is not, however, a suitable substitute for disaster recovery due to the lack of restoration capability.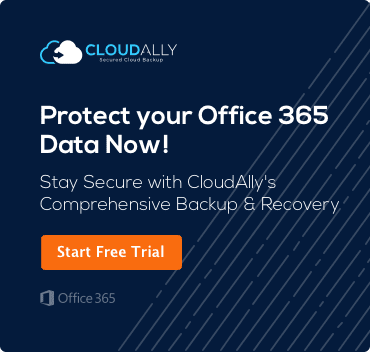 How Much Will It Cost To Backup Your Data?
Companies interested in keeping costs low may be surprised at the affordability of CloudAlly's backup services. Instead of charging per license, CloudAlly's flat rate of $3 per month or $30 per year can help keep overhead down. Larger companies, academics, and non-profit organizations may be eligible for a discount.
Coming up in our next blog post: A quick guide to backup & restore – Part III, we'll show you how easy it is to back-up your Office 365 backup for files using CloudAlly's automated Office 365 file backup solution.
---
[/av_textblock]