Restore Gmail ?
We've listed down your options to recover and restore deleted emails from Gmail:
Gmail Recovery: Restore Gmail The Native Way
If you do not have G Suite backup, your recovery options are time-bound.
You can restore Gmail only up to 30 days prior.
Ask the user to check their Trash folder and click the "Move To" icon and select "Inbox"
Not very intuitive as "Delete forever" is the first option presented.

The not-so-fine print
You CANNOT recover Gmail if any of these conditions are met:
The email was deleted 30 or more days ago.
The email was a critical draft that was deleted
The end user tried to restore their email, but clicked "Delete forever" instead.
The end user emptied their Trash after deleting the email
The email is in the user's Spam folder
So if your colleague accidentally deletes an email, empties Trash to clear up storage, you wouldn't be able to recover Gmail with any native Google method. Or if a disgruntled employee maliciously deletes a colleague's email. Or your CEO drafts an important long-drawn company-wide email, and then mistakenly deletes the draft? "Sorry! Your email can't be recovered. It's gone forever"
Gmail Recovery: Restore Gmail with CloudAlly Backup and Recovery
If you have protected your G Suite data with CloudAlly's G Suite backup, you can restore Gmails with a couple of clicks. CloudAlly's G Suite backup and recovery provides cloud-to-cloud automated daily backup of your entire G Suite – Gmail, Team Drives, Calendars, Contacts, Tasks, and Metadata backup. We also free you from any time or storage worries with unlimited storage and unlimited retention included. Our recovery options are flexible and admin-friendly:
Recover Gmail from any point-in-time with intuitive historical snapshots
Ese advanced search and filter options for granular Gmail recovery
Restore Gmail to a different user
Export deleted G Suite items to the storage of your choice.
Gmail Recovery: Video Demo
Here is a Gmail recovery demo video to restore Gmail the easy way with CloudAlly:
Screenshots of Gmail recovery with CloudAlly: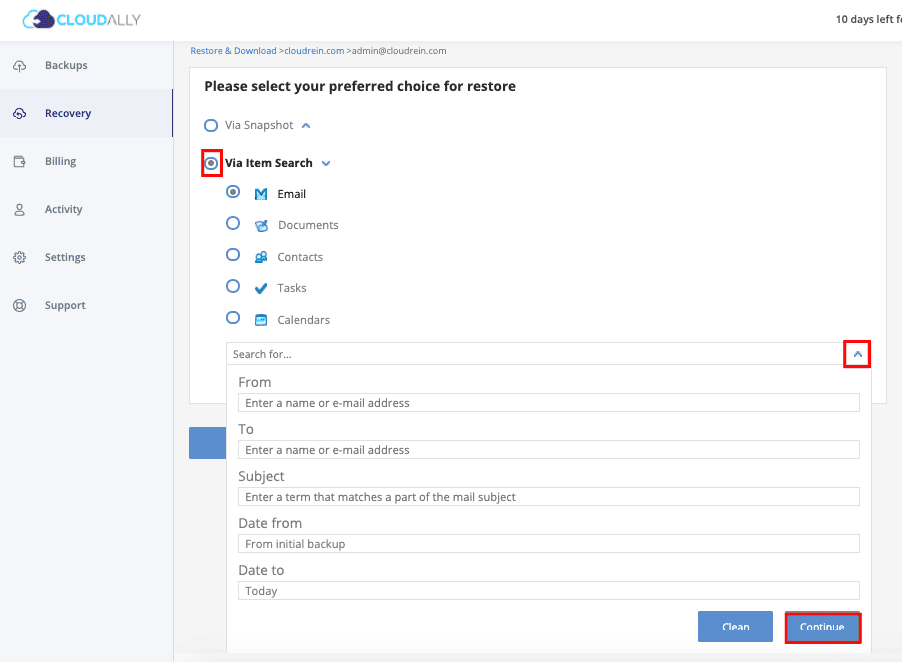 Gmail Recovery: Restore Gmail with granular restore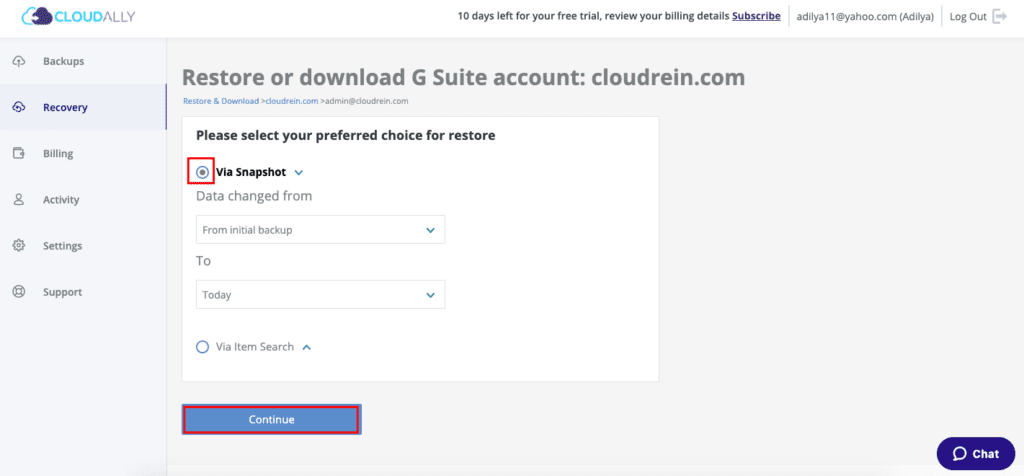 Gmail Recovery: Restore Gmail from any point-in-time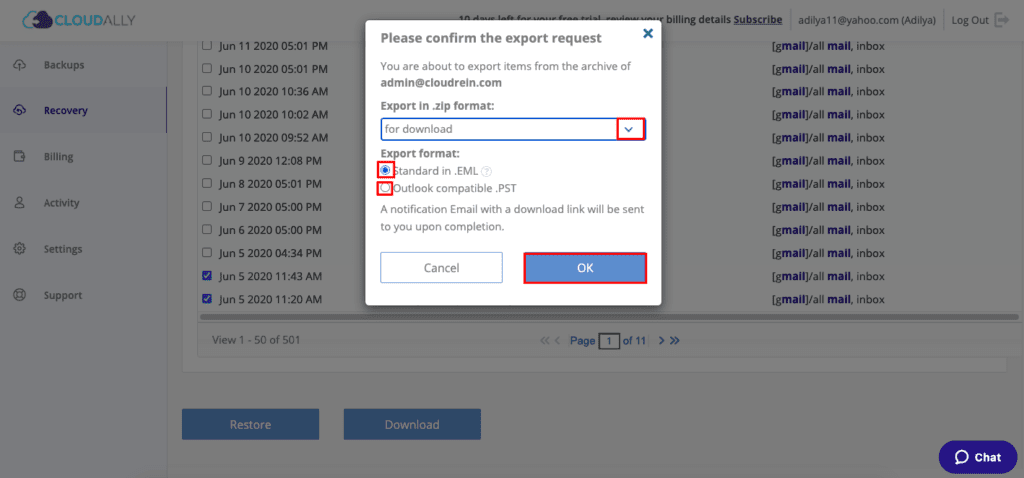 Gmail Recovery: Restore Gmail by exporting to your storage
Your Colleagues Don't Want to Hear This – "Sorry! Your Email Can't Be Recovered. It's Gone Forever". Backup G Suite Now!
G Suite is the central nervous system of your organization and the onus is on you to secure all that valuable G Suite data. With remote employees on the rise, even more business-critical data and workflows are on G Suite. One wrong click on a phishing email, mistaken deletion or a sync error and you risk losing essential G Suite data. Read our free ebook on Why SaaS Needs Backup for data points and a compelling business case for backup as a requirement to ensure quick disaster recovery, and consequently seamless business continuity.
Trust the pioneers of SaaS backup with your valuable data. Our solutions are proven for over a decade, and robustly secure. CloudAlly's G Suite backup includes Drive (and Team Drive), Gmail,  Contacts, Calendar, and Tasks. Comprehensively protect G Suite data with automated backup and easy recovery from any point-in-time with unlimited retention. Eliminate the risk of SaaS data loss with CloudAlly. To read more about security questions click here.