Salesforce has decided to retire its Data Recovery service. Businesses using the platform are given time till the end of July 2020. Truth be told, it wasn't optimal, to begin with. Salesforce agrees – "it does not meet our high standards for customer experience due to the length of time and reliability of the process".  Salesforce's Data Recovery service costs upward of $US 10,000/recovery and you get your recovered data only after a couple of months. However, with the Salesforce Data Recovery being deprecated, this safety net preventing Salesforce data loss is gone, costly, and tedious as it may be.
The workforce is increasingly remote and that has led to business-critical workflows and data being shifted en masse to SaaS platforms like Salesforce. So now that Salesforce has yanked its Data Recovery service, how can you protect your organization from data loss?
About the Deprecated Salesforce's Data Recovery Service
The Data Recovery service, formerly Data Restoration, was offered by Salesforce as a last instance to retrieve the lost data. Generally, any deleted data in Salesforce undergoes three stages. Within the next 15 days, the data is kept in the recycle bin. After this deadline, you still can retrieve deleted records with Data Loader or other API clients. In the last stage, the data will be purged from the organization permanently.
Salesforce asked you to open a support case to use the final resort. Salesforce charged a flat rate of $US 10,000 for this Data Recovery service per recovery for each organization. The process took 6 to 8 weeks. The Data Recovery service would send you numerous .CSV files. You would have to insert them into your organization manually, which could cause import errors. Data loss could put on hold your whole business for weeks. Moreover, a rescue operation could not deliver a reliable result in each case. Consequently, Salesforce decided to deprecate the service.
Salesforce Data is Vulnerable to Data Loss – Data Recovery Retirement
The myth of the impregnable cloud is just that. One in three companies faces SaaS data loss due to common reasons. Apart from the all-too-common human factor, other errors include malware, bulk imports, or failed synchronization. Once you've uploaded inconsistent data, you would need to retrieve the last status quo.
Now that Salesforce's Data Recovery is Retired, How Do I Recover Salesforce Data?
Error-prone Built-in/Native Alternatives
You now have three native solutions to perform a Salesforce data recovery.
Salesforce Data Export Wizard App
Salesforce's Data Export Wizard App is a feature in the Setup menu. It can be used in a browser. Data Export Wizard enables you to pull all the records at once. Derived fields, like roll-up summaries and formulas, will be excluded.
Go to the Salesforce Setup of your org, type "Data Export"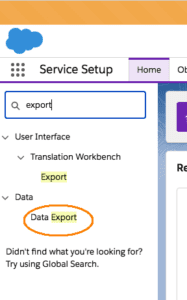 Select "Export Now" or "Schedule Export". Configure your export parameters, like encoding, and select the data you want to pull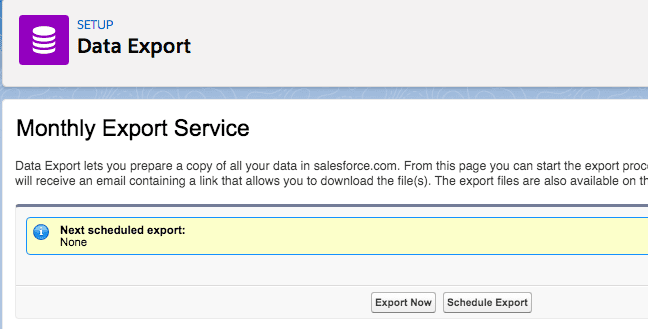 You will get each single Salesforce object in a separate .CSV file. Which means that you could end up with a few hundreds of .CSV files. A scheduled export is only available on a weekly or monthly basis. This means you would lose a few days in-between. This will impact your Recovery Point Objective (RPO)/Recovery Time Objective (RTO) and slow data and consequently disaster recovery. Especially true for larger enterprises.
Besides, due to traffic issues, an export can be delayed and cause a shift in a whole sequence of future exports. It can even fail if the responsible user has been deactivated. After the Salesforce Data Export job has run successfully, you have only 48 hours to pick the generated zip-files. Particularly big exports will result in multiple zip-archives.
Salesforce Data Loader App
Salesforce Data Loader App is a native Salesforce API client with a desktop version. Don't rush to feel relieved as you see the "Export All" button.  In reality, you can fetch data of only one object at a time. It only comes handy only if you want to restore a few deleted records ad hoc. Salesforce Data Loader offers no scheduling option.

Salesforce Reports
If you have a small organization and only few objects in use, you can manually export Salesforce reports. Create a new one, select the object, and then "All [objects]" and "All Time":


Remember, that you still have to re-save your data somewhere else. As soon as you've finished exporting reports, you have to start importing.
Consider that you need only a few clicks to secure your Salesforce data backup and recovery. Including the metadata – another big headache that you would have to handle with native options. Wouldn't it be ideal? Especially when dealing with the stress of data loss?
Both IT experts and the biggest cloud providers agree that a third-party backup is a must-have against SaaS data loss. GDPR, HIPAA, and most data protection laws mandate you to find a safe way to keep personal data of your customers. Secure backup keeps you compliant with audits, too. Read our free eBook on Why Enterprises need SaaS backup.
CloudAlly pioneered Salesforce backup and recovery in 2011. With a few clicks you can set automated backup of all your Salesforce data, and then literally forget about it. Safe in the knowledge that your data can be easily recovered from any point-in-time. CloudAlly has impeccable security credentials – we store your Salesforce backup on Amazon S3 storage using advanced AES-256 bit encryption, we support OAuth and MFA/2FA, and are ISO 27001, HIPAA, and GDPR compliant.
Eliminate Salesforce Data Loss With CloudAlly (And Get Added Benefits)
And CloudAlly's Salesforce backup comes packed with features tailored for the admin. It provides automated backup and recovery of Salesforce data, as well as backup and recovery of metadata, and Chatter feeds. CloudAlly backup also includes backup alerts, transparent reporting, metadata comparison, and Salesforce seeding.
Say, you've finished implementing a new instance of Salesforce. But then an error comes up and you need to recover the old one. Or you detect a data leak or corruption, but can't pinpoint the cause. CloudAlly's Salesforce compare helps you to compare data and metadata between different backup snapshots, between backups and production, and between production and sandbox environments. You can even crosscheck the metadata for different organizations.
CloudAlly also supports seeding sandboxes. Sandboxes are vital for testing. Mimicking a full copy of your Salesforce instance is expensive. Selectively reproducing production test data is time-consuming and tricky.
CloudAlly's sandbox seeding feature reduces the risks of fragmentary tests. It allows you to customize your copy in a sophisticated manner and exclude unnecessary data – so you get the perfect test data set. You can also replicate selected objects to either the same or a different organization Sandbox.
Skip the stress of Salesforce Data Loss with CloudAlly. Start a free trial