It was an "Aha!" moment a decade ago when we realized the gaping security and compliance hole. Organizations were readily buying the SaaS dream – flexibility, agility, scalability – the benefits were tremendous. However, there was a prevalent misconception that data on SaaS platforms was immune to loss. Hence companies did not factor in SaaS data protection – backup and recovery. Along with my colleagues, Leonid Kheiman and Slava Gorelik, we developed a SaaS solution to backup and recover Salesforce and Google Apps (now Google Workspace) data.
From pioneering SaaS backup in 2011 to expanding to a suite of cloud-to-cloud SaaS backup solutions – the experience has been immensely fulfilling. Here I walk through our learnings and experiences from our decade of SaaS backup – the Story of Our Cloud.
Freedom From SaaS Data Loss


Multi-Platform Backup | Snapshot Restore | Unlimited Storage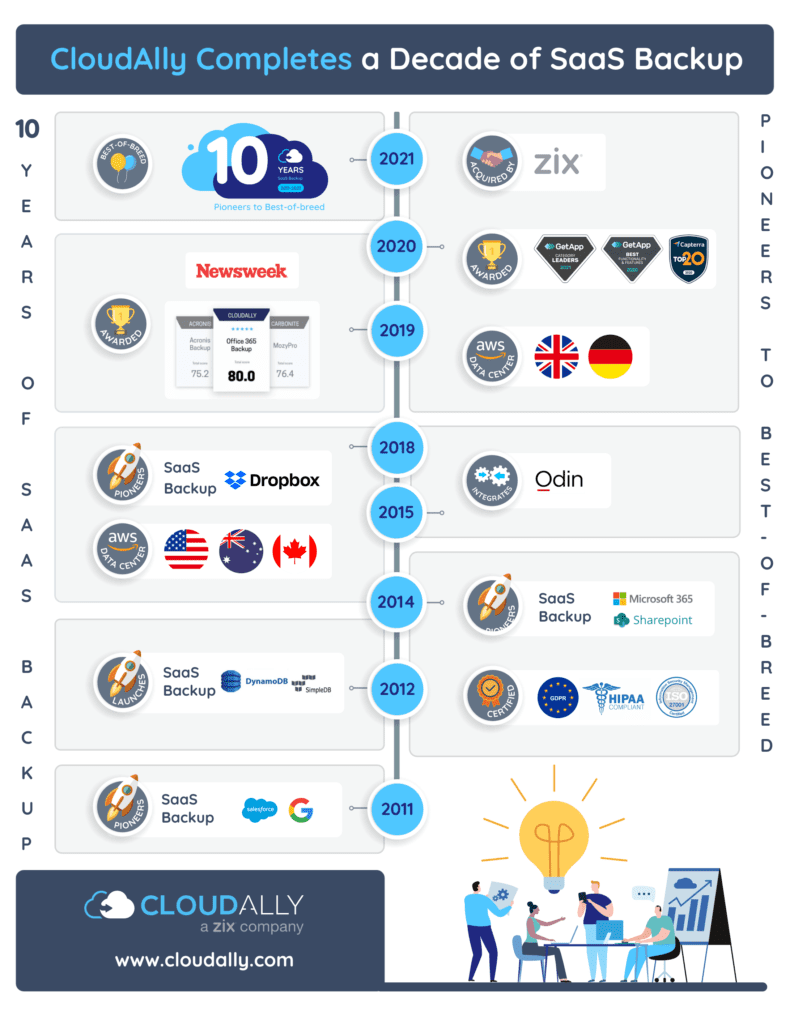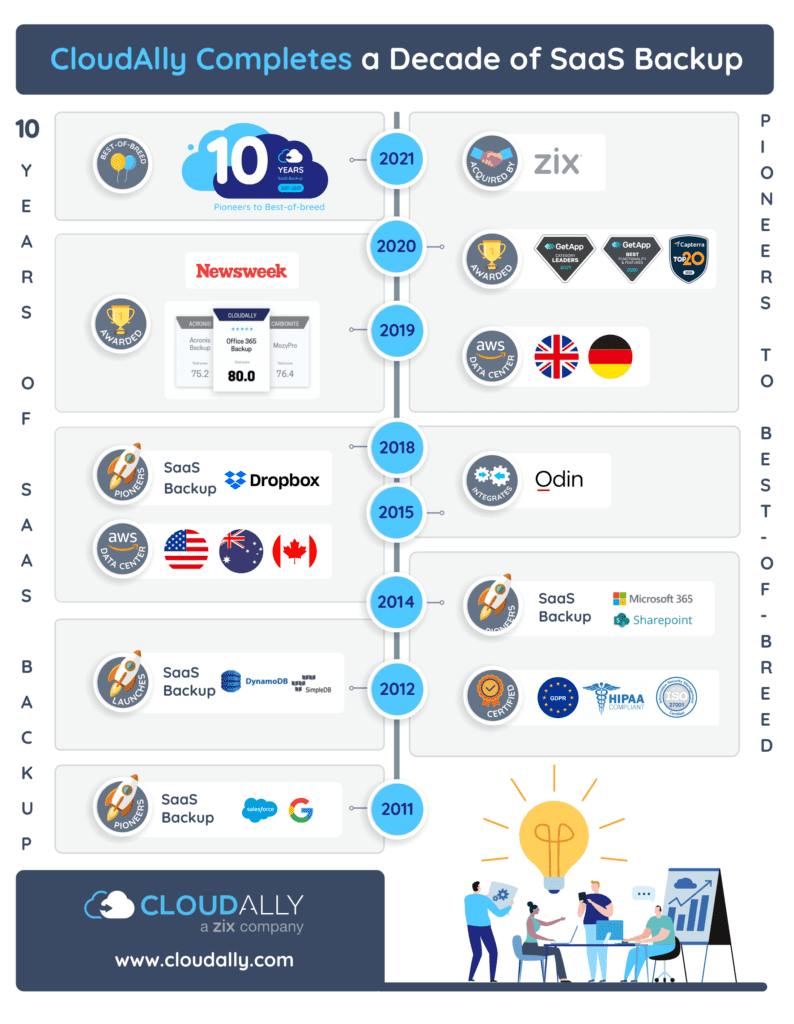 The Story of CloudAlly: A Decade of SaaS Backup – Starting, Revving up, and Maintaining Acceleration
The Story of SaaS Backup: Why SaaS Backup?
It started with a realization that business-critical SaaS data was missing the data protection that only backup could provide. But, why backup SaaS products? Microsoft, Google, and Salesforce have built phenomenal cloud platforms. They are stringently secure, have Recycle/Trash bins, and are compliant with the latest regulations. Well, the answer lies in the fact that you have complete control over your data.
The most stringent security cannot protect you from an employee hitting the "Delete" button, the phishing link in the email, or the mobile app sync gone wrong. Recycle and Trash bins work well to get back an email that you just deleted, but they were not purpose-built for large-scale backup and point-in-time recovery that a modern workforce demands. Restoring data with native options is tedious – folder structures are not maintained, changes are overwritten, bulk recoveries are challenging, cross-user recovery is not supported, data exports take forever. And recovery is only possible within the 15-30 day time limit, ruling out unlimited point-in-time restores. With the average time taken to detect a breach pegged at 280 days, the paltry 30 days time limit offered by native options is not something an organization can rely on. 
With organizations moving an increasing amount of business-critical data on SaaS platforms, we decided to pioneer a robust, scalable, and secure automated backup and recovery product for SaaS data. Our analysis has proved right, SaaS data loss has impacted one in three companies. The SaaS backup market has picked up strength in the past couple of years and is estimated to be worth $4.13 billion by 2022. 
The Story of SaaS Backup – Learning #1: Harness the Cloud to Build a Robust, Scalable, and Secure Product
When developing a product to backup SaaS data, we were certain that the best option would be to harness the capabilities of the cloud itself using cloud-to-cloud backup. We tapped on the cloud's PaaS (Platform as a Service) revolution to enable us to scale as we grew and to be elastic without any boundaries; flexible to our clients' needs. The cloud also allowed us to launch new data centers across the globe to meet regulatory requirements. Our growth and spread utilized cloud economics. 
A year after our pioneering launch of SaaS backup for Salesforce and Google Apps, we launched SaaS Backup for Amazon SimpleDB and DynamoDB. In 2014, we refocused on major SaaS platforms and pioneered cloud-to-cloud backup for Microsoft365 and SharePoint/OneDrive.
The Story of SaaS Backup –
Learning #2:
Put the Customer as Center of the Universe With Feature Updates, Competitive Pricing, and Exceptional Support
Right from the start, we put the customer as the center of our universe – we saw ourselves as long-term data protection partners. This reflects in every aspect of our product lifecycle. From requirements gathering to pre-sales and support, you, our customers have not just shaped us, but driven us. Our strength lies in the combination of continuously improving our products, highly competitive pricing and phenomenal 365x24x7 real-person support.
We've seen some competitors "lose their edge" by failing to add new features and services, and not addressing the weaknesses that they had years ago. We've worked hard at staying a step ahead in the SaaS backup market, by truly "listening" to our customers and market trends. Continuous product improvement driven by customer requirements, market research, and innovative thinking. We have catered to both markets – serving our valuable channel partners along with customers that choose to work with us directly.
The