It was an "Aha!" moment a decade ago when we realized the gaping security and compliance hole. Organizations were readily buying the SaaS dream – flexibility, agility, scalability – the benefits were tremendous. However, there was a prevalent misconception that data on SaaS platforms was immune to loss. Hence companies did not factor in SaaS data protection – backup and recovery. Along with my colleagues, Leonid Kheiman and Slava Gorelik, we developed a SaaS solution to backup and recover Salesforce and Google Apps (now Google Workspace) data.
From pioneering SaaS backup in 2011 to expanding to a suite of cloud-to-cloud SaaS backup solutions – the experience has been immensely fulfilling. Here I walk through our learnings and experiences from our decade of SaaS backup – the Story of Our Cloud.
Freedom From SaaS Data Loss


Multi-Platform Backup | Snapshot Restore | Unlimited Storage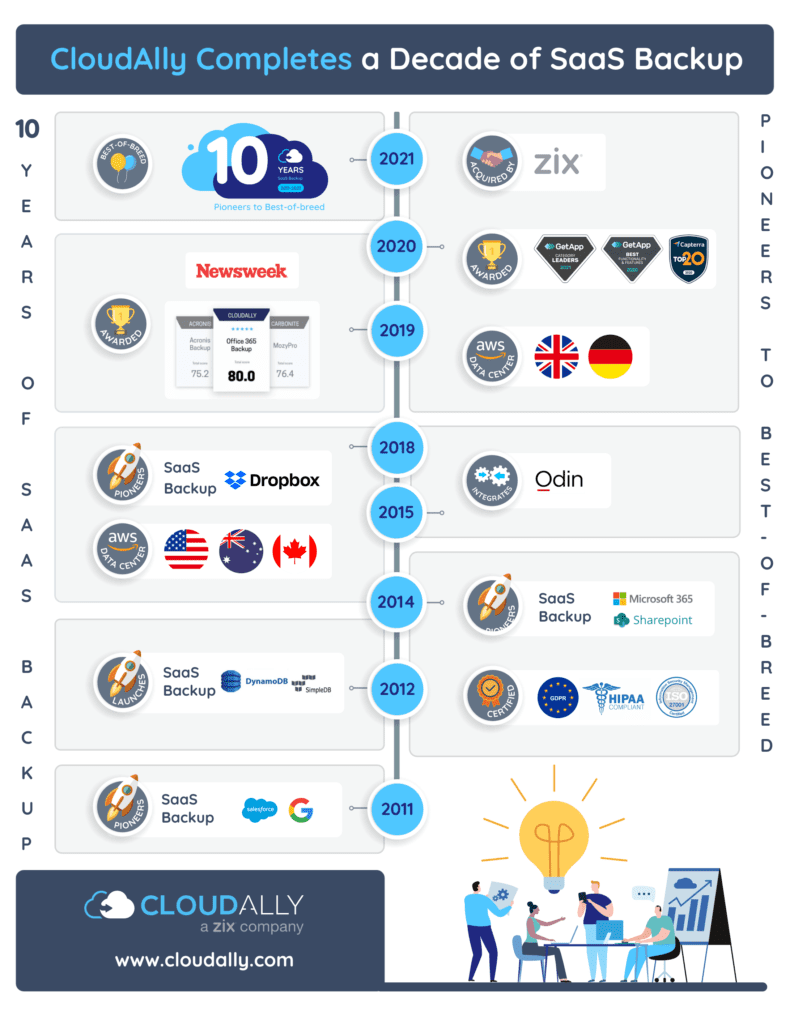 The Story of CloudAlly: A Decade of SaaS Backup – Starting, Revving up, and Maintaining Acceleration
The Story of SaaS Backup: Why SaaS Backup?
It started with a realization that business-critical SaaS data was missing the data protection that only backup could provide. But, why backup SaaS products? Microsoft, Google, and Salesforce have built phenomenal cloud platforms. They are stringently secure, have Recycle/Trash bins, and are compliant with the latest regulations. Well, the answer lies in the fact that you have complete control over your data.
The most stringent security cannot protect you from an employee hitting the "Delete" button, the phishing link in the email, or the mobile app sync gone wrong. Recycle and Trash bins work well to get back an email that you just deleted, but they were not purpose-built for large-scale backup and point-in-time recovery that a modern workforce demands. Restoring data with native options is tedious – folder structures are not maintained, changes are overwritten, bulk recoveries are challenging, cross-user recovery is not supported, data exports take forever. And recovery is only possible within the 15-30 day time limit, ruling out unlimited point-in-time restores. With the average time taken to detect a breach pegged at 280 days, the paltry 30 days time limit offered by native options is not something an organization can rely on. 
With organizations moving an increasing amount of business-critical data on SaaS platforms, we decided to pioneer a robust, scalable, and secure automated backup and recovery product for SaaS data. Our analysis has proved right, SaaS data loss has impacted one in three companies. The SaaS backup market has picked up strength in the past couple of years and is estimated to be worth $4.13 billion by 2022. 
The Story of SaaS Backup – Learning #1: Harness the Cloud to Build a Robust, Scalable, and Secure Product
When developing a product to backup SaaS data, we were certain that the best option would be to harness the capabilities of the cloud itself using cloud-to-cloud backup. We tapped on the cloud's PaaS (Platform as a Service) revolution to enable us to scale as we grew and to be elastic without any boundaries; flexible to our clients' needs. The cloud also allowed us to launch new data centers across the globe to meet regulatory requirements. Our growth and spread utilized cloud economics. 
A year after our pioneering launch of SaaS backup for Salesforce and Google Apps, we launched SaaS Backup for Amazon SimpleDB and DynamoDB. In 2014, we refocused on major SaaS platforms and pioneered cloud-to-cloud backup for Microsoft365 and SharePoint/OneDrive.
The Story of SaaS Backup –
Learning #2:
Put the Customer as Center of the Universe With Feature Updates, Competitive Pricing, and Exceptional Support
Right from the start, we put the customer as the center of our universe – we saw ourselves as long-term data protection partners. This reflects in every aspect of our product lifecycle. From requirements gathering to pre-sales and support, you, our customers have not just shaped us, but driven us. Our strength lies in the combination of continuously improving our products, highly competitive pricing and phenomenal 365x24x7 real-person support.
We've seen some competitors "lose their edge" by failing to add new features and services, and not addressing the weaknesses that they had years ago. We've worked hard at staying a step ahead in the SaaS backup market, by truly "listening" to our customers and market trends. Continuous product improvement driven by customer requirements, market research, and innovative thinking. We have catered to both markets – serving our valuable channel partners along with customers that choose to work with us directly.
The Story of SaaS Backup – Learning #3
: Build Security in the Product DNA with Encryption, Certification, and Compliance
The other aspect we concentrated on from the get-go was security. It is a given that your data is only as safe as its backup. Numerous breaches have been "facilitated" by unsecured backup and sub-optimal authentication. Accurate and secure backup requires unlimited secure storage. We thus chose the leading data storage provider – Amazon AWS – as our backup storage. We absorbed the high cost of providing unlimited AWS storage to our customers in all our plans and products. This was done to stay true to our commitment to provide our customers with secure backup storage with unlimited point-in-time recovery. All data is stored in Amazon S3 storage and encrypted using advanced AES-256 bit encryption algorithms at-rest and SSL in-transit. Our backups are immutable and we recently added the option of Object-lock for FINRA-Sec compliance. 
Recognizing that regulatory compliance is a growing business priority, back in 2014, we worked on achieving ISO 27001 certification. Since then we have ensured that our products are compliant with both HIPAA and GDPR. We guaranteed secure authentication and permissioning with 2FA, OAuth, and Okta support. Along the way, we have added data centers in Australia, Canada, EU, UK, and the US, so customers can comply with local data regulations.
Our efforts have borne fruit. We've been awarded Newsweek's Best Business Tools of 2019, GetApp's  Backup Category Leader in 2020, GetApp's Best Functionality and Features for Data Loss Prevention, G2's Fall 2020 Top Performer, and are part of Gartner Capterra's Top 20 Backup solutions. 
The Story of SaaS Backup – Learning #4: Create a Sustainable Culture of Respect, Inclusivity, and Collaboration 
From day one we have operated as a modern global organization – a remote-optimized company with a distributed team heavily utilizing digital communication mechanisms. Our team is spread across Australia, Asia, Europe, and America and diverse in gender and nationalities. Apart from the familial good-feel that comes from being inclusive and respectful, our global culture has had practical advantages. Our central ethos of creating a culture of respect, inclusivity, and collaboration, has made us sustainable and agile. We can operate 24x7x365 and connect with clients and partners locally. Our global culture has helped us tide through the COVID lockdowns, as our teams were used to efficient remote working. 
Although we're a mature, decade-old company, we've managed to keep our family-style culture. Minimal bureaucracy with an emphasis on teamwork and cooperation between stakeholders.
The Story Ahead: Keep Growing and Innovating While Staying True to Our Roots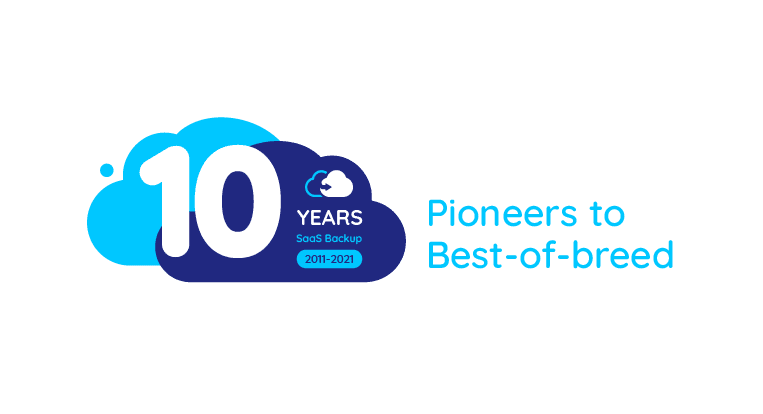 From "Why backup", the market has evolved to a "Which backup?" state. COVID and the shift to the remote workforce have been a tipping point. Companies now understand that SaaS backup is a critical part of their cybersecurity plan. Every company, large or small, has had to undergo a digital cloud transformation in order to survive. We saw a huge increase in the migration to Microsoft services like SharePoint and Microsoft Teams, and a corresponding spike in the demand for backups. The shift to a remote-major workforce is one that is here to stay. Organizations have benefited from the cost and effort advantages of a distributed workforce. Using SharePoint instead of on-prem servers, Drive to collaboratively edit files, and Teams meetings instead of flying across the country for an hour-long meeting makes business sense in more ways than one. Companies will continue to shift more workloads to the cloud which in turn will continue to drive demand for SaaS backup services. 
We have retained our market relevance by forging on the path of continuous innovation and customer-driven growth. We're committed to enhancing our feature set for our backup suite to remain best-of-breed. We plan to increase our cloud services portfolio by adding backup for other leading SaaS applications. We also will be adding smart functionality that will help our clients intelligently protect their data. For instance, proactively help them understand if and when they might need to use backup, minimize their response time (RPO and RTO) and accelerate the requisite recovery.
We are also extremely excited to join forces with Zix at this watershed moment for digital. Our industry-leading cloud backup service will be a complementary and valuable addition to their Secure Cloud Platform. Together, we will be able to provide our customers a comprehensive data protection plan centered on cybersecurity for the remote workforce/data. Our full integration with Zix / AppRiver Cloud Service Provider licensing, archival, encryption and protection services in a single secure cloud platform with the ability to interface with major PSA/RMM services will create one of the most powerful Microsoft 365 management and data protection companies in the market. 
All the while drawing our strength from our core values. We've gone from zero to 5,000+ customers and 1000+ partners across 50 countries over the last 10 years, but we retain the same work ethic and focus on providing exceptional seamless service to our customers. 
Your data is safe with the pioneers of SaaS Backup. Secure it now with a free trial.