The secure feeling of manual tape backup. From one who has been working on computers prior to Personal Computers, I can relate to the visceral feeling of security when backing up on good old tape. Cloud computing, however, revolutionized the IT industry with its flawless scalability, accessibility, and processing capability. These very capabilities help cloud computing to shine as a backup option. Automated cloud backup brings reliability, redundancy, faster recovery time, accessibility, and other positives to backup. However, it also brings a paradigm shift to backup. In this blog, we present a comprehensive guide to automated cloud backup – its implementation, pros and cons of manual vs online backup, common myths about cloud backup, must-have feature checklist for a secure and compliant cloud backup solution, and more.
What is Automated Cloud Backup?
Automated cloud backup or online backup is the process of automatically backing up data stored in digital devices (e.g. computers, laptops, and mobile phones) to a secure, remote data storage system over the internet ("the cloud"). Cloud-based backup solutions can be used to store important files and documents securely offsite in case of disasters such as hardware failure or malicious attacks, as well as providing an additional layer of redundancy for frequently updated documents like photos or videos. The most common automatic online backups use software that runs regularly on user devices to scan specific folders and save them to the cloud. This type of automated backup system eliminates any manual steps needed for making sure backups are performed correctly and regularly.
Why Choose Automated Cloud Backup? Comparing Manual Vs Online Backup
Let's compare manual and online backups against some essential backup parameters such as scalability, ease of recovery, security, cost, and reliability.
Online Backup
Manual Backup
Reliability
Cloud backup leverages cutting-edge technology, including compression, encryption,storage virtualization, data deduplication, disk-based backup, server & and application-specific protection to maximize the reliability and efficiency of the backups.
Backups reliably occur at scheduled intervals with no intervention required.
Manual tape backups typically have a 30-year shelf life. However, their reliability also hinges on the maintenance of their transport and supported infrastructure. Additionally, because of the nature of manual processes, such backups are error-prone.
Scalability
Public clouds such as AWS and Azure offer effortless scalability. This is particularly helpful for SMBs that can pay-as-they-grow.
Scaling manual backup essentially means adding more tapes, purchasing additional infrastructure and maintaining it. This can be cost prohibitive in the long run.
Accessibility
Cloud storage ensures access from any location with an internet connection
Access is limited to the physical location and network.
Security
Cloud backup, while not offline, is offsite and air-gapped. The cloud backup needs to have security features such as encryption, immutability, and secure authentication. It should also comply with data regulatory laws such as HIPAA and GDPR.
Tapes are in essence "offline", making them secure and impervious to ransomware, malware, and other online breaches.
Redundancy
Online backup on public clouds inherently includes multi-site data redundancy. In addition, public clouds such as AWS S3 offer additional redundancy on Glacier too.
To achieve redundancy, you have to create one more manual copy and store it in another location. Apart from being cumbersome, transport and maintenance of the additional backup can be costly.
Ease of Recovery
Recovery from online storage requires no transport and related effort in retrieving the data. Most cloud backup solutions will offer recovery on the click of a button from your chose point in time
In the case of tape storage, an operator needs to recall the tape, load it, locate the data, and recover the data.
Setup Cost
Online backup solutions typically have a monthly or annual subscription. Apart from that there is no other cost of infrastructure at your end.
When compared to online backup, the initial investment may be more. However, the costs can even out if the storage size grows in the petabyte realm.
Maintenance Cost
Here too, the cost of maintenance is typically borne by the cloud backup company. However, check the fine print for additional costs for added storage, data recovery, and other fine print
The cost of supported infrastructure such as tape drives, archive software, and tape libraries can spiral. Add to this power and cooling requirements. And the cost of maintenance staff
In Summary: Advantages of Automated Cloud Backup
In summary, manual backup on tape storage is time-consuming, laborious, and error-prone. While the initial cost of the tape storage may be low, the cost and effort involved in maintaining the tape storage, supporting infrastructure, power and cooling costs, and support staff, can spiral substantially. Manual backup's lack of easy scalability is particularly disadvantageous for small and medium-sized businesses (SMBs). Finally, the cumbersome recovery process increases your Recovery Time Objective (RTO) and downtime and hampers your business continuity.
On the other hand, automated cloud backup solutions offer these tangible business benefits:
Set it and forget it: With automated cloud backup, your data is reliably backed up at scheduled intervals to a secure location on the cloud.
Optimal RTO and business continuity: A backup solution is only as useful as its recovery capabilities. Cloud backup solutions offer easy point-in-time recovery with a few clicks. This helps to reduce downtime, ensure business continuity and recover quickly from ransomware, malware, and other data loss incidents.
Audit-compliance: Cloud backup solutions that are compliant with data regulatory laws tick all the audit checkboxes for encryption, secure authentication, redundancy, data privacy, etc., consequently abstracting the hassle of ensuring the audit readiness of your manual backup solution.
No dedicated resources: With automated backup, neither do you require dedicated hardware/infrastructure resources, nor human resources to setup and manage your backup capability. Thus saving both the cost and the hassle.
Scalability at will: Apart from purchasing the online backup solution or service, you do not have to bear associated infrastructure or maintenance costs.
Accessibility for global teams: With increasing remote and hybrid work environments, SaaS/cloud/online-based services offer your distributed teams to function seamlessly. With automated cloud backup, no matter what happens to your device, you still have access to all of your stored data from any location with an internet connection.
Bottom Line: Don't waste time on manual backups – get started with automatic online backups for peace of mind that all your data is secure and recoverable.
How to Implement Online Backup? Checklist to Select the "Best" Cloud Backup for Your Org
Finding the best automatic online backup that fits your needs can be difficult, as there are many providers to choose from. To make sure you're getting the most out of your automatic online backup service, make sure to research different companies and compare their features, storage limits, and prices before making a decision.
Security Credentials: Check on the data encryption, backup app certification, and online backup security.
Ease of Recovery: Verify the expected RTO, retention capacity,
Compliance Certifications: Ratify the online backup apps compliance certifications with the regulatory laws that you need to comply with.
Customer Support: Test the responsiveness of Support, check on the feedback on admin groups
Storage Limits: Ensure that unlimited storage is included.
Comprehensiveness: See that the cloud backup solution doesn't leave out any data type or application.
Reliability: Ask for the terms of the SLA, check on data redundancy and if it complies with the 3-2-1 Backup Rule
Ease of Use: Vet the UX with multiple admins, test the backup and recovery processes
Fine Print: Read the fine print, terms and conditions, and particularly the licensing commitment.
Cost: Check if you can opt for monthly pricing, ask for discounts and specials especially if you are in the nonprofit or educational sector.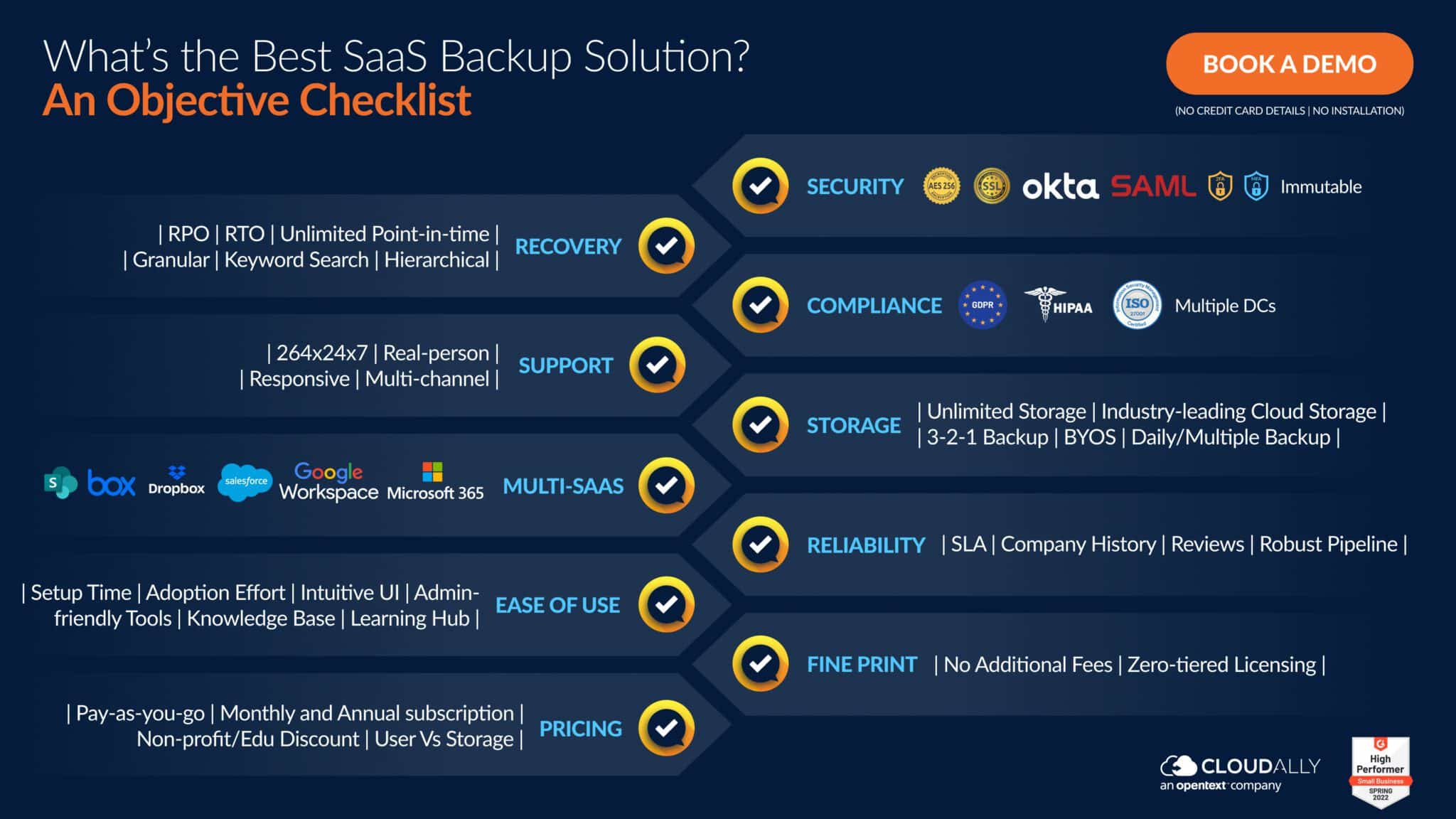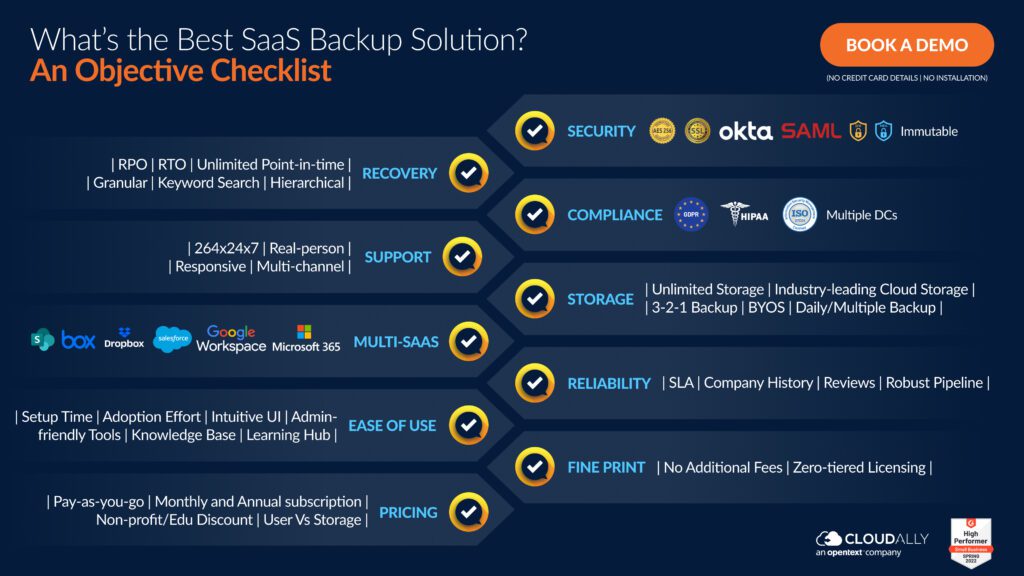 Still undecided about automated cloud backup? Give it a try and make a hands-on decision. Start a free 14-day trial of CloudAlly's secure backup and smart recovery. Protect all your SaaS data including Microsoft 365, Salesforce, Dropbox, Box, and  Google Workspace with one top-rated solution. CloudAlly pioneered cloud backup, and our solutions are tested and proven for more than a decade by 15,000+ customers. Don't wait – start a no-commitment trial now!