We're excited to share our key release updates in Q1-Q2 2021. We've expanded with our seventh data center in Germany, enhanced our popular MS Teams Backup, improved our Partner Portal, and more. We're also thrilled to announce that CloudAlly has been recognized as a Gold Medal Winner by SoftwareReviews for Email Backup. Here is a walkthrough of our major release updates.
Comply with Local Data Center Regulations
New Data Center in Germany 
We have added a new Amazon AWS data center in Germany in addition to data centers in Canada, Ireland, Sydney, U.S., and the U.K. The expansion furthers our customer's ability to comply with data regulatory and sovereignty clauses.
Easily Recover MS Teams Data
MS Teams Enhancements 
Microsoft Teams is the central collaboration system for the modern workplace. CloudAlly has long since recognized the importance of protecting MS Teams' data. We are one of the few Microsoft 365 (Office 365) SaaS backup providers that have always backed up MS Teams data. We've further enhanced our MS Teams backup with:
Easy granular recovery with advanced search for Teams and Public Channels
Export MS Teams channel data in a user-friendly HTML format that has a near-identical look and feel as MS Teams.
Do your employees frequently change MS Team site names? Our backup won't skip them, with smart tracking that auto-updates the site URL.

Ensure compliance with your company's retention policy by setting your own retention period for MS Teams backups. 
Speedier Salesforce Backup & Recovery
Way Faster Backup and Restores
We've significantly improved and optimized our Salesforce Backup and Recovery speed by up to 1.5x times (in test environments based on the data being backed up/restored).
Revamped Home Page
Enhanced Usability
We've redesigned our Backup Homepage. Now get a quick overview of all backup tasks at one glance. Need information at the granular level? The backups can be drilled down by the user to get further details.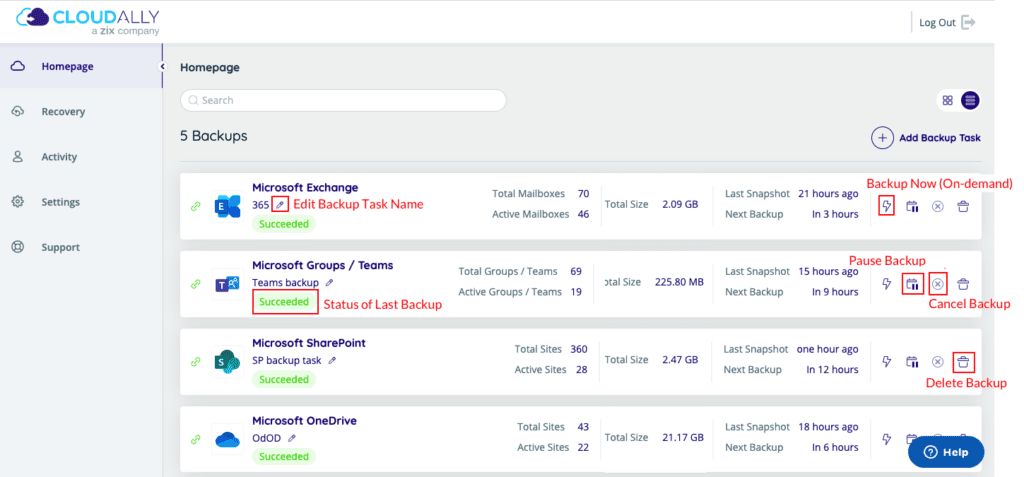 Improved Partner Portal
Unified MSP Backup Management Solution
Are you a Partner, MSP, or Reseller tired of juggling multiple apps, confusing billing systems, and cumbersome portals? We've just launched an improved MSP Backup Partner Portal with features tailored just for you. Ease customer management with a single view of all trials, backups, and billing status and counts for all your customers. Want granular control? Drill-down from account to backup task to the customer with click-through options and intuitive filters. 
Watch our video walkthrough 
We'd Like to Spotlight YOU!
Is there a feature that you'd feel would improve backup and recovery? Fill out this quick Feature Request Form, and tell us a bit more about your needs. If it's innovative and helpful, we'll build it in the product and spotlight you as our customer for the month. Your feedback and inputs are invaluable and drive us to continuously improve our products.
Ending on a Sweet Note: Gold Medal Winner by SoftwareReviews For Email Backup
We're thrilled to announce that CloudAlly has been recognized as a Gold Medal Winner by SoftwareReviews for Email Backup. The award is for CloudAlly's comprehensive Microsoft Exchange backup and Google Workspace backup. SoftwareReviews bases its data on reviews from actual end-users and IT professionals who have used the solutions. Thus providing unbiased insights into a complex and dynamic market. The SoftwareReviews Email Backup assessment provides a comprehensive evaluation of the top software in the Email Backup market.
Secure your data with our top-rated, award-winning backup that you can trust.
Start a FREE 14-day trial | 5-Min Setup | No Credit Card Required