To say that Microsoft 365 email is essential for your business is an understatement in itself. It is crucial that as the IT Admin, you protect business-critical email with Microsoft 365 backup. This ensures that you can quickly recover lost or deleted emails, Microsoft 365 data, and transfer mailbox contents from exiting employees to new ones. More significantly, Microsoft 365 (Office 365) backup guarantees quick disaster recovery from malware or ransomware. All the more important, given the security vulnerabilities of the increasingly remote workforce. Here are pointers to backup and recover Microsoft 365 mail:
How to Backup and Recover Microsoft 365 Mail?
Native Archival Options For Microsoft 365 Email
Litigation Hold
Litigation Hold is not a substitute for Microsoft 365 backup. It is a business/legal process that allows you to set a time period during which deleted items cannot be purged. For litigation hold items, even if a user deletes them from Trash, the administrator can restore stored emails. It is useful for accounts and emails holding sensitive data. Litigation Hold protects only one, typically outdated version of your file. It is counter-productive to apply Litigation Hold en masse to all emails for every user, as it can expose data that is private, thus increasing legal hassles. Besides, it would make for lengthy recovery of required items.
Mailbox retention policies
Microsoft has formulated data retention, deletion, and destruction policies. Setting retention policies for mailboxes enable you to "retain" emails after a certain period As with Litigation Hold, this prevents users from permanently deleting emails if such policies are in action. And similarly, it cannot be used for bulk mailboxes.
Native Recovery Options For Microsoft Office 365 Email
Deleted Items Folder
The kneejerk reaction to recover a deleted item? Undoubtedly the Deleted Items or Trash folder.
Sign in to your Outlook Web App.
Go to the Deleted Items or Trash folder
Right-click the item you want to recover
Select Move > Inbox to restore the file.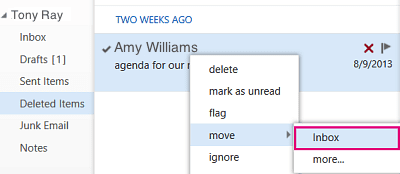 Note: If the Deleted Items folder is emptied by the user, you have to check the Recoverable Items folder.
Recoverable Items Folder
If you can't find the item in your Deleted Items folder, look for it in the Recoverable Items folder.
Sign into your Outlook Web App.
Go to the Deleted Items or Trash folder
Select the Recover Deleted Items option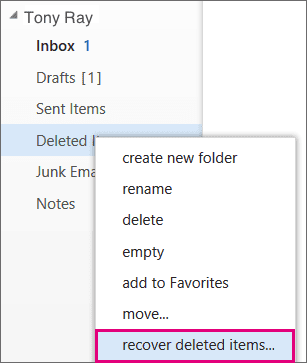 Select the item you want to recover. Note: The deleted date is when the item was moved to the Deleted Items folder.
Click "Recover" to restore the file. Note: when you recover items from the Recoverable Items folder, they are moved to the Deleted Items folder, and not directly to the Inbox.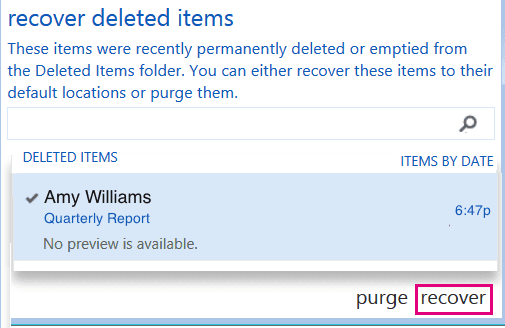 eDiscovery
Data from the Litigation Hold can be recovered from here. The data can be downloaded in the PST format, however the folder structure is lost.
Log in to your  M365 account and go to the Exchange Admin Center (you have to be part of the eDiscovery Manager role group). Use the Content Search eDiscovery tool to search and find emails from mailboxes or public folders of Exchange Online.



On locating the mailbox export this data to PST files.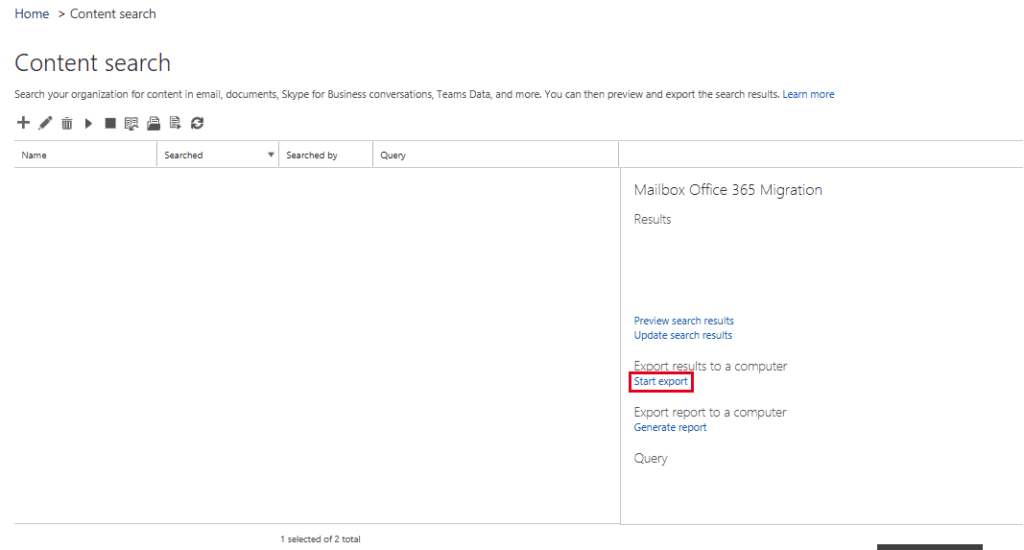 Limitations of Native Microsoft 365 Archival and Recovery
There are many limitations on the time, accuracy, and reliability of native Microsoft 365 archival and recovery tools. So much so that Microsoft itself recommends third-party backup.
We strive to keep the Services up and running; however, all online services suffer occasional disruptions and outages, and Microsoft is not liable for any disruption or loss you may suffer as a result. In the event of an outage, you may not be able to retrieve Your Content or Data that you've stored. We recommend that you regularly backup Your Content and Data that you store on the Services or store using Third-Party Apps and Services.

Microsoft SLA
The limitations of native Microsoft 365 archival centers around the fact that there is a fundamental difference between archival and backup tools. Archival tools are primarily used to store previous versions of data for legal purposes, whereas backup is built for easy and accurate recovery of recent data.
eDiscovery archives are manual, hold outdated data, and work only to restore entire mailboxes.
Insider threats are the biggest contributors to cyberattacks. Legal hold can be mistakenly or maliciously turned off and retention periods can be manipulated.
No provision for unlimited, point-in-time recovery. If no retention policy is set, you can only recover items in the past 30 days (Deleted Items) + 14 days (Recoverable Items).
Recovery with Litigation Hold is tedious with no support for easy granular search or cross-user restore.
Restoring mail from Litigation Hold doesn't preserve folder structure.
Backup helps with improving the Recovery time objective (RTO) and consequently your disaster recovery capabilities. The data held in Litigation Hold or eDiscovery is outdated and recovery is time-consuming. Thus in no way will it support easy disaster recovery or business continuity.
Backup and Recover 365 Mail: The Easy Way
When data loss strikes in the form of ransomware, malware, or errors, you certainly don't need the added tension of lengthy, cumbersome recovery from outdated backups. With CloudAlly's enterprise-grade Microsoft Office 365 backup, you get automated backup and easy restore of Mail, Calendar, Contacts and Tasks, OneDrive/SharePoint, and Groups/Teams. From any point-in-time, at any granular level, and to across any user – backup and recover Microsoft 365 Email the easy way
Skip the stress of painstaking native archival options. Ensure guaranteed recoverability of your valuable M365 data with CloudAlly.
Here is a screencast video, with detailed steps below:

Step 1: Select Microasoft 365 Exchange from CloudAlly Backup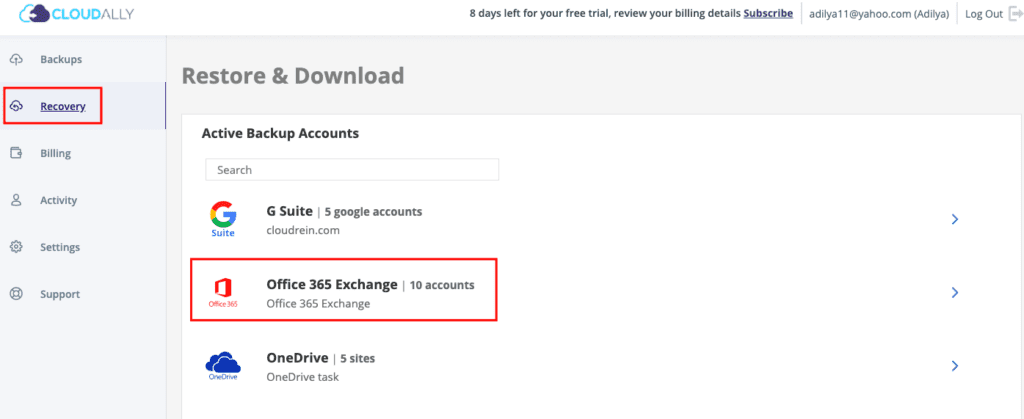 Step 2: To recover Microsoft 365 email, select CloudAlly's recovery tool with point-in-time snapshots to quickly find your mail from any date (unlimited data retention)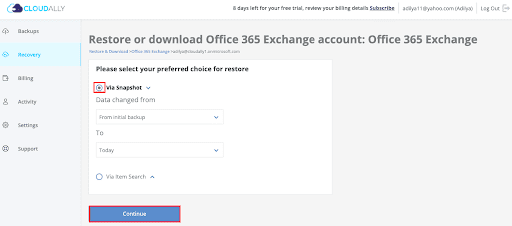 Step 3: Advanced search filters allow you to easily search for your email. Click Continue, select the account you want to restore it to (cross-user restore is allowed). That's it!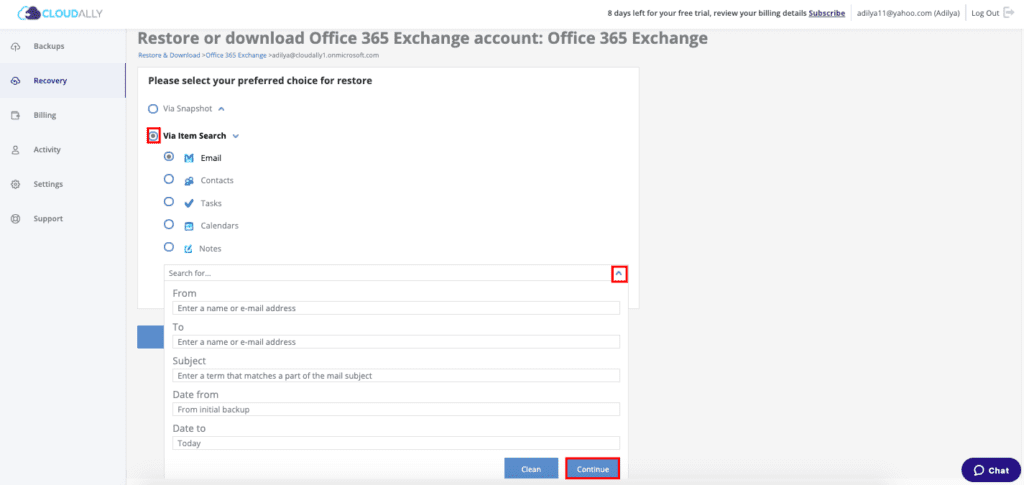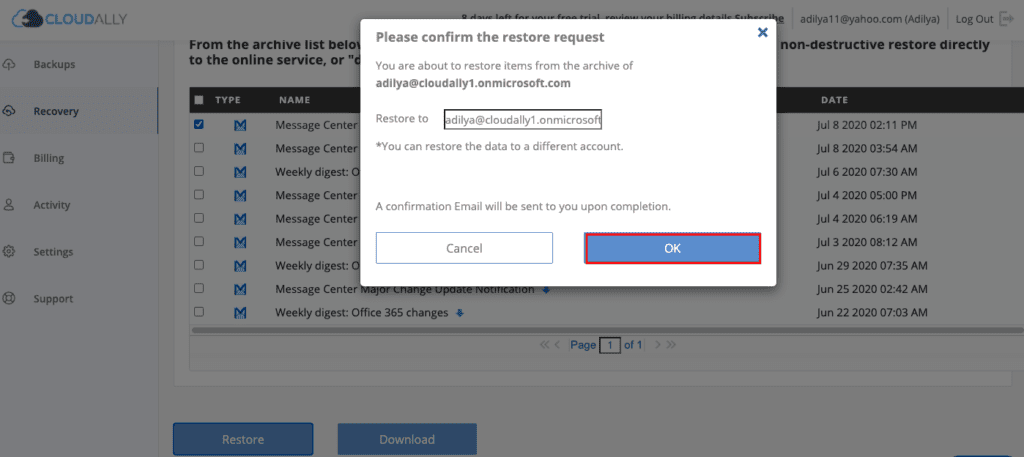 Prefer to export it? We support export in .EML and .PST format to any storage of your choice.

Pick the easy way. Backup Microsoft 365 Now!
Microsoft 365 (Office 365) data is susceptible to data loss due to error, malicious intent, malware, sync errors, and outages. Read our free ebook on Why SaaS Needs Backup. Secure your data with the pioneers of SaaS backup – CloudAlly. Our cloud-to-cloud backup solutions are stringently secure and top-rated. Start a free trial or schedule a demo.
Check out our Microsoft 365 mail backup solution.