The necessity of – Office 365 Email Backup Solution for business
Exchange Online backup Software
What is the risk of email data failures & incidents;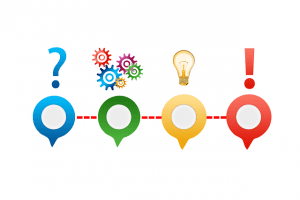 We strive to limit risks in the business world which is data-driven and powered by a data-driven economy, and therefore any possibility of data loss remains a key concern and focus of business leaders and IT professionals.
While Office 365 is a robust suite of products, the exposure to data loss risk warrants a well-thought-out backup and recovery plan, and an: Office 365 email backup solution, is immensely necessary for business continuity and a significant part of a complete IT manager's (DR) disaster recovery plan.
A countless number of research reports have shown that the majority of data losses are caused by human factors (reportedly 50-70% of all data loss incidences). This could be caused by accidental deletion of emails, contacts and confidential business information, or an employee with malicious intent.

Secondly, every business is subjected to the unfortunate possibility of sync errors when using 3rd party applications. Programmatic malfunctions can happen due to 3rd party integration errors, or also due to a hacker or malicious software.
Given the extent of our exposure to data-driven threats, feature-rich backup solutions are becoming a staple of modern business operations.
Exchange Online Backup
How well does Microsoft handle email backups and security issues?
Microsoft's Office 365 remains one of the most dominant providers of productivity tools and has transitioned their business model to the SaaS world. Successfully serving a wide range of users.
To put the popularity of this suite of products into perspective, it's estimated that Microsoft's commercial cloud segment (Office 365, MS Azure and their customer relationship management) represents 30% of their total $110.4bn revenue in 2018.
Furthermore, a 2015 IT study conducted by Spiceworks reported that 36% of all respondents were using Office 365 and a further 23% indicated that they were considering switching to Office 365 within the next 12 months. Office 365, including email, is here to stay, expand and grow in-line with business requirements.
Given the popularity and market share of the Office 365 suite, it would be expected that Microsoft would have heavily reinvested their profits back into improving the backup and other security features. However, this is not the case!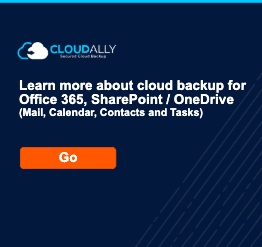 Office 365 online and email backup software solutions
While Office 365 Email Backup Solution comes with several email backup options, we'll demonstrate why they are not sufficient in the first place, and also how the onus of responsibility surrounding security and backups rests with the end user.
The level of security, backup options, frequency, vulnerability to threats – this all needs to be accessed by IT managers. Ultimately, it's the IT managers, CIOs who need to take all the necessary measures to prevent email data loss, even when the data is stored in the cloud by Microsoft Office 365, SharePoint / OneDrive, or even Google G Suite.

Exchange Online & email backups: Are your emails safe?
Using Microsoft's built-in recovery solutions is for most business situations rather suboptimal. Let's consider the email recovery options available for your team with Office 365 Email Backup Solution. Microsoft provides 3 backup folders:
Deleted items folder: data stays here up to and can be recovered. From here however, it can be easily manually deleted again. If this happens, data moves to the Recoverable items folder
Recoverable items folder: data stays here for 14 days (admin can extend this period up to 30 days) and can be recovered one by one
Purge folder: data stays here for the last 14 days before being permanently deleted. During this period however, only admins can use the Single Item Recovery feature via remote PowerShell to recover the lost data
While Microsoft offers (a somewhat limited) protection against lost messages and mailboxes, it doesn't prepare users for corrupted mailboxes.  Restoring corrupted mailboxes on the server-level to a previous point in time is impossible, exposing many businesses to high-risk situations.
We can summarize the responsibilities of customers and Microsoft in this way:
Customer Responsibilities:
Human errors
Programmatic errors
Internal malicious damage
External hacking
Virus and malware
Microsoft responsibility:
Hardware failure
Software failure
Power outages
Natural disasters (Microsoft performs traditional backups for catastrophic events and large data loss situations)
Is Microsoft's Litigation Hold a viable software backup alternative?
Litigation hold should be used to store and preserve data related to any ongoing legal action – litigation. Placing your mailbox on Litigation Hold will result in its hold and preservation together with the archive mailbox.
This remains the case also for deleted items and original versions of modified items, however, only for a specific period of time, or until they are removed from Litigation Hold.
It's important to note that Litigation Hold is designed for e-discovery purposes, not as an alternative to backup software products. In practical terms – all data would be discoverable and unnecessary if your business actually becomes subjected to an e-discovery request.
Once placed in Litigation Hold, all emails are copied to an immutable area, hidden from users in Recoverable items. In this case, Litigation Hold doesn't create a copy of email data in a secondary physical location.
This is important if true disaster recovery is required. If you as the business owner, or IT manager needs to restore your company, users emails from any point in time, in such incidents.
In terms of recovery, mailboxes from Litigation Hold are returned in an In-Place eDiscovery in Exchange Server search, and no direct restore option is available. If you the IT manager have found this to be different we welcome your comments.
As we found out users need to go through a manual recovery process. This is also the case if one employee leaves, as no cross-user restore features are available.
However, this backup solution doesn't support public folders and it's inefficient against Malware, where the IT manager would need to restore part of the data from any point in time. Lastly, using Litigation Hold as a backup option can become costly for two important reasons.
All attachments and files cannot be deleted; therefore the storage capacity needs to be significantly increased
In addition to the Microsoft licensing fees, Litigation Hold disables archiving users.
Just how well does Microsoft's recycle bin preserve your Exchange Online email data?
Should the recycle bin be used as a backup option in the first place? The quick answer is no. Deleted user mailboxes go to the recycle bin, and the first troubling sign must be its limited storage. The recycle bin is not a replacement for backup solution.
Are you wondering what happens if a departing employee accidentally or maliciously deletes important information?
The recycle bin doesn't allow for cross-user restoring or recovery from any point in time. Again increasing the complexity to recover lost items. Lastly, exporting data in Outlook compatible PST format is not supported in any other backup solution apart from CloudAlly.
Exchange Online archiving: a reliable backup solution?
Office 365's Exchange Online uses Database Availability Groups – an Exchange Server feature that replicates mailboxes to separate Microsoft data centres which are backing up copies for one another.
Because of this feature, customers can retrieve and access mailbox data, even if a failure affects another database copies, in the event of data failure for example.
However, similarly to using Microsoft's recycle bin, archiving presents several limitations. For instance, users can't recover items from specific time periods directly to Exchange. Secondly, corrupted mailbox items can't be restored based on their hierarchical level. This poses a challenge if you wish to retrieve specific items or folders. Lastly, PST format exporting to outlook just as cross-user restoring are not typically possible, therefore retrieving data from an employee that leaves the organization will become extremely difficult, without a 3rd party backup solution.
How does Cloudally's solution compare to: Exchange email backup solutions?
It's clear that Microsoft's specialization is in building great products, not in the backup and recovery. Luckily, Cloudally bridges the gap between the Exchange Online security shortcomings and end users' backup expectations.
IT professionals need to consider not only the security layers and recovery options, but also the ease of use. Cloudally Office 365 backup solution offers an easy to use non-techy interface for safe and reliable backups, restores data.
As one of the leading Office 365 backup providers, ClouadAlly's solution has been built to internationally recognized compliance and security standards.
Daily Online Backup
So what are the main differences between Cloudally and the default email backup options mentioned above?
Our unlimited daily online backups and storage tackle the possibility of losing important email communication or entire mailboxes in to the cloud abyss. Email data backups can be done on-demand or fully automated within your desired schedule to fully remove the possibility of human error.
Your information will be stored in our immutable archive, where all your sensitive email data will remain protected from any manipulation or deletion.
The recovery of lost data is as important as the ability to preserve it. Given that Cloudally offers unlimited backups, you can just with one click restore and selectively filter through dates and select the lost data that needs to be recovered.
To improve team collaboration, we offer cross-user restore feature that allows data recovery in circumstances where the email owner is not available to grant access to lost data. The level of recovery can be also adjusted, depending on the situation – whether it's necessary to restore regular items, folders, or the even the entire mailbox.
While all the Microsoft email backup solutions offer a degree of security and protection, they are most likely reactionary in nature, however, Cloudally offers not only more robust backups and recovery solutions, but also a complete data, and status failure monitoring feature, that will makes sure business continuity is maintained.
Conclusion: How well does Office 365 handle email security and risk?
Microsoft has taken some measures to provide recoverability, as outlined in their user agreement and provides some very basic available features that account for backups and possible data risk situations.
However, their presented and available measures are not enough and don't fully account for broader scenarios which can happen on a daily basis at the organization level.
The degree of responsibility in regard to data loss prevention is split between Microsoft and the end user. Thus end users need to take precautions and adequate steps to prepare for data loss and potential business disasters.
The Ponemon Institute study (funded by IBM) found that the average data record loss costs businesses $141. In our view, this is totally unnecessary and avoidable.
Equip yourself and your organization with the right tools to prevent email data losses and navigate through any data challenges.