You've decided to move your storage to the cloud, but are confused as to which one would fit best. OneDrive Vs Google Drive Vs Dropbox Vs Box? Dropbox revolutionized cloud storage, so much so that it became an eponymous verb for virtual file sharing.
OneDrive is part of the newly renamed Microsoft 365 and Google Drive is a part of Google Workspace (formerly G Suite) – industry-leading SaaS platforms. And Box seems to have advanced features tailored for business users.
Here we detail the promising features and red flags of OneDrive Vs Google Drive Vs Dropbox Vs Box. So you can pick the cloud storage that's best suited for your requirements.
Read our other cloud storage comparisons: Google Drive Vs OneDrive and Dropbox Vs Box
OneDrive Vs Google Drive Vs Dropbox Vs Box
We'll analyze the features of  OneDrive Vs Google Drive Vs Dropbox Vs Box based on four parameters:
File Sharing and Collaboration Capabilities: OneDrive Vs Google Drive Vs Dropbox Vs Box
File sharing capabilities for cloud storage vary when compared to local storage apps, as cloud storage is primarily used for collaborating across distributed teams using a variety of devices.
Google Drive
Google Workspace has always been mobile-first and cloud-centric. Google Drive furthers that ethos. It was the first to go beyond cloud storage to incorporate file sharing and collaborative editing.
Its files can be shared with anyone on the web, anyone with a link, and to specific people (requires a Gmail account sign-in). Sharing permissions include view, comment, and edit. There is no support to password protect or set expiration dates for links. The file size limit is 1 TB, but that depends upon the file type.
Google Drive's simple, intuitive interface is easy to use and requires minimal adoption effort.
OneDrive 
OneDrive offers sophisticated permissions such that you can password-protect your files and set expiration dates to provide temporary access. OneDrive lets you upload and share files up to 100GB in size with no need of signing in to a Microsoft account.
Enterprises have grown up with Microsoft 365. Owing to the familiarity of its interface, it would require nil adoption effort.
Dropbox
Dropbox's file-sharing capabilities are similar to OneDrive. You can restrict access to your file links with passwords and set expiration dates for shared links. The sharing file size is limited to 100MB on free accounts, 2GB for the Dropbox Plus plan, and 100GB for the Dropbox Professional plan.
"Dropbox it" – we've all said that. While it's synonymous with file-sharing, Dropbox depends on the Microsoft 365 or Google Workspace suite of apps for its optimal usage.
Box 
Box.com is single-mindedly focused on the business user. Its file-sharing capabilities are truly enterprise-level. In addition to Google Drive, One Drive, and Dropbox's capabilities, Box allows users to have group ownership of files, and to share with groups. The file size limit is 250 MB for the basic plan.
His collaboration capabilities are akin to DropBox, minus the fame. However, it does compensate for it with new apps, features, and functionality – Gartner pegs Box as a market leader.
Ease of Synchronization: OneDrive Vs Google Drive Vs Dropbox Vs Box
Cloud storage does not mean the end of local storage; very often users want and need to have local copies. Cloud storage needs to interface and synchronize with local storage such that you have the same version of files on your local storage and your cloud storage.
Google Drive
With Google Drive's emphasis on anytime-anywhere-anyhow access, you can sync your files on apps on any platform including Mac, PC, iOS, and Android. You can also access your files offline, however, you need the Backup and Sync app, and the files/folders have to be specifically tagged as such.
Google, however, does not use block-sync. Block-sync enables faster syncing by splitting up each file into smaller pieces, and only syncing delta changes. Google, also does not provide a smart sync option to view or download online files only for a specified duration, thus freeing up local storage space.
OneDrive 
OneDrive offers similar access options with mobile apps and desktop clients spanning Mac, Windows, iOS, and Android. To access offline files you need OneDrive desktop. OneDrive has some advanced sync features such as block-sync for files, and a personal Vault for sensitive documents.
OneDrive's Vault provides stronger authentication and additional security measures. OneDrive has a Files On-Demand sync that allows an "online-only" file to be downloaded only for the duration of accessing it.
Dropbox
Dropbox pioneered the file sync model, and it retains its mastery of synchronization. Apart from clients for Mac, Windows, iOS, and Android, Dropbox also has a Linux client. In addition to the selective sync option and the block-sync, Dropbox also allows you to set files as "online-only".
Whereby, even though the files are visible on your computer's Dropbox sync folder, they are just placeholders and won't take up space on your drive. Dropbox aces sync speed with clever options like the LAN sync, which hooks onto the LAN for faster syncs.
Box 
Box Sync allows you to select files/folders to sync between the Box app and desktop. What this means is that you have access to those files/folders on any desktop with Box Sync installed. Another app called Box Capture allows you to directly save the photos, videos and scans you take via your mobile to Box.
Ecosystem and Integration: OneDrive Vs Google Drive Vs Dropbox Vs Box
Google Drive
The Google ecosystem is vast with applications for your business and collaboration needs such as Gmail, Calendar, Meet, Chat, Docs, Sheets, Slides, Forms, Keep, Currents, and Sites. Apart from that, it has phenomenal integration with third-party apps and services from media players, photo/video editors, and accounting software.
To access Microsoft files, you need to "upload" the files to Google Drive, work on them, and then download them as PDFs or as Microsoft files.
OneDrive
The Microsoft ecosystem with its ubiquitous Office suite includes Exchange, Word, Excel, PowerPoint, Contacts, Calendar, Yammer, One Note, SharePoint, Teams, Access, and Publisher. Accessing Google Drive from OneDrive can be cumbersome and involves connecting Google Drive to the OneDrive account.
Dropbox
Dropbox has three main products: Dropbox Plus (Dropbox with 1 TB storage), Dropbox Business, and Dropbox Paper (a real-time collaboration platform).
The Dropbox Paper is a basic notes app that falls short when compared with the features of Google Docs or Microsoft Word. As far as cross-integration, Dropbox works with files from both Microsoft 365 and Google Drive.
Box
Apart from Box Sync and Capture discussed earlier, Box offers Box Skills (adds AI to business processes), Box Shuttle for organizations to migrate large amounts of data (terabytes to petabytes), Box Notes  (real-time notes for teams).
Box supports accessing Microsoft 365 or Google Drive files by opening it directly in the default app using Box Edit.
Pricing: OneDrive Vs Google Drive Vs Dropbox Vs Box
All the pricing below is per user per month.
Google Drive
Google Drive comes as a part of Google Workspace. From a $6 Business Starter edition with 30GB storage to a $12 Business Standard edition with 2TB storage and an $18 Business Plus edition with 5TB storage, Google's got something for everyone.
Apart from Google Drive, every plan also includes Gmail, Meet, Calendar, Chat, Docs, Sheets, Slides, Keep, Sites, Forms, and Currents. For more details, refer to Google Workspace pricing.
OneDrive
Microsoft offers a $5 and $10 OneDrive for Business Plans with 1TB and unlimited storage, however, no Office apps are included. The Microsoft 365 Business Basic plan includes web and mobile versions of Word, Excel, and PowerPoint; but not Desktop ones.
Only the Microsoft 365 Business Standard plan for $15 includes web, mobile, and desktop versions. For further details, refer to OneDrive pricing.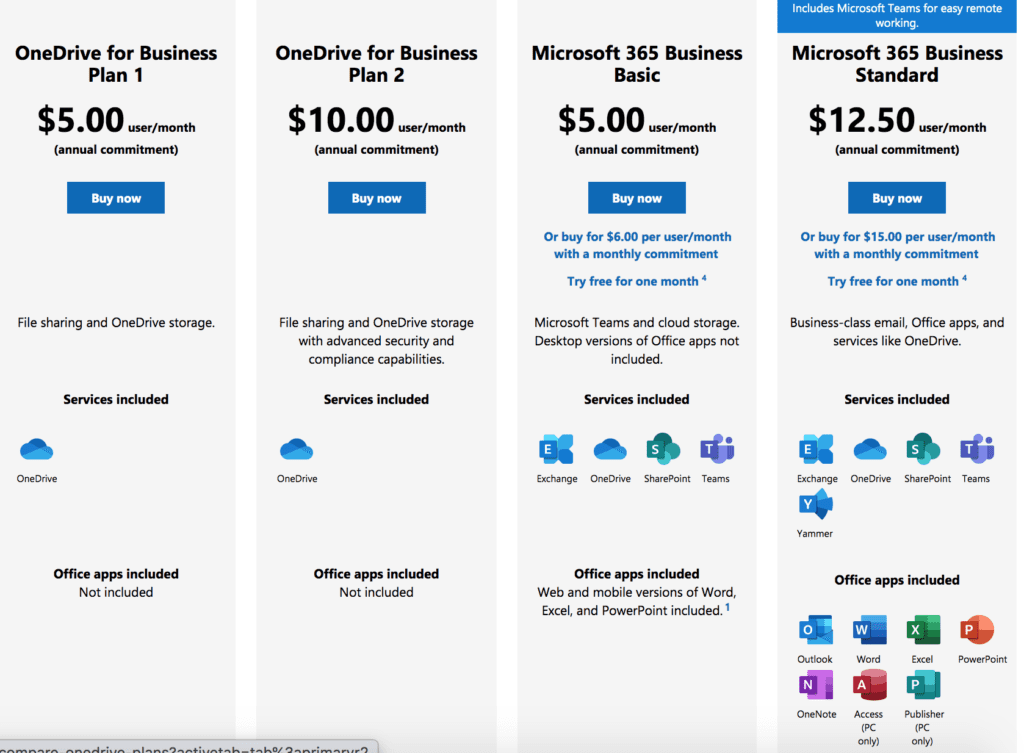 Dropbox
Dropbox Business plans include the Standard plan at $12.50 with 5 TB storage and the Advanced plan at $20 with unlimited storage.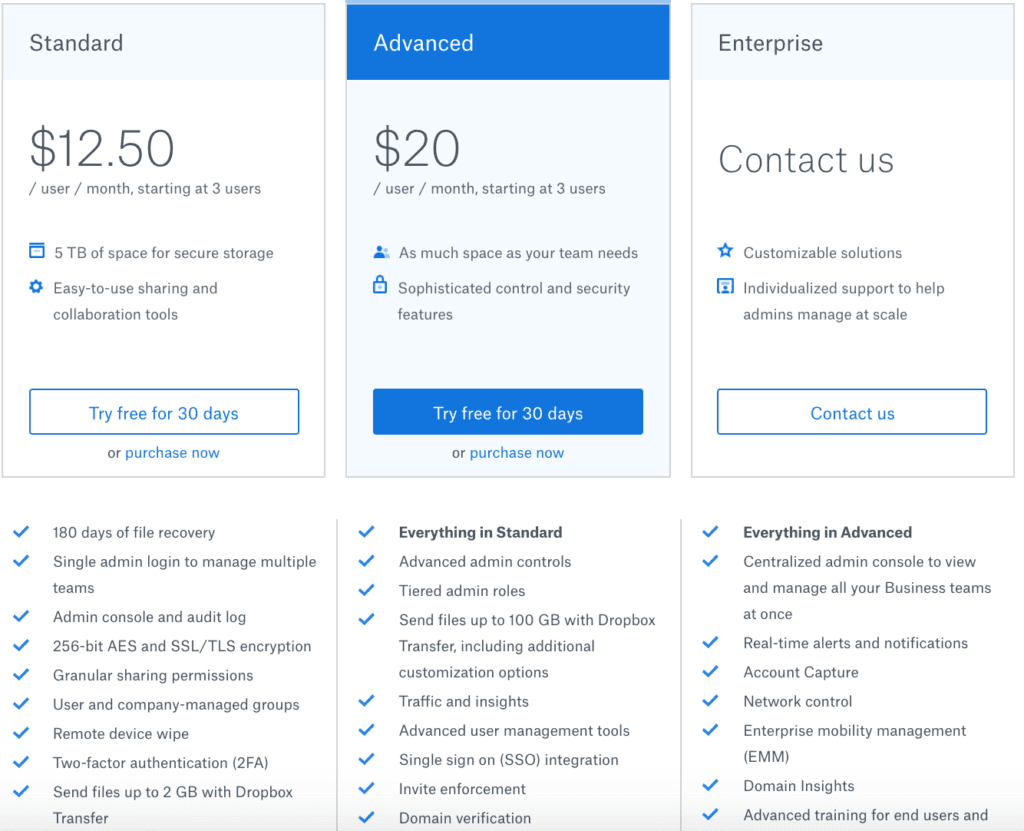 Box
Box plans start with the $5 per user per month, but that comes with only 100GB of data. The optimal option would be the $25 per user per month plan that includes unlimited users and storage.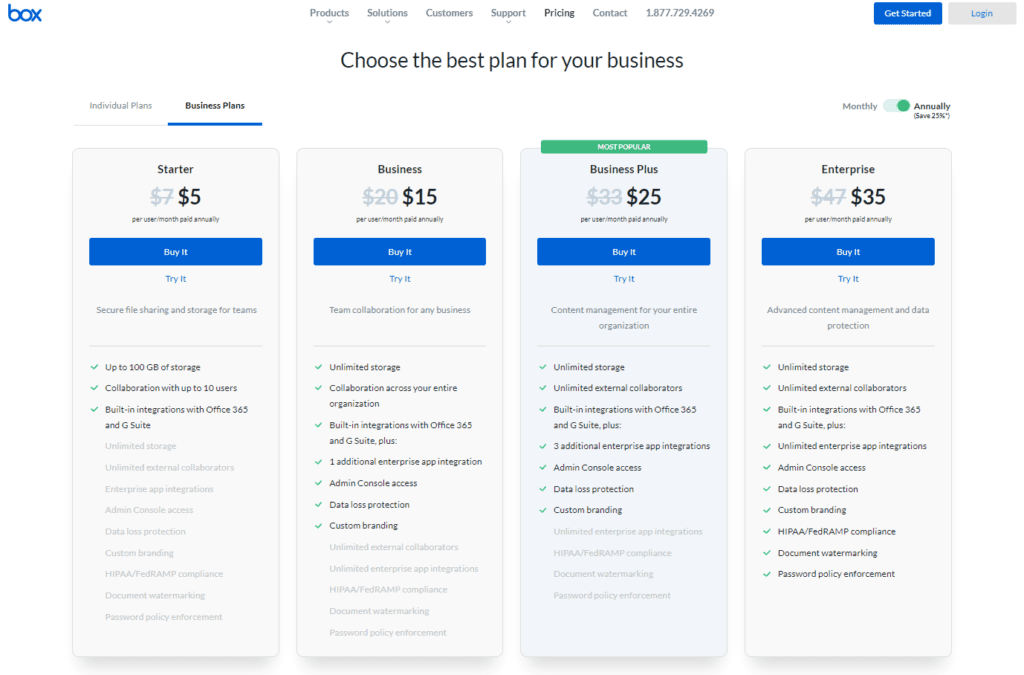 OneDrive Vs. Google Drive Vs. Dropbox Vs. Box: Which Cloud Storage Is Better?
The short answer -the one that fits best. The long answer – list your stakeholder's expectations from the cloud storage and analyze how the cloud storage fares vis-à-vis the requirements. Understand the aspects of cloud storage spanning file sharing and collaboration, file synchronization, and pricing, and map it to your organization's needs.
No Matter the SaaS App You Choose, Secure Them All With CloudAlly
What's the common factor between Microsoft 365, Google Workspace, Dropbox, and Box? Apart from great functionality and features, none of them offer unlimited point-in-time recovery from data loss. And SaaS data loss does occur.
Frequently. Affecting one in three organizations. All your business-critical data on cloud storage needs to be protected from accidental deletions, malware, ransomware, phishing scams, sync errors, and/or malicious intent. Read our free ebook on why enterprises need SaaS backup.
Only cloud-to-cloud backup and recovery can eliminate the risk of cloud storage data loss. Secure your cloud storage with a disaster recovery plan and a reliable third-party backup solution. CloudAlly is the only secure backup and recovery solution that backs up data from all SaaS platforms –  Microsoft 365, Google Workspace, Dropbox, and Box (and Salesforce for good measure).
So you can backup and recover all your cloud storage data with one single tool, with a unified view and an intuitive dashboard. CloudAlly's backup solutions include automated and on-demand backup with unlimited storage on industry-leading AWS servers. Recover lost data with a few clicks from any point-in-time, any level of granularity, and to any user.
Our Customer Support is "exceptional" (in our customer's words) – 365x24x7, multi-channel, highly responsive, "real person" backup experts.
Whatever the outcome of the Google Drive Vs. OneDrive Vs. Dropbox Vs. Box cloud storage battle – cloud backup is a must.