The newly renamed Microsoft 365 (formerly Office 365) is the virtual office space of your organization. With business-critical data and important workflows increasingly on Microsoft 365,  it becomes all the more essential to be able to backup and restore data. In previous blogs, we have detailed how to recover Microsoft 365 Outlook Mail, Contacts, Calendar, and Teams. Outlook Tasks is another Microsoft 365 app that employees use frequently to populate important to-do lists. These Outlook Tasks can be easily lost due to sync errors with mobile apps, outages, and accidental deletions. "Help! I've generated so many Tasks in my to-do list, and now they're all gone after I synced it with my mobile!" – sounds familiar? Here are pointers to recover Outlook Tasks and get them back in a jiffy. 
Comprehensive MS365 Backup | Snapshot Restore | Unlimited Storage
Restore Outlook Tasks Deleted in the Past 30 Days
Outlook Tasks deleted in the past 30 days can be restored by the user from the Deleted Items folder in Outlook: 
Sign in to your Outlook application.

On your email folder list, select the Deleted Items folder.

Find the deleted task that you want to restore, right-click it, and then select Move > Other Folder > Tasks. This will move the deleted task back to the Task folder.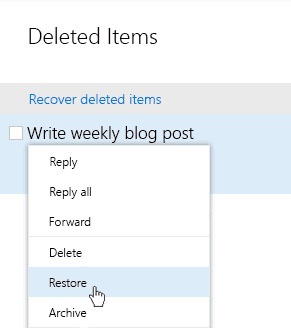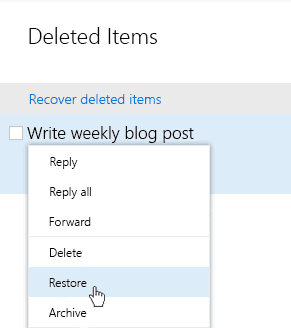 Recover Outlook Tasks Deleted in the Past 45 Days
If you cannot locate the deleted Outlook Task in the Deleted Items folder, try looking for it in the Recoverable Items Folder
Sign in to your Outlook Web App.

Go to the

Deleted Items

or

Trash

folder




Select the

Recover Deleted Items

option




Select the Task you want to recover. Click "Recover" to restore it. 

Note: when you recover items from the Recoverable Items folder, they are moved to the Deleted Items folder, and not directly to the Task folder.
Recover Outlook Tasks From Any Point-in-time
Restore deleted Outlook Tasks from any point-in-time, seamlessly and easily. Watch how easy it is to restore Outlook Tasks with a few clicks using CloudAlly Backup for Microsoft Office 365
Why Does Microsoft 365 Need Backup?
On average, companies take about 197 days to identify and 69 days to contain a breach according to IBM. That puts you well past the 30 or 45-day deadline that Microsoft 365 native options give you. Moreover, regulatory laws like the GDPR mandate "shared responsibility" of SaaS data between you and your SaaS or Cloud Service Provider. Native options like Deleted Items / Recycle Bin, eDiscovery / Litigation Hold, are archival in nature. They are time-bound and cumbersome – not purpose-built for seamless recovery from any point-in-time. So much so that Microsoft itself recommends third-party backup.
We strive to keep the Services up and running; however, all online services suffer occasional disruptions and outages, and Microsoft is not liable for any disruption or loss you may suffer as a result. In the event of an outage, you may not be able to retrieve Your Content or Data that you've stored. We recommend that you regularly backup Your Content and Data that you store on the Services or store using Third-Party Apps and Services.  – Microsoft SLA
Eliminate Microsoft 365 Data Loss + Ransomware Recovery + Regulatory Compliance = Peace of Mind
One in three organizations is the victim of SaaS data loss due to commonplace reasons such as human error, malicious intent, ransomware, and outages. Read our free ebook: 7 Reasons Why Office 365 Needs Backup
CloudAlly Backup for Microsoft Office 365 eliminates the risk of data loss of all your Microsoft 365 (Office 365) data – Mail, Calendar, Contacts, OneDrive/SharePoint, Groups/Teams, and Tasks. CloudAlly Backup's stringent security credentials also ensure regulatory compliance. Our best-in-class security includes ISO 27001 certification, HIPAA/GDPR compliance, global AWS data centers, MFA/2FA authentication, and AES-256 bit data encryption at-rest and SSL (HTTPS) encryption in-transit. Immutable backups, unlimited AWS backup storage, unlimited retention, and easy recovery from any point-in-time or level of granularity facilitates easy ransomware recovery.
Restore Outlook Tasks, email, calendar, and contact data flawlessly with CloudAlly. Get complete peace of mind, coz we have your back(up)!