Data Backup & Recovery
for Construction Companies
SaaS backup and recovery
Tailored for Construction Companies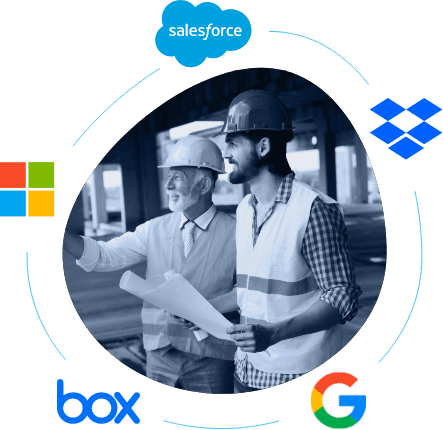 Data Backup and Recovery, Secured for Construction Companies
From fleet management and labor-intensive blueprints to third-party vendor communication and project plans – everything's gone digital. Construction companies, architecture firms, builders and contractors run on data technology, SaaS-based applications, and mobile devices. As per the 2020 Construction Hiring and Business Outlook" nearly half construction firms expect to further increase their investment in information technology. However, the shift to digital also comes with its share of security vulnerabilities. Data backup and recovery tailored for construction companies can mitigate the risks and ensure regulatory compliance.
SaaS Data Loss: Business-critical

workflows, vendor email communication, and customer's SaaS data are vulnerable to data loss due to malware, human error, malicious intent, and ransomware. One-third of companies  suffer SaaS data loss. 

Native options to restore data are time-bound and tedious.
Regulatory Compliance: Data regulatory laws such as the GDPR and CCPA, mandate that you "share responsibility" of data protection with your third-party cloud vendors. 
Disaster Recovery and Business Continuity: A robust disaster recovery and business continuity plan (BC/DR) can blunt the impact of a data breach. Quick disaster recovery hinges on quick data recovery
The one answer to mitigate the risks above? SaaS backup and recovery. 
Trust the Pioneers of SaaS Backup
Recognizing this cybersecurity gap, CloudAlly pioneered SaaS backup and recovery almost a decade ago. Our robust and proven solutions automate backup and simplify data recovery for Microsoft 365, Salesforce,  Google Workspace, Dropbox, and Box. One backup solution for all your SaaS data – email, calendar, contacts, Teams, documents, tasks, metadata, sites, and more.
Disaster Recovery and Business Continuity For All Of Your SaaS Data and Applications
You risk losing blueprints, site recces, construction plans, project timelines and budgets, client/vendor information, to malware, human error, malicious intent, sync error, and outages. Read our free ebook: Why SaaS Needs Backup?
CloudAlly's SaaS backup eliminates SaaS data loss with:
Comprehensive and i

mmutable backups for flawless recovery from 

ransomware and malware.

Quick disaster recovery with seamless data recovery of mail, contacts, calendar, documents, metadata, sites, and more of 

Unlimited storage on the #1 data center Amazon's AWS with unlimited data retention. We bear the cost of storage.

Auto-backup of litigation hold items
Flexible, two-click recovery with point-in-time, cross-user, cross-tenant, and granular data restore options.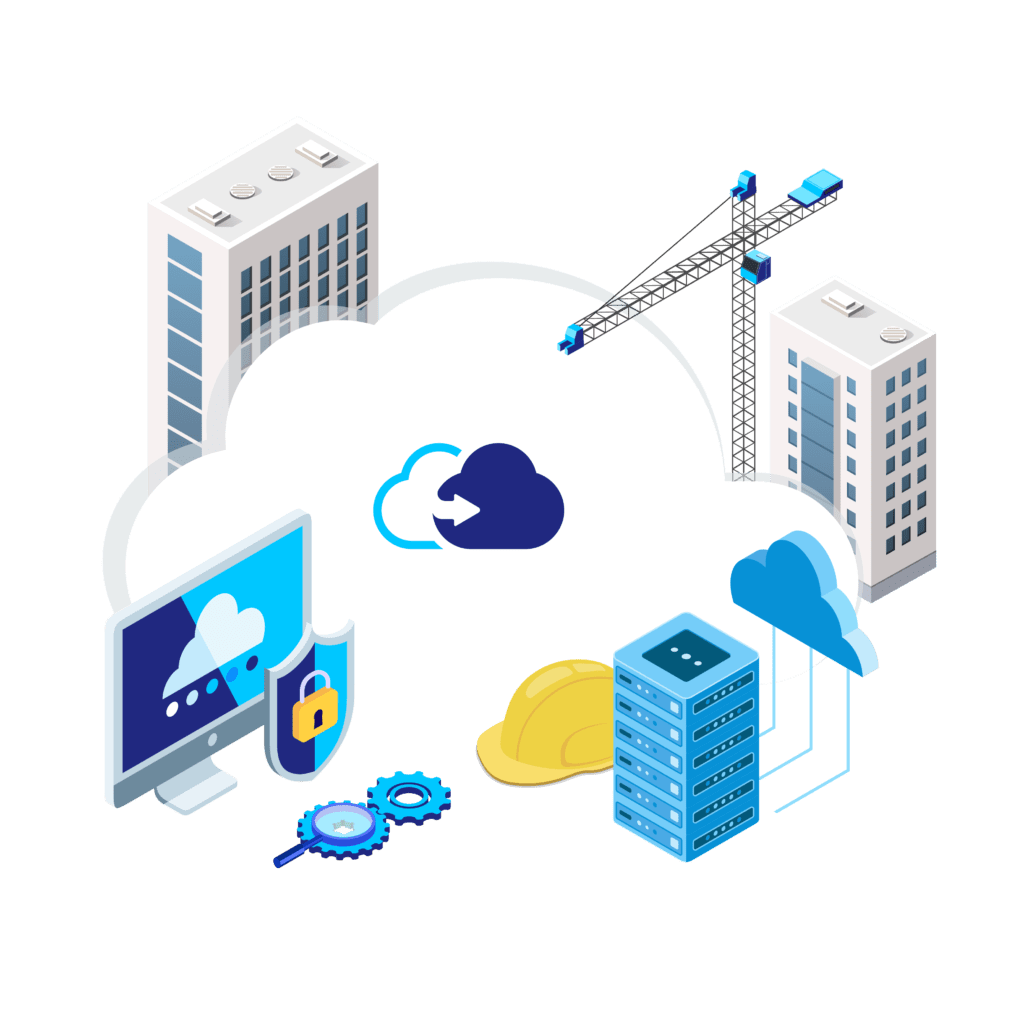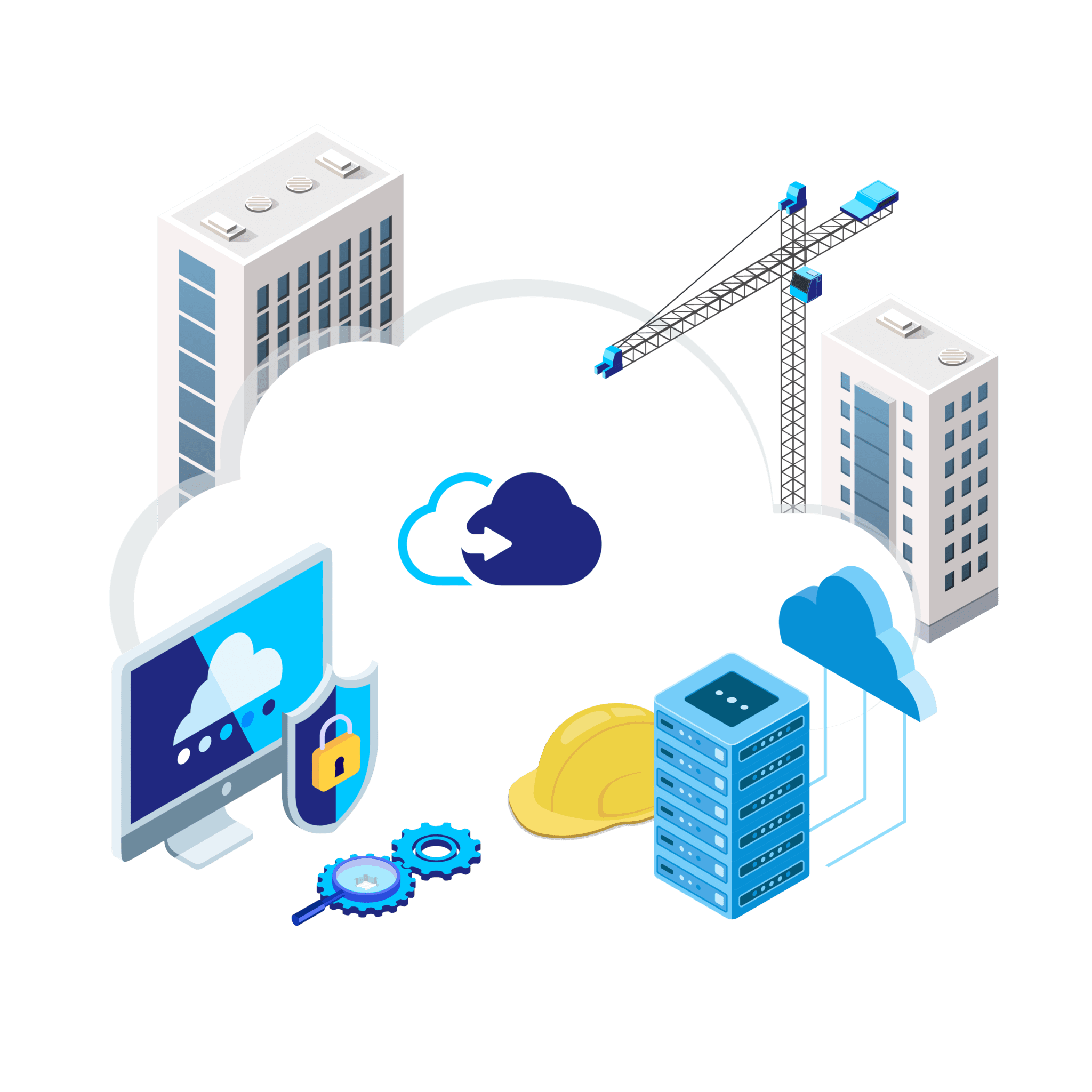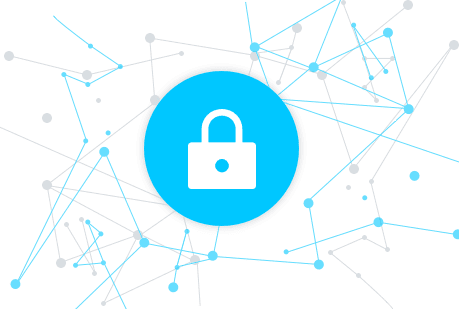 Data Loss is Devastating. Reduce Costs With SaaS Data Backup and Recovery for Construction Companies
The need for mobile capabilities on construction job sites has driven large-scale cloud adoption. Construction and project management data on the cloud is accessed and shared by multiple vendors, contractors, and clients over unsecured devices and networks. This makes the construction industry all  the more vulnerable to the risk of business-critical data getting lost, corrupted, or deleted. One click on a phishing link can put months of data at risk.
Here are some damaging effects of data loss: 
Financial costs: Data loss or outages can cut access to email, calendar/ contact info, and documents when your employees need them the most. Use this Downtime Calculator to calculate how expensive it can be. IBM estimates that the global average cost of a breach is $3.86 million.
Non-compliance Fines: Data laws mandate demonstrable recovery in the event of data loss. Failing which you risk non-compliance.
Loss of Client/Vendor Trust: Your clients and vendors depend on you to closely adhere to project deadlines and specifications. As teams and clients are not co-located, it is imperative to have access to email communication and shared documents at all times. Ransomware  and malware can corrupt or block access to data.
Lowered Productivity: Lack of access to blueprints, measurements, project details, and more can leave contractors and workers on site in the dark. Worse still, it can lead to missed deadlines, worker injuries, faulty work, and breached contracts.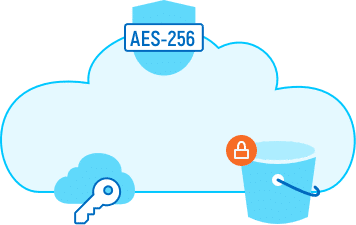 Audit-Ready Security Controls for Construction Companies
CloudAlly specializes in helping firms like construction companies keep email communications safe, secure and protected. We use a secure cloud-based solution built from the ground up by engineers to efficiently backup, store, preserve and, if necessary, easily restore email-related ecosystem data at a moment's notice. 
CloudAlly's easy-to-use, secure, and scalable backup and recovery tools enable construction firms to easily set-up automated backups of construction-related email communications data.
Effortless Adoption, Exceptional Support
CloudAlly's backup solutions work right out-of-the-box. Perfect for construction companies that need hassle-free data backup and recovery.
Intuitive, non-technical interface.

Automated backup and three-click recovery.
Support for auto-activation of backups, and smart bulk addition of users.
Tier 1, multi-channel, customer support from real people via chat, phone, email and a dedicated Customer Hub.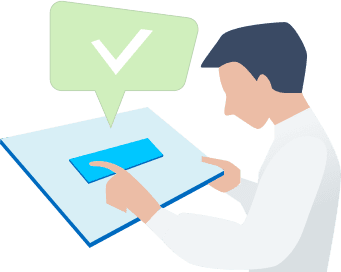 Hear it From Your Fellow Construction Companies
Over 5,000 customers backup their productivity solutions with CloudAlly.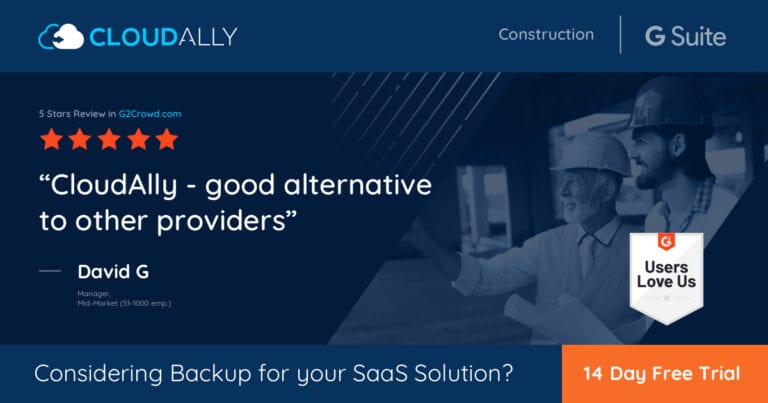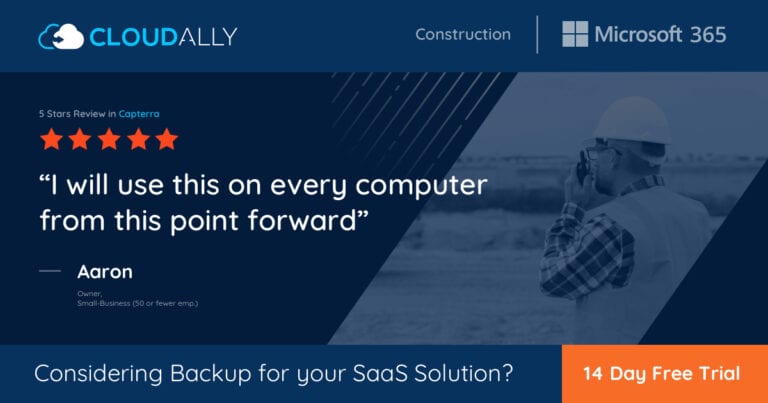 Case Studies & Testimonials of Construction Companies
Start Protecting Your Data Today!
Questions about Compliance for Construction Companies?
Consult with our Director of Compliance, Monty Sagal.
Compliant, Secure and Audit-Ready
Your valuable SaaS data is only as secure as its backup. Which is why it is critical to ensure that your backup solution is dependably secure.
Security has been in our DNA right from when we pioneered SaaS backup a decade ago. We're fanatical about security for all our backup solutions for Microsoft 365 (Office 365), G Suite,  Salesforce,  Dropbox,  and Box. We have internationally recognized accreditation, stringent application security, and rigorous data protection. We continue to strive beyond the required compliance standards to achieve best-in-class security.
Consult with our Security Expert
Got 100+ Accounts to backup?
We have a special offer for Enterprise Level Pricing.
Get in touch with us for a Custom Quote, or Questions