Dropbox is synonymous with file-sharing – 600 million users across 180 countries actively use it. Dropbox Business extends the reliability and agility of Dropbox to the organization with a collaborative workspace of productive tools. As of 2019, more than 400,000 teams were using Dropbox Business for their collaborative projects. With business-critical data increasingly being stored and shared, it is essential to understand how to recover deleted files in Dropbox Business. As multiple teams typically access a file, accidental or malicious deletion can easily happen. Add to that the risk of data breaches due to malware or corruption due to sync errors. How can an organization protect its Dropbox Business data?
Read on for pointers to restore Dropbox Business deleted files:
Using Dropbox Recycle Bin to Recover Deleted Files
Dropbox has a built-in feature to account for accidentally- or maliciously-deleted files. It isn't difficult to accidentally delete an important file from Dropbox Business. Consider someone moving a shared file to their desktop Recycle Bin, not realizing that they would be deleting this file in Dropbox as well. Or, deleting a file that an employee assumes is not required anymore by the team. 
Here's how to restore Dropbox files that have been deleted (but not permanently deleted):
From your Dropbox account, navigate to Files on the left-hand side of the page

Click on Deleted Files

Search for the mistakenly deleted file name that you want to recover. You can also select multiple files or folders by using the checkbox

Click Restore
Limitations of Dropbox's native restore options
If a file has been permanently deleted, or if the file has been in the Recycle Bin for 120 days, it cannot be recovered using native options.
When deleting a file or folder, a user has two options. They can either delete from dropbox.com by clicking on an ellipsis (…) next to a file or folder and then choosing Delete. Or, on a desktop or laptop, they can drag and drop an unnecessary folder into the Recycle Bin or Trash. Once deleted if the user navigates to Dropbox Business, and selects the Permanently delete checkboxes, file recovery is not possible by native Dropbox options. They are truly gone forever!
Note: if you want to stop users from permanently deleting files or folders, you can restrict this feature on your team's accounts using Dropbox's admin features.
Consider that someone accidentally deletes a folder without knowing about it, and then a few months down, the folder is urgently required by the team. Or a crafty malware corrupts some files which are detected only subsequently. Or an exiting employee maliciously deletes a critical shared document.
Dropbox Business with all its phenomenal capabilities cannot protect you from data loss at your end due to malicious/erroneous deletion, sync errors or malware. The risks of data loss are many and mitigating them is only possible with the safety net of a reliable backup and recovery solution.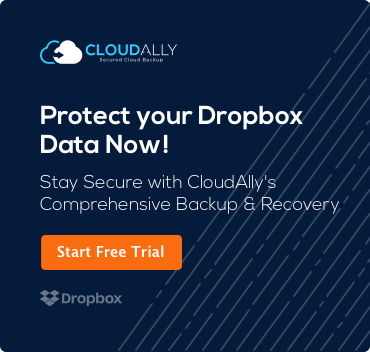 How CloudAlly can Help
CloudAlly's top-rated Dropbox Backup solution dependably backs up Dropbox Business (For Teams) edition for easy recovery from any point-in-time. With unlimited data retention and non-destructive restore to the same user or to a different user, Dropbox recovery with CloudAlly is a breeze.
Blunt the risk of data loss and facilitate easy self-service recovery with CloudAlly's top-rated SaaS backup that was named by Newsweek as one of the Best Business Tools of 2019.
Try our free trial now or watch a quick demo below
https://d3s5n6bbhxr3im.cloudfront.net/wp-content/uploads/2019/10/dropbox-recovery-main.jpg
1092
1857
Eddie Pinchasov
https://www.cloudally.com/wp-content/uploads/2019/12/300X60.png
Eddie Pinchasov
2019-10-14 12:00:36
2020-01-31 16:51:33
How to Recover Permanently Deleted Files in Dropbox Business?