Google Sites are your organization's intranet platform where you can easily create websites that translate your business workflows and enable smooth collaboration. Now, someone has accidentally deleted a much-accessed resource page or made unwanted edits to a shared site. How do you restore deleted Google Sites? Here are pointers to restore deleted Google sites and to ease recovery using backup of Google Sites:
Recover Corrupted/Deleted Google Sites
Consider a shared site that has been unintentionally or intentionally messed around with. The ONLY way to recover it is via Google's Version history. This feature is slowly rolling out on a user-by-user basis, first to newly created Sites, then secondly to existing Sites: Google estimates this process will take until the end of 2020 to roll out to all Google Sites. IF Version History is enabled for your Site, 
Use the three-dot

More

menu and choose

Version History

.

The right-hand panel lists the complete version history of what has changed, and who has changed it.

Select an older version that predates the corruption or deletion and click

Restore this version

.
Limitations of Native Google Site Recovery
Likely Unsupported

: The version history feature is on an

extremely slow rollout

and won't be available to all sites until the end of 2020. 

Destructive Restore

: Recovery via Version History is convoluted especially if you have created new content in a Site and now want to restore deleted content. You would have to copy the site, and then patch your way using the restored site data and copied data.

Limited Restore

: No support for bulk recovery.
Backup and Restore Google Sites Easily From Any Point-In-Time
If you have backed up your G Suite data with CloudAlly's G Suite backup, you have guaranteed and easy recovery for all your data. This includes Gmail, Google Drive/Team Drive, Sites, Contacts, Calendars, Tasks, and Metadata, apart from Google Sites. Our G Suite backup includes unlimited storage on secure Amazon AWS servers, which means you can recover Google Sites from any point-in-time with unlimited retention. 
Watch how quickly you can recover Google Sites with CloudAlly:
Google Sites Recovery In Three Clicks
CloudAlly's Backup for G Suite supports flexible recovery options from any point-in-time, and/or export to your own storage.
Historical Snapshots to easily recover Google Sites from any point-in-time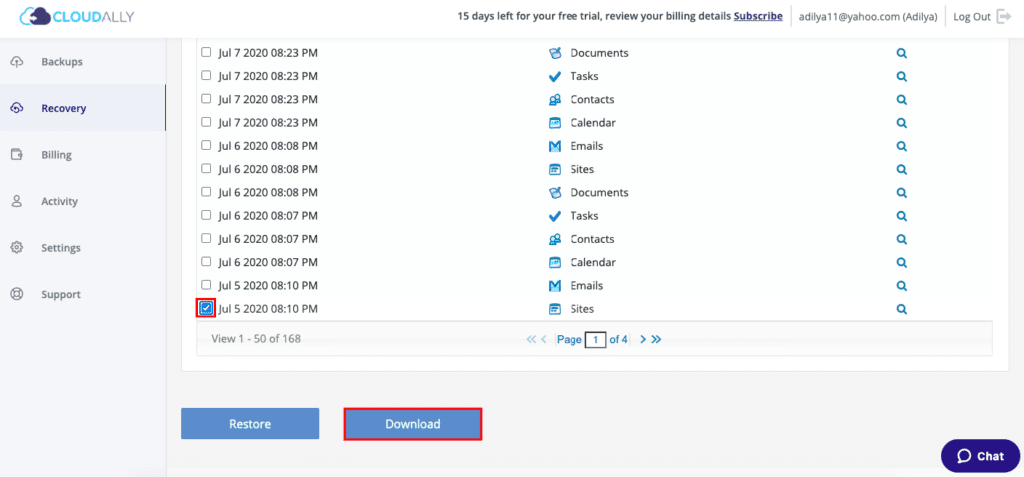 Restore Google Sites to an account

Recover/Export Google Sites to your own storage

With Download Status/Progress

One in Three Companies Experiences SaaS Data Loss. Backup G Suite Now!
G Suite is the bedrock of communication and collaboration for your organization. Particularly, with an increasingly remote workforce. All your business-critical G Suite data is open to data loss due to malware, human error, sync error, outages, and/or malicious intent. Read our free ebook on Why SaaS Needs Backup. 
The only way to ensure quick disaster recovery is quick data recovery. With easy and accurate data recovery, you can eliminate the risk of data loss and mitigate the repurcussions of a breach or outage. SaaS backup is the only surefire way to dependably and easily recover your G Suite data.
CloudAlly pioneered SaaS backup almost a decade ago. Our proven solutions provide automated backup of Gmail, Google Drive/Team Drive, Sites, Contacts, Calendar, Tasks, and Metadata on secure AWS servers. 

Don't risk data loss. Stay prepared. Stay backed up
Start a free trial or book a demo.